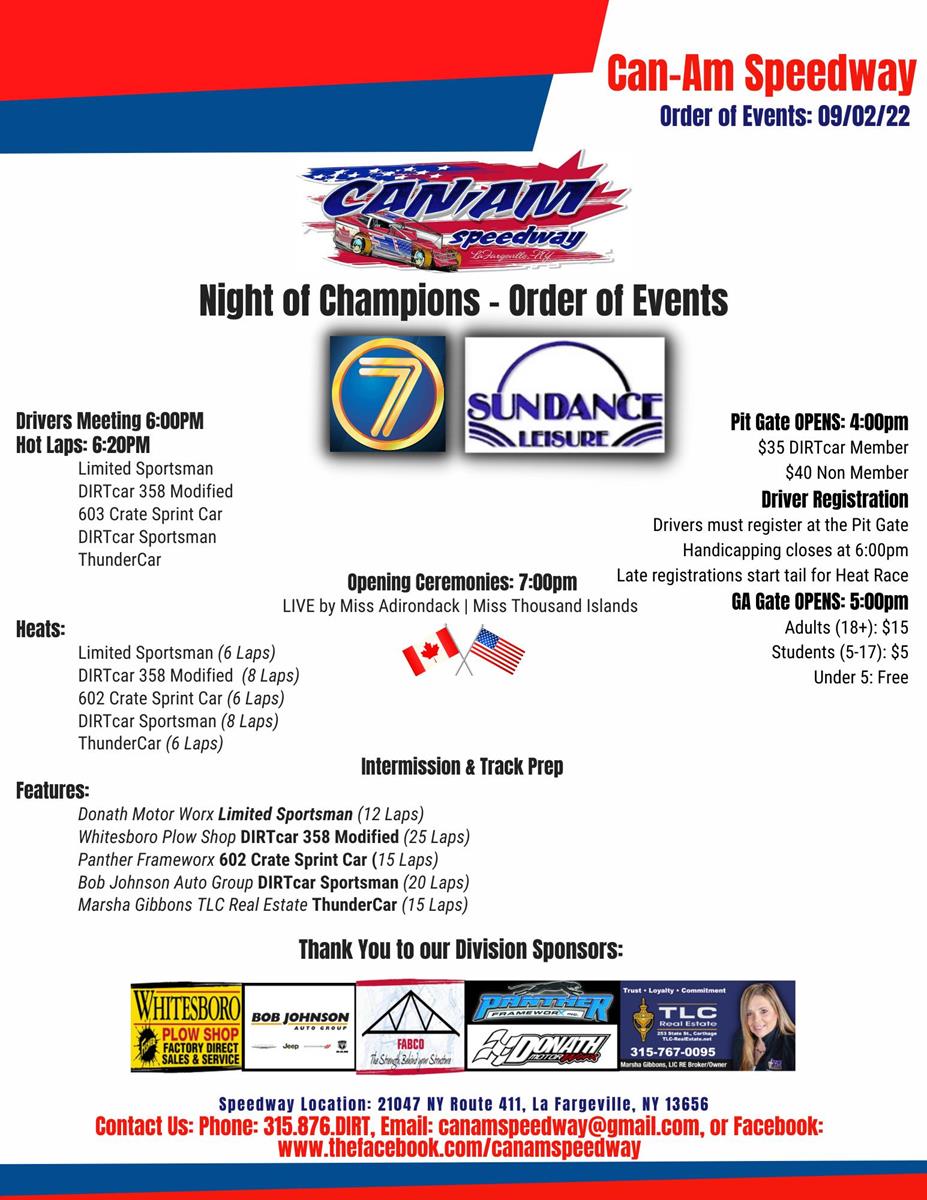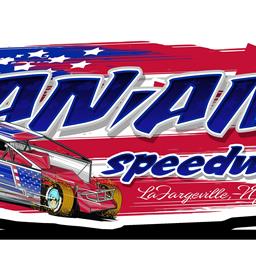 ---
NIGHT OF CHAMPIONS WILL CROWN TRACK CHAMPS
TUESDAY AUG 30, 2022
LA FARGEVILLE, NY – This is it! Friday night is for all the marbles at Can-Am Speedway in LaFargeville, New York. Five classes of dirt track racing will take to the track, wrapping up the points chase for track championship. A full season of racing effort culminates in the final night of points racing, sponsored by Channel 7 News and Sundance Leisure.
In the Whitesboro Plow Shop DIRTcar 358 Modified class, Tim Fuller of Watertown, New York is poised to claim the track championship for the second year in a row. It's the culmination of a year's worth of hard work, dedication and solid racing skills garnered over years of racing experience. Despite Fuller already having a firm grasp on the championship, the 358 Mod feature will be action-packed, with drivers Ryan Bartlett, Derek Webb, Bill Dunn, Lance Willix, Jordan McCreadie and more all vying for a late summer victory.
One of the most exciting divisions all year long has been the Bob Johnon DIRTcar Sportsman Modified class, where Tyler Corcoran of Central Square, New York, has been leading the points for much of the year, seemingly destined for another track championship at Can-Am. Though winless at Can-Am for the 2022 season, Mike Fowler of Fulton, New York is the current points leader after running consistently at the top of the field, week in and week out. With a victory last week, David Rogers of LaFargeville, New York catapulted himself into the conversation for track champion. He'll need a lot of things to go his way, including a victory, Friday night to have a shot at the title. So, you're telling me there's a chance.
Josh Verne Jr. and Logan Crisafulli are atop the Panther Frameworx 602 Crate Sprint Cars, with Verne Jr. looking like he will wrap up the championship Friday night. But...
Also on the track Friday night will be the Donath Motor Worx Limited Sportsman class as well as the Marsha Gibbons TLC Real Estate Thundercars.
It will be a special do-not-miss night of racing at the Nasty Track of the North and a great way to celebrate the unofficial end of summer and kick off the Labor Day Weekend.
Friday night promises to have great racing on the track with great food and a family-fun atmosphere in the stands. Arrive early to enjoy hot laps and take full advantage of available pit-passes to get up close to the drivers and their cars!
Pit Gates open at 4:00pm with General Admission gates opening at 5:00pm. The drivers meeting will take place at 6:00pm sharp with Hot Laps to ensue at 6:20pm. Opening Ceremonies for the evening will kick off at 7:00pm by the lovely Miss Adirondack/Miss Thousand Islands and Heat Races will immediately follow.
Dirt Track Digest (DTD) continues to offer an on-demand digital viewing option for fans who cannot attend the races in person throughout the 2022 racing season.
GENERAL ADMISSION (SPECTATOR) PRICING:
Adults (18+): $15
Students (5-17): $5
Under 5: Free
GA Gate Reminder: NO COOLERS (including food or beverage).
PIT ADMISSION PRICING:
DIRTcar Members: $35 | Non-Members $40
Under 5: $15
Please use the Pit Gate for all MEDIA Admissions.
Can-Am Speedway was built in 1974 by Evans Mills, NY real estate Broker Leslie W. Brown. Ownership has changed hand over the decades, with Tyler Bartlett purchasing the track in 2018. Bartlett, owner of D.P. Bartlett & Son's Plumbing, Heating and A/C, LLC and TRB Properties has spearheaded many track improvements with a goal of continuing the great North Country racing tradition. Can-Am Speedway is a family-friendly racing facility with a regular racing program on Friday nights and Kart track racing on Saturday Nights. For more information go to racecanam.com, email: canamspeedway@gmail.com or call 315-876-DIRT (3478).
Can-Am Speedway is located at 21047 NYS Route 411, LaFargeville, New York 13656. Take Exit 49 (LaFargeville /Theresa) off I-81. Take NYS Route 411 west towards LaFargeville.
Visit us on Facebook: https://www.facebook.com/canamspeedway
For more information about digital viewing on Dirt Track Digest, visit dirttrackdigest.tv. Dirt Track Digest is available for viewing on your computer browser, mobile device or on your television.
Back to News