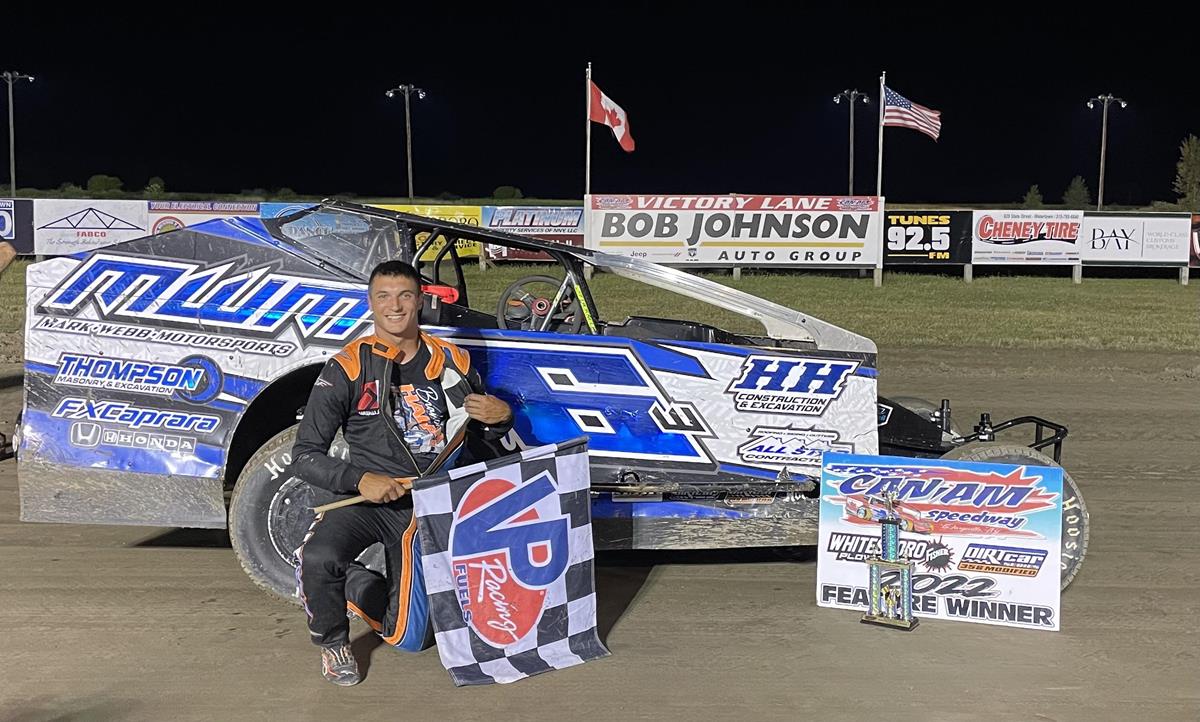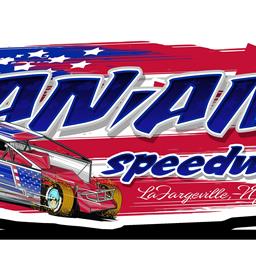 ---
DEREK WEBB RETURNS TO VICTORY LANE AT CAN-AM SPEEDWAY FRIDAY NIGHT
LA FARGEVILLE, NY – Derek Webb of Brownville, New York ended his night of racing in victory lane at Can-Am Speedway Friday, collecting his second victory of the year in the Whitesboro Plow Shop DIRTcar 358 Modified class. After a late summer week off to make way for Summer Fast at other central New York tracks, Can-Am Speedway returned to racing Friday night with tight points races in several classes. The night was sponsored by North Star Real Estate.
Rain fell on the track prior to racing, but a rainbow came out just before hot laps began, signaling that racing was a go. The recent rain made it a fast track, something that had Webb concerned as he took the car on the track early in the evening.
"Truthfully, I was pretty disappointed when we got here. The track was fast, and we had to make a few changes to it," Webb said from victory lane. "We didn't even go out for hot laps. We started first in the heat then were up front for the main, so, it worked out. Starting position really worked on a night like this."
The win moved Webb up the leaderboard for points, but Tim Fuller, of Watertown, NY, looked to still be in control of the championship chase, finishing sixth. The closest competitor for the lead in points is Ryan Bartlett, who finished 4th. It closed the gap for Bartlett, but when the final tally comes in, it may be a mathematical impossibility with only one night of points racing remaining for Bartlett to snatch away a championship from Fuller.
In the Bob Johnson Auto Group DIRTcar Sportsman division, the points race was quite a bit tighter and David Rogers of LaFargeville, New York had his sights set on making a charge for the track championship on the second-to-last night of points racing. Rogers started fourth and climbed up to first position by lap three. He never gave it back and powered his number 44 to victory, his second of the season. The win moved him up the leaderboard with a shot at the championship with one week remaining. Behind Rogers in the field, Mike Fowler finished 4th, while the current points leader heading into the night, Tyler Corcoran, finished 7th. The difference in finishes was enough to put Fowler ahead of Corcoran in points heading into the Night of Champions in one week.
In the FABCO Pro Street Stocks, Tyler Bushey, of Heuvelton, New York, took the victory after starting in second place. It was a race that began with a three-wide battle for first place between Bushey, Kevin Fetterly Jr. and Justin White. Bushey emerged the leader and never looked back, winning his second feature at Can-Am for the 2022 season.
Josh Verne Jr., of Theresa, New York, won the Panther Frame Worx 602 Crate Sprint Car feature, besting points rival, Logan Crisafulli. Verne took the lead by turn two of lap one and powered through the remaining fifteen laps to win his fifth of the year at Can-Am Speedway.
The Donath Motorworx Limited Sportsman saw Keegan Nier, of Carthage, New York, take home his third victory of the year.
There were fireworks in the Marsha Gibbons TLC Real Estate Thundercar feature, as Francis White, of Ogdensburg, New York, put a late-lap squeeze on Chuck Monica which left White's rear bumper cover dragging behind him all the way to the finish line and White's first victory of the year at Can-Am Speedway.
Some of the drivers in the championship chase solidified their points leads this week, some slipped back and will need the final week of points racing at Can-Am Speedway next week to decide who the top dog is.
Racing returns for the Night of Champions September 2nd at Can-Am Speedway. There is sure to be some amazing racing at the Nasty Track of the North Friday night.
For full race results and more info, including ticket sales, visit: racecanam.com
FEATURE RESULTS:
WHITESBORO PLOW SHOP DIRTCAR 358 MODIFIED
Feature (25 Laps): 1. 66W-Derek Webb[2]; 2. 24-Jordan Kelly[3]; 3. 18W-Scott Webb[4]; 4. 39-Ryan Bartlett[8]; 5. 28-Jordan McCreadie[10]; 6. 19-Tim Fuller[11]; 7. 49-Billy Dunn[7]; 8. 31-Lance Willix[9]; 9. 29-Preston Forbes[13]; 10. 21C-Taylor Caprara[16]; 11. 7S-Shaun Shaw[6]; 12. 21R-RJ Tresidder[5]; 13. 9-Tyler Meeks[12]; 14. 23J-Jeff Sykes[14]; 15. 73-Michael Cousins[17]; 16. 74-Lucas Fuller[15]; 17. 21-Andrew Howard[1]; 18. 26-Michael Mandigo[18].
BOB JOHNSON DIRTCAR SPORTSMAN
Feature (20 Laps): 1. 44-David Rogers[4]; 2. 57H-Remington Hamm[6]; 3. 52-Jessica Power[7]; 4. 410-Mike Fowler[11]; 5. 91-Josh Reome[3]; 6. 18E-Gavin Eisele[12]; 7. 64-Tyler Corcoran[17]; 8. 34-Eric Nier[10]; 9. 18G-Justin Gadbaw[2]; 10. 6-Brian Hudson[8]; 11. 10B-Jamie Brown[5]; 12. 621G-Trevor Gibbons[1]; 13. 32RS-Ryan Shanahan[9]; 14. 35B-Brennan Moore[14]; 15. 707-Greg Brinklow[16]; 16. FOX28-Tyler Stevenson[21]; 17. 18-Blayden Arquette[13]; 18. 62-Jonathan Murphy[15]; 19. 7D-Dustin Hutton[20]; 20. 5R-Steve Roberts[18]; 21. (DNS) 63M-Franklin Mackin; 22. (DNS) 92-Frank Sibley.
FABCO DIRTCAR PROSTOCK
Feature (20 Laps): 1. X15-Tyler Bushey[2]; 2. 57K-Kevin Fetterly Jr[3]; 3. 1X-Justin White[1]; 4. 72-Bruno Richard[5]; 5. 75-Eli Gilbert[4]; 6. 72G-Denis Gauvreau[9]; 7. 6-Steve Gilmore[8]; 8. 22B-Blayne Nichols[6]; 9. 00C-Michael Clark[7].
PANTHER FRAMEWORX 602 CRATE SPRINT CARS
Feature (15 Laps): 1. 1V-Josh Verne Jr[3]; 2. 88-Logan Crisafulli[2]; 3. 30-Ken Klinkowsky[1]; 4. 27-Matt Billings[4]; 5. Z28-Tucker Donath[7]; 6. 51-Lee Ladouceur[6]; 7. (DNS) 23-Tyler Cartier; 8. (DNS) 5-Tiger Chapman.
MASHA GIBBONS TLC REAL ESTATE THUNDERCAR
Feature (15 Laps): 1. 60-Francis White[6]; 2. 11A-Joe Orvis[5]; 3. 100-Charles Monica[2]; 4. 94-OJ White[4]; 5. 31-Austin Smith[10]; 6. 22J-Jared Gilson[3]; 7. 52J-Justin McIntyre[1]; 8. 11J-Justin Burns[13]; 9. X-Travis Berkman[8]; 10. 9MM-Jock Symonds[7]; 11. 111J-Anthony St Mary Jr[9]; 12. 26-Damien Bechler[16]; 13. 90-Ron White[12]; 14. 52-Robert Flint[14]; 15. (DNS) 8D-Kevin Greenfield; 16. (DNS) 02-Jr Durham.
DONATH MOTOR WORX LIMITED SPORTSMAN
Feature (12 Laps): 1. 34-Keegan Nier[1]; 2. 17-Owen Nier[2]; 3. 1D-Paul DeRuyter[4]; 4. 23-Cole Perry[5]; 5. 33-Alan McDonald[6]; 6. 73-Joey Wilcox[3].
Back to News