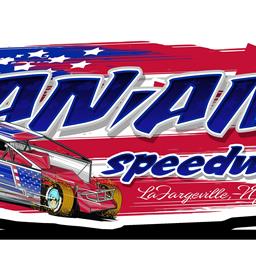 ---
Busy Schedule of Racing and Driver Autographs to Finish the Month of August at Can-Am
After a week away from the Speedway drivers in all six divisions will be in action this coming Friday nigh and along with the intense battles for the track titles, the fans will also have a chance to meet their favorite drivers this weekend.
Driver autographs will be taking place once again, which is a special moment for fans from children to adults to meet their favorite driver, get an autograph and a few pictures as well.
As for the racing portion of the program all six classes will be on hand featuring the Whitesboro Plow Shop DIRTCar 358 Modifieds, Bob Johnson Auto Group DIRTCar Sportsman, FABCO DIRTCar Pro Stocks, Donath Motorworx Limited Sportsman, Panther Frameworx Crate Sprint Cars and Sundance Leisure Thundercars.
The points races have tightened up in a few divisions after the most recent program on August 11th.
With Scott Webb taking an emotional win in the Whitesboro Plow Shop DIRTCar 358 Modifieds, another story line was developing. Points leader Tim Fuller was caught up in an incident in turn 2, resulting in a 20 point loss as Billy Dunn and Jordan McCreadie have now moved closer to challenging for the title with two point races left.
Only 14 points separate the top two in the points in Bob Johnson Auto Group DIRTCar Sportsman action. Three-time and defending track champion Tyler Corcoran holds the lead but Mike Fowler, who ended a long dry spell, getting back to victory lane this year, is very much in contention with Gavin Eisle involved, making for a great title battle as the season gets set to wrap up.
Veteran Pete Stefanski is looking to add to his resume, which would rival many Modified drivers. 2nd most DIRTCar Pro Stock wins, 4-time DIRTCar Pro Stock series Champion, two-time Super DIRT Week Pro Stock Champion and many other accolades. The one thing he is seeking is a Can Am FABCO DIRTCar Pro Stock title and he has that chance to do it with some solid performances. Stefanski holds a 22 point advantage over Dakota Sharp, who despite missing a race, has won all four events he has competed in and will be right there to challenge for his first Can Am title as well.
Francis White has managed to mix regular winning with consistency as he holds a commanding lead in the Sundance Leisure Thundercar points standings. White has three feature wins this season and a 72 point advantage over Steve Smith, who has also put together a career season and is still in search of his first win of the 2023 season
Josh Verne Jr. did not walk away with a trophy the last time we were in action as he finished a very close second to Tiger Chapman, who scored his first career Crate Sprint Car victory. Verne, with 5 wins and a runner up finish, is firmly in control of the points lead by 46 over Tucker Donath and rookie Andrew Hennessy.
The Donath Motorworx Limited Sportsman has seen some great racing in 2023 and with the focus on learning and winning races, Keegan Nier has certainly learned how to win many races this year. The Carthage native has been to victory lane 4 times this season, with three in the last four weeks. Brady Howard also has tasted victory lane, winning twice earlier this year with Jake Granacker winning in his first ever start. Most recently, Dylan Moore grabbed his first Can Am win, making it the 4th track he has claimed a win at this season, having won 3 times at Brockville and also collecting checkered flags at Mohawk and Cornwall Speedways.
Many questions will be answered this weekend on track and more importantly, remember your hero cards, as the top stars will be waiting for you to meet them on the frontstretch at intermission.
Gates open at 5pm with National Anthems and opening ceremonies with Miss Thousand Islands and Miss Adirondak prior to the first green flag flying at 7pm.
For more information about what is happening at the track, be sure to check out our website at racecanam.com. Also for instant updates all year, be sure to give the speedway a follow on Facebook.
---
Article Credit: Tim Baltz
Submitted By: Tyler & Michelle Bartlett
Article Media
Back to News