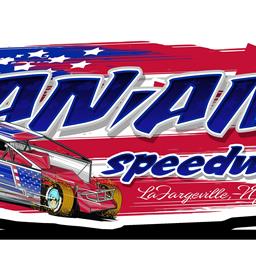 ---
Two Regular Season Nights Left With Can-Am Track Titles Up For Grabs
This coming Friday night (08.18.23) the Can Am Speedway will be silent as staff and management prepare for three more weeks of racing, which include two important nights for those chasing track titles.
The point battle tightened up significantly in the Whitesboro Plow Shop DIRTCar 358 Modifieds. Two-time and defending track champion Tim Fuller lost 20 points to current runner up Billy Dunn. Fuller was involved in an early race tangle with Jordan Kelly forcing him to the pits under yelow. Fuller would return to finish 11th, while Billy Dunn and Jordan McCreadie finished third and fourth in last Friday nights feature. Scott Webb won his first Modified feature since June of 2008 while Lucas Fuller had a career night finishing 2nd.
The Bob Johnson Auto Group DIRTCar Sportsman did not run for track points last Friday, instead our track regulars battled the invaders with the DIRTCar Sportsman North Regional Series. Lafargeville New York's Dave Rogers claimed the win over Gavin Eisle and Mike Fowler. In the battle for the track title, three-time and defending champion Tyler Corcoran leads by 14 over Mike Fowler with Gavin Eisle into the mix in third, just 26 points behind the leader duo.
Pete Stefanski has done it all in the world of DIRTCar Pro Stock racing. Four times in a row the Wheatfield New York native won the DIRTCar Pro Stock Series title from 2006 through 2009. Stefanski has also hoisted the prestigious DIRTCar Pro Stock championship trophy in 2009 and 2012 at Super DIRT Week. Stefanski has however, never won a Can Am championship and is looking to secure that this season. Despite no wins, Stefanski holds a 22 point lead over Dakota Sharp, who has won all four of his starts this year and is looking for his first title, while also hoping to join his Father Kyle Sharp as a Can Am champion. Kyle won the Pure Stock championship in dominant fashion in 1999.
Tiger Chapman did something nobody else has been able to do in Panther Frameworx 602 Crate Sprint Car action in 2023, that's win a feature. Coming into last Friday night's show sponsored by NNY Shed Builders, Josh Verne Jr. had won all five races on the year. Verne made it close in the 20 lapper, but ran out of time, as Chapman claimed his first ever Crate Sprint Car win. Verne is in control of the point lead by 46 over Tucker Donath.
Consistency and three feature wins have placed Francis White atop the leaderboard in the Sundance Leisure Thundercar division this year. White kept the consistency rolling with a runner up finish, to long time friend Justin Pope, who won his third feature of the season, only running a partial schedule. White, the Ogdensburg New York native, has been rock solid this year, as he chases his first championship with a comfortable 72 point lead over Steve Smith, who is also having a career year.
It's all about wins in the Donath Motorworx Limited Sportsman and Keegan Nier has been a frequent visitor in victory lane at Can-Am this season. The Carthage native, claimed his 4th win of the season and third in the last 4 weeks. Brady Howard has also been a strong front runner with two wins on the year with Dylan Moore finally getting his first Can-Am win two weeks ago. Invader Jake Granacker won in his only start on June 9th
As we roll into the off week at Can-Am some drivers are comfortable where they are at in points, some maybe not so comfy. What we do know, it will be an action- packed week of racing when Can Am get's back at it on Friday August 25th with a full card of racing in all 6 classes.
Fans will also get to wish their favorite driver good luck as it is driver autograph night. The family autograph session will be held on the front stretch during intermission. Drivers will have hero cards and treats for the youth as always!
Gates will open at 5pm with hot laps to follow. Opening ceremonies and National Anthems will also be performed by Miss Adirondak and Miss Thousand Islands prior to the green flag dropping on the first heat at 7pm.
For more details on the upcoming shows at Can Am including final points night and the season finale. Check out our website at racecanam.com. For instant updates, be sure to give Can Am Speedway a follow-on Facebook
---
Article Credit: Tim Baltz
Submitted By: Tyler & Michelle Bartlett
Back to News