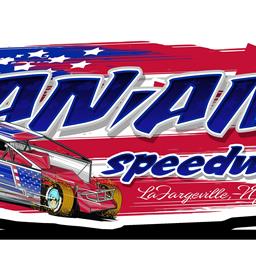 ---
Scott Webb Returns To Winning Form Taking First Can-Am Win Since 2008
Plenty of action was happening both on and off the track this past Friday night at the Can Am Speedway in Lafargeville New York. All six classes took to the speedway after a rainout from one week ago and all drivers were set for battle.
Along with drivers ready to get back on track, NNY Shed Builders out of Lowville were on hand and it was a night of celebration for our local First Responders, who took to the speedway for a special parade at intermission.
The night kicked off with a 12 lap contest for the Donath Motorworx Limited Sportsman and Genevieve Bartlett taking the lead, but Brady Howard and Keegan Nier would charge by in turn two to take over the top two spots. These two drivers put on a display for the fans as they battled hard for the top spot. Howard and Nier made slight contact at the halfway point with Howard taking command on lap 6, but that didn't slow Nier down at all. On lap 7 Nier was able to get back by Howard after another great battle. From there Keegan Nier marched on to score his 4th win of the year and 3rd in the last four outings this year. Brady Howard crossed in second over Dylan Moore, Kyle Reif and Genevieve Bartlett.
Scott Webb was the story in the 25 lap Whitesboro Plow Shop DIRTCar 358 Modifieds. The Brownville New York native took the lead from Tyler Bartlett early on with Lucas Fuller completing the top three. The track championship battle got really close on lap 4 after Jordan Kelly clipped an infield tire, collecting points leader Tim Fuller. Kelly was done for the night, Fuller returned but had to charge from the tail of the field. On the restart it was Webb in control with Lucas Fuller and Preston Forbes now charging forward. Webb however, was the dominant car as he pulled away from the field by over a straight away, but Billy Dunn and Jordan McCreadie were on the charge, not only looking for a win, but also trying to make up points on Tim Fuller, who was still caught in the back of the field. Both drivers made it to fourth and fifth, challenging Preston Forbes for third, as Scott Webb and Lucas Fuller remained well in control of the top two spots. As the laps clicked off Scott Webb was looking like he would march to victory lane, but a caution on lap 21 for Keith Weston, who spun in turn 4, would give Lucas Fuller, Billy Dunn, Jordan McCreadie and Preston Forbes the one shot they were looking for. When the green returned, Scott Webb did a masterful job on the restart, taking the lead leaving Dunn and Fuller to battle for second. On June 7th 2008 Scott Webb took his only Modified win in a Big Block at Can Am, on this night he would end the drought, claiming his first DIRTCar 358 Modified win at the speedway. Lucas Fuller claimed a career best second over Billy Dunn, Jordan McCreadie and Preston Forbes.
The DIRTCar Sportsman North Regional Series was on hand with 29 drivers read for a 30 lap contest, featuring invaders and our own locals in the Bob Johnson Auto Group DIRTCar Sportsman Division. The start of the race saw Eric Nier take the lead from the pole over Gavin Eisle, Kyle Devendorf, Fire Swamp and Dave Rogers. Nier was looking for his first win and held a comfortable lead in the opening laps as Eisle and Dave Rogers tried to keep pace with the Carthage native. Laps were clicking of at a quick pace and Nier was the dominant car as the race went on, even in traffic, his car was not slowed at all as Eisle and Rogers, were hoping for a yellow flag to get a chance at the leader. On lap 17, that's just what they got, as Steve Roberts slowed off turn four and the yellow flew. The next restart was where Dave Rogers made the winning move as he jumped to the extreme inside lane for a three wide move to take the top spot away as Eisle remained in second, with Nier, Mike Fowler and Kyle Devendorf still fifth. From there Dave Rogers put it on auto pilot, pulling away to a big lead with Gavin Eisle second and Mike Fowler making it to the top three in the closing laps. After a big move on the restart and saving his best for the end, Dave Rogers made it pay off as he dominated the final 13 laps to secure his second win on the season at Can Am, third career points paying series win and 5th overall counting his two World Short Track Championships in Charlotte. Gavin Eisle crossed a solid second over Mike Fowler, Tyler Corcoran and Jessica Power.
Veteran Pete Stefanski and Dakota Sharp put on a great show for the fans in the early laps of the 20 lap FABCO DIRTCar Pro Stock feature event. Stefanski, who is still looking for his first win of the year, was in a battle for position all race long as Sharp put the pressure while Kenny Hartshorn was close by in third. Several early race cautions slowed the event but did not stop the intense battle for the lead. On lap 13 Dakota Sharp finally found the groove as he got by Stefanski for the lead and tried to pull away. Over the final laps Pete Stefanski gave it everything he had, but a trip to victory lane would have to wait another day, as Dakota Sharp notched his 4th win of the season over Pete Stefanski and Kenny Hartshorn.
The 20 lap Panther Frameworx 602 Crate Sprint Cars took to the speedway next and the question still remained, who can beat Josh Verne Jr.? That question still has not been answered and Tiger Chapman was looking to do so as he grabbed the lead at the start of the race over Andrew Hennessy and Tucker Donath. Chapman had a big lead but Verne was on the charge has he made his way to the front. By the halfway point Chapman had a straight away and a half lead but Verne was closing quickly with Hennessy third, Tucker Donath and Evan Reynolds charging to fifth. On the final lap Verne closed to within 3 car lengths as Chapman struggled in traffic. Chapman was able to get through the lapped cars and hold off Josh Verne Jr. to claim his first ever win in the Crate Sprint division. Verne settled for second over Andrew Hennessy, Tucker Donath and Evan Reynolds.
The final race of the night featured the 15 lap Sundance Leisure Thundercars and Justin Pope was the dominant force. Pope started 7th and wasted no time going to the lead around early pace setter OJ White. Behind the leader Jared Gilson and Francis White were in a great battle for second, with White taking the spot away, but still had work to do to catch the leader. Over the final laps, without the help of the caution, Justin Pope would go unchallenged for his 2nd win in a row and third this year. Francis White, who won a feature Wednesday night at Mohawk, settled for second on home turf with Phil Desormeau III, Anthony St. Mary Jr. and Steve Smith finishing 5th.
The Can Am Speedway is off next Friday night but returns with a six division card on Friday August 25th. It's also driver autograph night, as fans can head down on the front stretch to meet their favorite driver they see each week at Can Am.
Gates open at 5pm with hot laps prior to the first green flag dropping at 7 o'clock. Miss Thousand Islands and Miss Adirondak will be on hand for National Anthems and Opening ceremonies. For further information, check out the speedway website at racecanam.com. Also be sure to give the speedway a follow on our Facebook page.
WHITESBORO PLOW SHOP DIRTCAR 358 MODIFIED
Feature (25 Laps): 1. 18W-Scott Webb[2]; 2. 74-Lucas Fuller[4]; 3. 49-Billy Dunn[11]; 4. 28-Jordan McCreadie[10]; 5. 45R-Preston Forbes[8]; 6. 39-Ryan Bartlett[6]; 7. R70-Ryan Arbuthnot[12]; 8. 21C-Taylor Caprara[16]; 9. 39T-Tyler Bartlett[1]; 10. 31-Lance Willix[18]; 11. 19-Tim Fuller[9]; 12. 7M-Madison Mulder[22]; 13. 7S-Shaun Shaw[15]; 14. 21R-RJ Tresidder[14]; 15. 9-Tyler Meeks[19]; 16. 66W-Derek Webb[7]; 17. 36B-Dan Beachard[20]; 18. 80-Doug Buzzell[23]; 19. 12W-Keith Weston[21]; 20. 54G-Greg Snyder[24]; 21. 21-Andrew Howard[5]; 22. 26-Michael Mandigo[13]; 23. 23-Cameron Black[17]; 24. 24-Jordan Kelly[3]
Heat 1 (8 Laps): 1. 21-Andrew Howard[3]; 2. 45R-Preston Forbes[5]; 3. 19-Tim Fuller[6]; 4. 24-Jordan Kelly[2]; 5. 26-Michael Mandigo[1]; 6. 21C-Taylor Caprara[7]; 7. 9-Tyler Meeks[4]; 8. 7M-Madison Mulder[8]
Heat 2 (8 Laps): 1. 39T-Tyler Bartlett[1]; 2. 39-Ryan Bartlett[3]; 3. 28-Jordan McCreadie[6]; 4. R70-Ryan Arbuthnot[7]; 5. 21R-RJ Tresidder[4]; 6. 23-Cameron Black[5]; 7. 36B-Dan Beachard[2]; 8. 80-Doug Buzzell[8]
Heat 3 (8 Laps): 1. 18W-Scott Webb[1]; 2. 49-Billy Dunn[6]; 3. 66W-Derek Webb[3]; 4. 74-Lucas Fuller[2]; 5. 7S-Shaun Shaw[4]; 6. 31-Lance Willix[5]; 7. 12W-Keith Weston[7]; 8. 54G-Greg Snyder[8]
BOB JOHNSON DIRTCAR SPORTSMAN
DIRTcar Sportsman Feature (30 Laps): 1. 44-David Rogers[8]; 2. 18-Gavin Eisele[2]; 3. 410-Mike Fowler[6]; 4. 64-Tyler Corcoran[7]; 5. 52-Jessica Power[10]; 6. 35B-Brennan Moore[13]; 7. 34-Eric Nier[1]; 8. 32RS-Ryan Shanahan[11]; 9. 57H-Remington Hamm[12]; 10. 91-Josh Reome[18]; 11. 17-Owen Nier[5]; 12. 88-Fire Swamp[3]; 13. 92-Frank Sibley[17]; 14. 5-Kyle Devendorf[4]; 15. 63M-Franklin Mackin[21]; 16. 6-Brian Hudson[19]; 17. 62-Jonathan Murphy[14]; 18. 18G-Justin Gadbaw[22]; 19. 12S-Kyle Sharp[30]; 20. 98-Domonick Merkley[23]; 21. 25-George Sanford[27]; 22. 7D-Dustin Hutton[16]; 23. 1D-Paul DeRuyter[25]; 24. 621G-Trevor Gibbons[26]; 25. 03-Joshua Jock[24]; 26. 1W-Brad reif[29]; 27. 10X-Cory Castell[28]; 28. 2-Taylor Doxtater[9]; 29. FOX28-Tyler Stevenson[15]; 30. (DNF) 5R-Steve Roberts[20]
Heat # 1 (8 Laps): 1. 88-Fire Swamp[3]; 2. 5-Kyle Devendorf[1]; 3. 2-Taylor Doxtater[5]; 4. 52-Jessica Power[6]; 5. 35B-Brennan Moore[4]; 6. 7D-Dustin Hutton[2]; 7. 6-Brian Hudson[10]; 8. 18G-Justin Gadbaw[9]; 9. 1D-Paul DeRuyter[7]; 10. 10X-Cory Castell[8]
Heat # 2 (8 Laps): 1. 18-Gavin Eisele[1]; 2. 34-Eric Nier[2]; 3. 17-Owen Nier[4]; 4. 32RS-Ryan Shanahan[10]; 5. 62-Jonathan Murphy[6]; 6. 92-Frank Sibley[5]; 7. 5R-Steve Roberts[9]; 8. 98-Domonick Merkley[7]; 9. 621G-Trevor Gibbons[3]; 10. (DNS) 1W-Brad reif
Heat # 3 (8 Laps): 1. 44-David Rogers[1]; 2. 410-Mike Fowler[2]; 3. 64-Tyler Corcoran[3]; 4. 57H-Remington Hamm[5]; 5. FOX28-Tyler Stevenson[4]; 6. 91-Josh Reome[8]; 7. 63M-Franklin Mackin[7]; 8. 03-Joshua Jock[9]; 9. 25-George Sanford[6]; 10. 12S-Kyle Sharp[10]
Timed Hot Laps # 1 (2 Laps): 1. 5-Kyle Devendorf, 00:20.876[10]; 2. 7D-Dustin Hutton, 00:20.898[9]; 3. 88-Fire Swamp, 00:21.361[1]; 4. 35B-Brennan Moore, 00:21.397[8]; 5. 2-Taylor Doxtater, 00:21.731[7]; 6. 52-Jessica Power, 00:21.783[5]; 7. 1D-Paul DeRuyter, 00:21.787[3]; 8. 10X-Cory Castell, 00:21.936[6]; 9. 18G-Justin Gadbaw, 00:22.009[4]; 10. (DNS) 6-Brian Hudson
Timed Hot Laps # 2 (2 Laps): 1. 18-Gavin Eisele, 00:21.163[2]; 2. 34-Eric Nier, 00:21.222[1]; 3. 621G-Trevor Gibbons, 00:21.449[5]; 4. 17-Owen Nier, 00:21.483[10]; 5. 92-Frank Sibley, 00:21.736[6]; 6. 62-Jonathan Murphy, 00:21.748[4]; 7. 98-Domonick Merkley, 00:22.279[3]; 8. 1W-Brad reif, 00:23.346[7]; 9. (DQ) 5R-Steve Roberts, 00:22.384[8]; 10. (DNS) 32RS-Ryan Shanahan
Timed Hot Laps # 3 (2 Laps): 1. 44-David Rogers, 00:20.514[6]; 2. 410-Mike Fowler, 00:21.156[3]; 3. 64-Tyler Corcoran, 00:21.211[4]; 4. FOX28-Tyler Stevenson, 00:21.433[1]; 5. 57H-Remington Hamm, 00:21.501[10]; 6. 25-George Sanford, 00:21.650[2]; 7. 63M-Franklin Mackin, 00:21.749[7]; 8. 91-Josh Reome, 00:21.780[8]; 9. 03-Joshua Jock, 00:21.800[9]; 10. 12S-Kyle Sharp, 00:21.899[5]
REDRAW: 1. 34-Eric Nier[5]; 2. 18-Gavin Eisele[2]; 3. 88-Fire Swamp[1]; 4. 5-Kyle Devendorf[4]; 5. 17-Owen Nier[8]; 6. 410-Mike Fowler[6]; 7. 64-Tyler Corcoran[9]; 8. 44-David Rogers[3]; 9. 2-Taylor Doxtater[7]
FABCO DIRTCAR PROSTOCK
Feature (20 Laps): 1. 12S-Dakota Sharp[3]; 2. 2-Peter Stefanski[1]; 3. 75-Kenneth Hartshorn Jr[2]; 4. 25-Francis Rivest[5]; 5. M4-Yanick Beauchemin[6]; 6. 62-Jayson Tolhurst[7]; 7. 3-Rick Dusckas[9]; 8. 04-Christian Beauchemin[4]; 9. 00C-Michael Clark[8]
Heat 1 (8 Laps): 1. 12S-Dakota Sharp[5]; 2. 2-Peter Stefanski[3]; 3. 75-Kenneth Hartshorn Jr[4]; 4. 04-Christian Beauchemin[7]; 5. 25-Francis Rivest[9]; 6. M4-Yanick Beauchemin[6]; 7. 62-Jayson Tolhurst[8]; 8. 00C-Michael Clark[1]; 9. 3-Rick Dusckas[2]
Hot Laps: 1. 12S-Dakota Sharp, 00:23.450[6]; 2. 75-Kenneth Hartshorn Jr, 00:23.702[4]; 3. 00C-Michael Clark, 00:24.095[3]; 4. 04-Christian Beauchemin, 00:24.809[1]; 5. M4-Yanick Beauchemin, 00:25.400[2]; 6. 25-Francis Rivest, 00:45.143[5]; 7. (DNS) 2-Peter Stefanski; 8. (DNS) 62-Jayson Tolhurst; 9. (DNS) 3-Rick Dusckas
PANTHER FRAMEWORX 602 CRATE SPRINT CARS
Feature (20 Laps): 1. 271-Tiger Chapman[1]; 2. 1V-Josh Verne Jr[6]; 3. 87-Andrew Hennessy[4]; 4. Z28-Tucker Donath[3]; 5. 13-Evan Reynolds[8]; 6. 88-Bruno Richard[2]; 7. 00-Ryan Poole[5]; 8. 23M-Lee Sanders[10]; 9. 30-Ken Klinkowsky[7]; 10. 73-Michael Cousins[9]; 11. 93-Guy Gosselin[11]
Heat 1 (6 Laps): 1. 87-Andrew Hennessy[3]; 2. 271-Tiger Chapman[1]; 3. 00-Ryan Poole[5]; 4. 30-Ken Klinkowsky[4]; 5. 73-Michael Cousins[2]; 6. 93-Guy Gosselin[6]
Heat 2 (6 Laps): 1. 88-Bruno Richard[1]; 2. Z28-Tucker Donath[2]; 3. 1V-Josh Verne Jr[5]; 4. 13-Evan Reynolds[3]; 5. 23M-Lee Sanders[4]
Hot Laps: 1. Z28-Tucker Donath, 00:20.063[3]; 2. 1V-Josh Verne Jr, 00:20.307[11]; 3. 88-Bruno Richard, 00:20.783[9]; 4. 00-Ryan Poole, 00:20.796[7]; 5. 271-Tiger Chapman, 00:21.007[1]; 6. 23M-Lee Sanders, 00:21.283[10]; 7. 30-Ken Klinkowsky, 00:21.321[6]; 8. 73-Michael Cousins, 00:21.430[2]; 9. 93-Guy Gosselin, 00:21.793[4]; 10. (DNS) 87-Andrew Hennessy; 11. (DNS) 13-Evan Reynolds
SUNDANCE LEISURE THUNDERCAR
Feature (15 Laps): 1. 27-Justin Pope[7]; 2. 60-Francis White[8]; 3. 26R-Phil Desormeau III[6]; 4. 111J-Anthony St Mary Jr[4]; 5. 16-Steve Smith[5]; 6. 61-Michael Greenfield[9]; 7. 94-OJ White[1]; 8. 02-Jr Durham[12]; 9. 52-Robert Flint[14]; 10. 111-Pat Sullivan[17]; 11. 5M-Ray Bechler[10]; 12. 25-Tyler Collette[11]; 13. 11J-Justin Burns[2]; 14. 0D-Gary Sharlow[13]; 15. 22J-Jared Gilson[3]; 16. 26B-Damien Bechler[15]; 17. (DNS) 60R-Ron White
Heat 1 (6 Laps): 1. 60-Francis White[7]; 2. 26R-Phil Desormeau III[6]; 3. 22J-Jared Gilson[4]; 4. 111J-Anthony St Mary Jr[5]; 5. 61-Michael Greenfield[8]; 6. 25-Tyler Collette[3]; 7. 0D-Gary Sharlow[9]; 8. 26B-Damien Bechler[2]; 9. 111-Pat Sullivan[1]
Heat 2 (6 Laps): 1. 27-Justin Pope[6]; 2. 94-OJ White[1]; 3. 16-Steve Smith[5]; 4. 11J-Justin Burns[2]; 5. 5M-Ray Bechler[3]; 6. 02-Jr Durham[7]; 7. 52-Robert Flint[4]; 8. (DNS) 60R-Ron White
Hot Laps (3 Laps): 1. 27-Justin Pope, 00:24.492[10]; 2. 52-Robert Flint, 00:24.594[7]; 3. 22J-Jared Gilson, 00:25.174[8]; 4. 94-OJ White, 00:25.191[14]; 5. 11J-Justin Burns, 00:25.687[3]; 6. 25-Tyler Collette, 00:25.730[4]; 7. (DNS) 26B-Damien Bechler; 8. (DNS) 5M-Ray Bechler; 9. (DNS) 26R-Phil Desormeau III; 10. (DNS) 02-Jr Durham; 11. (DNS) 61-Michael Greenfield; 12. (DNS) 16-Steve Smith; 13. (DNS) 111J-Anthony St Mary Jr; 14. (DNS) 111-Pat Sullivan; 15. (DNS) 60R-Ron White; 16. (DNS) 60-Francis White
DONATH MOTOR WORX LIMITED SPORTSMAN
Feature (12 Laps): 1. 34-Keegan Nier[4]; 2. 54-Brady Howard[2]; 3. 35D-Dylan Moore[5]; 4. 1W-Kyle Reif[6]; 5. 11-Genavieve Bartlett[1]; 6. 57H-Averi Cunningham[3]; 7. 33-Alan McDonald[7]
Heat 1 (6 Laps): 1. 34-Keegan Nier[6]; 2. 54-Brady Howard[3]; 3. 11-Genavieve Bartlett[1]; 4. 57H-Averi Cunningham[5]; 5. 35D-Dylan Moore[4]; 6. 1W-Kyle Reif[7]; 7. 33-Alan McDonald[2]
Hot Laps (3 Laps): 1. 54-Brady Howard, 00:20.882[3]; 2. 34-Keegan Nier, 00:21.418[6]; 3. 35D-Dylan Moore, 00:22.800[5]; 4. 1W-Kyle Reif, 00:23.429[7]; 5. 11-Genavieve Bartlett, 00:23.530[1]; 6. 33-Alan McDonald, 00:24.948[4]; 7. (DNS) 57H-Averi Cunningham
---
Article Credit: Tim Baltz
Submitted By: Tyler & Michelle Bartlett
Article Media
Back to News