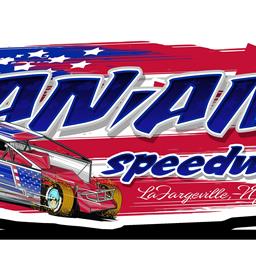 ---
Can-Am Speedway to honor all First Responders Friday Night
Can Am Speedway was once again back in full swing this past Friday night with great racing in all divisions, with FABCO of Watertown on hand as sponsor for the night.
In the 25 lap Whitesboro Plow Shop DIRTCar 358 Modified feature RJ Tressider looked to be well on his way to career win number one. Jordan McCreadie had other ideas, as he took the lead from Tressider on lap 16 and cruised to his first win of the season
Gavin Eisle was fast in the 20 lap Bob Johnson Auto Group DIRTCar Sportsman feature last Friday. He did have to deal with Owen Nier, who was in search of his first ever win. With five laps to go Eisle powered b Nier then held off a hard charging Brennan Moore to become the first two-time winner this season
Dakota Sharp may have been the winner of the 20 lap FABCO DIRTCar Pro Stock feature, but it was not easy. Sharp spun early, then return to the field before the next restart. Sharp started last in the 15 car field and drove through the field, taking the lead from Tyler Bushey, then held off Sid Harmer Jr. to grab his third win in his third start of the year.
Justin Pope is always fast when he shows up to run with the Sundance Leisure Thundercars and this night was no different. The Rome New York Native charged to the lead early and went unchallenged in the 15 lap event, for his 2nd win this year.
Dylan Moore finally got to victory lane in the 12 lap Donath Motorworx Limited Sportsman feature. Moore took the lead early, then held off Keegan Nier, who was looking to grab his 3rd win in a row and 4th of the season. Moore was not to be denied, as he drove to his first Can Am win.
This coming Friday all local first responders will be on hand showcasing everything from police cars to fire trucks, for fans to get an up close look at and also shake hands of the men and women who help keep us safe in an emergency situation. The First Responder Celebration, where all First Responders (with ID) will receive FREE General Admission at Can-Am is brought to you by NNY Shed Builders.
Spectator gates open at 5pm with the green flag dropping at 7pm. Pre-race ceremonies and National Anthems will take place place prior to the start of the night, with Miss Adirondak and Miss Thousand Islands.
To keep up with everything happening at the speedway ion 2023, check out our website at acecanam.com. For instant updates all season, give the speedway a follow on Facebook.
EVENT SPECIAL PRICING:
First Responders with ID will receive FREE GENERAL ADMISSION
EVENT SPECIAL ACTIVITIES:
In the Midway starting at 5pm families are encouraged to visit the firetrucks, ambulances, and police cars. The Jefferson County Sheriff Office will also be at the speedway with their Operation Safe Child ID Card Program. Finally, Kevin Warren has organized raffles of all kinds, including racecar panels and race suits! All proceeds will be donated to the Peyton Morse Foundation.
---
Article Credit: Tim Baltz
Submitted By: Tyler & Michelle Bartlett
Article Media
Back to News