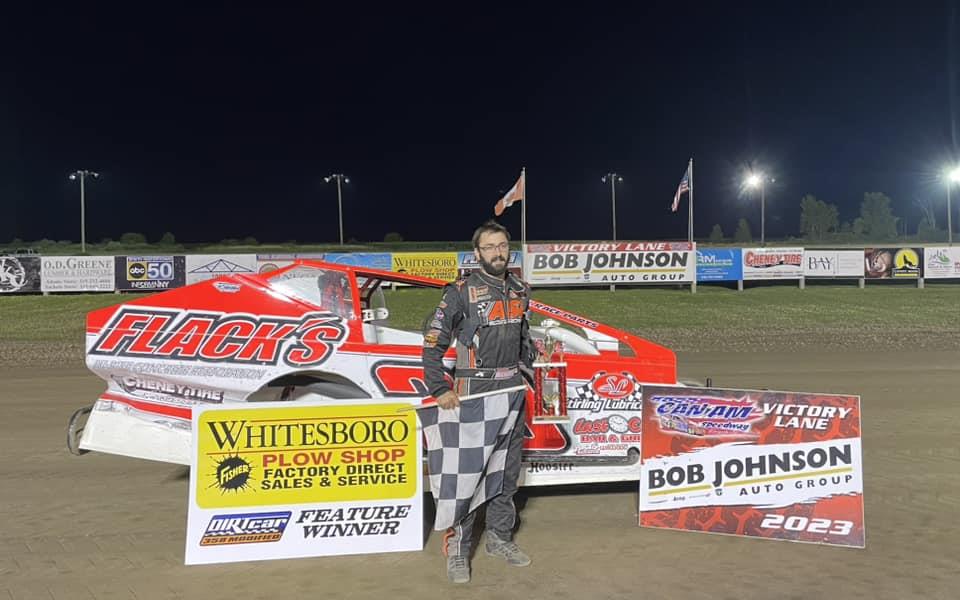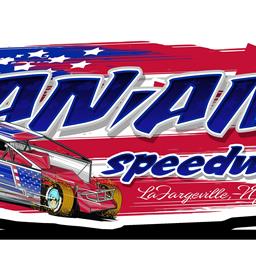 ---
Christmas comes early for Jordan McCreadie with first Can Am win of 2023
We know it's early and only July, but Santa Claus made a stop at the Can-Am Speedway for Christmas in July. Santa brought plenty of presents but also brought great weather and some exciting racing for all five divisions, with FABCO of Watertown on hand as the night's sponsor.
The evening began with a tribute to a pair of for Can Am drivers who meant so much to the local racing scene and Can Am Speedway.
Former Donath Motorworx Limited Sportsman competitor Jordan Jerome was a fierce competitor on the speedway in a career that was cut short due to an illness in 2020. Jerome is survived by his family which include three children.
Larry Bezner was one of the top drivers in the North Country from Late Models to 358 Modifieds, Bezner could simply wheel a race car. Bezner was Can Am Speedway's first ever champion in the Bob Johnson Auto Group DIRTCar Sportsman in 1990 and was dominant on the former Outlaw Circuit, winning track titles at Brewerton, Fulton and Utica Rome Speedways in the mid 90s, before returning to Can-Am for a few seasons in the IMCA Modifieds.
In the evenings racing action, Dylan Moore was the early pace setting in the Donath Motorworx Limited Sportsman division. Moore took the lead on lap 3 of the 12 lap contest with Keegan Nier and Brady Howard right there to challenge. Nier, was in search of his third win in a row on this night and would give the Elgin Ontario native all he could handle, as they battled for the lead. Over the final laps Moore was able to settle into a comfortable lead and drive on to his first win of the season. Nier finished 2nd, with Brady Howard, Dustin Woods and Genavieve Bartlett finishing 5th.
The Sundance Leisure Thundercars were up next for their 15 lap feature and it didn't start off well for Damien Bechler, who went off the back stretch before the completion of lap 1. When racing resumed Justin Pope, who was making his third start of the season, grabbed the top spot, over Steve Smith and Francis White. Pope was on cruise control and held well over a straight away lead on the battle for second which was a great one. Smith was holding on but White was faster as he pulled by for the runner up spot, but still had work to do to catch the leader. Over the final laps, Francis White and the rest of the field had nothing left for Justin Pope, as he scored his second win of the season. White crossed second, over Phill Desormeau III, Steve Smith and Anthony St. Mary Jr.
In Whitesboro Plowshop DIRTCar 358 Modified action, Edwards New York's RJ Tressider was the dominant driver as he led by a straight away at the start of the race, with Ryan Bartlett, Tyler Meeks, Lucas Fuller and Derek Webb filling out the top 5 spots. Tressider had everyone covered in the early going, but Jordan McCreadie, Billy Dunn and two-time track champion Tim Fuller were all on the move. McCreadie would break into the top 3 by lap 10 but had a long way to go to catch the leader. On lap 15 the break everyone needed came in the form of a caution, which bunched the field up for a key restart. When the green flew Tressider continued his march to a possible first career win, but McCreadie was on a charge to the front. After taking second from Meeks, the Watertown native charged by RJ Tressider to grab the lead and begin a dominant run in the final laps. Winner of 2 of the previous 3 races at Can Am, Billy Dunn was on the move as he took second from Meeks, but a trip to the winner's circle would have to wait another week. Jordan McCreadie had been winning a lot of races in the Northeast and finally won at home with his first of the season. Dunn crossed in 2nd ahead of RJ Tressider. Tyler Meeks scored a 4th place finish with Tim Fuller 5th.
Through the first 7 events in the Bob Johnson Auto Group DIRTCar Sportsman division, nobody had made more than one trip to victory lane. Owen Nier was determined to make it 8 different winners as he charged to the lead early in the 20 lap event, with Trevor Gibbons, Brian Hudson, Frank Sibley and Brennan Moore filling out the top 5 early on. After a lap 2 caution Owen Nier had the fastest car on track as he held the top spot by a straight away, but Gavin Eisle and Brennan Moore were all on their way to the front of the field. On lap 8 Eisle had charged his way to second as he got by Gibbons and Hudson, bringing Moore along with him. With 6 laps to go Eisle made his move down the front stretch, to take the lead from Nier, while Moore used the extreme outside lane to charge into second. Eisle may have had the lead but Moore was making up time in a hurry in the final laps. On this night, Brennan Moore's late race charge for a win would have to wait, as Gavin Eisle, became the first repeat winner of 2023. Moore finished a close second, with Tyler Corcoran getting by Owen Nier for third at the line, while Remington Hamm crossed in 5th.
Dakota Sharp tangled with another competitor at the start of the FABCO DIRTCar Pro Stock 20 lap feature and appeared to be finished for the night. After some quick repairs by his crew, Sharp restarted at the tail of the 15 car field. Could he win his third feature from the back? In the early laps it was Tyler Bushey in control of the race, over Mike White and Pete Stefanski. The top 3 cars had a great battle going, but on the move from the back was Dakota Sharp and Sid Harmer Jr. these two drivers were making quick work of the field but still had a long way to go to catch Bushey, White and Stefanski for the top 3 spots. A caution flew just before halfway, bunching the field up for a restart as Sharp and Harmer ran 4th and 5th. When the green flew Bushey was again in control but Sharp made some string moves to get around Stefanski and White to move into 2nd. With 5 laps to go Sharp made his move to the lead while Harmer grabbed second, setting up a classic battle for the win. Harmer and Sharp made slight contact on the white flag lap, which brought Tyler Bushey into the battle one more time. Off turn 4 Dakota Sharp had enough left to clear Harmer and come from last, to win his 3rd feature of the season. Sid Harmer Jr. finished a close second over Tyler Bushey, who was right there in third. Pete Stefanski and Kevin Fetterly Jr.
Next week it will be a tribute to our local first responders with an on track parade showcasing vehicles from local emergency response crews. The Panther Frameworx 602 Crate Sprint Cars will be back on the card along with a full show for the Whitesboro Plow Shop DIRTCar 358 Modifieds, Bob Johnson Auto Group DIRTCar Sportsman, Donath Motorworx Limited Sportsman and Sundance Leisure Thundercars.
To keep up with what is happening at Can-Am Speedway in 2023, be sure to check out our website at racecanam.com. For instant updates through the year, be sure to give Can-Am Speedway a follow on Facebook.
WHITESBORO PLOW SHOP DIRTCAR 358 MODIFIED
Feature (25 Laps): 1. 28-Jordan McCreadie[10]; 2. 49-Billy Dunn[11]; 3. 21R-RJ Tresidder[1]; 4. 9-Tyler Meeks[3]; 5. 19-Tim Fuller[12]; 6. 39-Ryan Bartlett[2]; 7. 7S-Shaun Shaw[13]; 8. 45R-Preston Forbes[8]; 9. 31-Lance Willix[17]; 10. 21JR-Larry Welling[18]; 11. 24-Jordan Kelly[9]; 12. 36B-Dan Beachard[14]; 13. 39T-Tyler Bartlett[20]; 14. 55-Matt Woodruff[19]; 15. 74-Lucas Fuller[4]; 16. 27W-Nick Webb[15]; 17. 66W-Derek Webb[7]; 18. 26-Michael Mandigo[21]; 19. 21C-Taylor Caprara[16]; 20. 18W-Scott Webb[5]; 21. 21-Andrew Howard[6]
Heat 1 (8 Laps): 1. 39-Ryan Bartlett[2]; 2. 9-Tyler Meeks[3]; 3. 18W-Scott Webb[4]; 4. 66W-Derek Webb[5]; 5. 28-Jordan McCreadie[7]; 6. 19-Tim Fuller[9]; 7. 7S-Shaun Shaw[6]; 8. 31-Lance Willix[8]; 9. 27W-Nick Webb[10]; 10. 55-Matt Woodruff[11]; 11. 26-Michael Mandigo[1]
Heat 2 (8 Laps): 1. 49-Billy Dunn[8]; 2. 21R-RJ Tresidder[1]; 3. 21-Andrew Howard[4]; 4. 45R-Preston Forbes[5]; 5. 74-Lucas Fuller[3]; 6. 24-Jordan Kelly[6]; 7. 36B-Dan Beachard[2]; 8. 21C-Taylor Caprara[10]; 9. 21JR-Larry Welling[9]; 10. 39T-Tyler Bartlett[7]
Hot Laps (3 Laps): 1. 28-Jordan McCreadie, 00:19.534[12]; 2. 49-Billy Dunn, 00:19.555[5]; 3. 21C-Taylor Caprara, 00:19.616[4]; 4. 66W-Derek Webb, 00:19.669[16]; 5. 7S-Shaun Shaw, 00:19.810[14]; 6. 74-Lucas Fuller, 00:19.917[7]; 7. 9-Tyler Meeks, 00:19.964[13]; 8. 21R-RJ Tresidder, 00:19.965[15]; 9. 45R-Preston Forbes, 00:19.977[6]; 10. 21JR-Larry Welling, 00:20.120[19]; 11. 24-Jordan Kelly, 00:20.162[10]; 12. 39-Ryan Bartlett, 00:20.178[1]; 13. 21-Andrew Howard, 00:20.231[9]; 14. 18W-Scott Webb, 00:20.252[18]; 15. 27W-Nick Webb, 00:20.380[17]; 16. 36B-Dan Beachard, 00:20.392[3]; 17. (DNS) 39T-Tyler Bartlett; 18. (DNS) 19-Tim Fuller; 19. (DNS) 26-Michael Mandigo; 20. (DNS) 31-Lance Willix
BOB JOHNSON DIRTCAR SPORTSMAN
Feature (20 Laps): 1. 18-Gavin Eisele[9]; 2. 35B-Brennan Moore[5]; 3. 64-Tyler Corcoran[12]; 4. 17-Owen Nier[2]; 5. 57H-Remington Hamm[7]; 6. 91-Josh Reome[6]; 7. 52-Jessica Power[8]; 8. 410-Mike Fowler[14]; 9. 44-David Rogers[17]; 10. 2-Taylor Doxtater[16]; 11. 34-Eric Nier[15]; 12. 6-Brian Hudson[3]; 13. 88-Fire Swamp[27]; 14. FOX28-Tyler Stevenson[22]; 15. 10B-Jamie Brown[11]; 16. 621G-Trevor Gibbons[1]; 17. 18G-Justin Gadbaw[21]; 18. 25-George Sanford[13]; 19. 7O7-Greg Brinklow[19]; 20. 10X-Cory Castell[25]; 21. 83D-Dustin Bradley[24]; 22. 32-Joe Trichilo[23]; 23. 63M-Franklin Mackin[10]; 24. 12S-Kyle Sharp[20]; 25. 62-Jonathan Murphy[31]; 26. 1D-Paul DeRuyter[28]; 27. 95-Kearra Backus[26]; 28. 92-Frank Sibley[4]; 29. 7D-Dustin Hutton[18]; 30. 5R-Steve Roberts[30]; 31. (DNS) 32RS-Ryan Shanahan
Heat 1 (8 Laps): 1. 6-Brian Hudson[4]; 2. 57H-Remington Hamm[6]; 3. 10B-Jamie Brown[8]; 4. 621G-Trevor Gibbons[1]; 5. 25-George Sanford[2]; 6. 2-Taylor Doxtater[5]; 7. 7O7-Greg Brinklow[3]; 8. FOX28-Tyler Stevenson[10]; 9. 10X-Cory Castell[11]; 10. 1D-Paul DeRuyter[9]; 11. 62-Jonathan Murphy[7]
Heat 2 (8 Laps): 1. 91-Josh Reome[5]; 2. 92-Frank Sibley[4]; 3. 52-Jessica Power[6]; 4. 63M-Franklin Mackin[7]; 5. 410-Mike Fowler[8]; 6. 44-David Rogers[10]; 7. 12S-Kyle Sharp[1]; 8. 32-Joe Trichilo[9]; 9. 95-Kearra Backus[2]; 10. (DNS) 32RS-Ryan Shanahan
Heat 3 (8 Laps): 1. 18-Gavin Eisele[6]; 2. 35B-Brennan Moore[4]; 3. 17-Owen Nier[2]; 4. 64-Tyler Corcoran[8]; 5. 34-Eric Nier[5]; 6. 7D-Dustin Hutton[3]; 7. 18G-Justin Gadbaw[1]; 8. 83D-Dustin Bradley[10]; 9. 88-Fire Swamp[7]; 10. 5R-Steve Roberts[9]
Hot Laps (3 Laps): 1. 34-Eric Nier, 00:20.281[16]; 2. 18-Gavin Eisele, 00:20.393[7]; 3. 57H-Remington Hamm, 00:20.404[29]; 4. 410-Mike Fowler, 00:20.538[8]; 5. 17-Owen Nier, 00:20.538[17]; 6. 7D-Dustin Hutton, 00:20.611[12]; 7. 83D-Dustin Bradley, 00:20.634[1]; 8. 35B-Brennan Moore, 00:20.677[14]; 9. 62-Jonathan Murphy, 00:20.695[15]; 10. 63M-Franklin Mackin, 00:20.760[13]; 11. 44-David Rogers, 00:20.761[21]; 12. 6-Brian Hudson, 00:20.782[11]; 13. 88-Fire Swamp, 00:20.800[27]; 14. FOX28-Tyler Stevenson, 00:20.855[26]; 15. 52-Jessica Power, 00:20.873[18]; 16. 10B-Jamie Brown, 00:20.884[3]; 17. 2-Taylor Doxtater, 00:20.886[6]; 18. 12S-Kyle Sharp, 00:20.931[24]; 19. 64-Tyler Corcoran, 00:20.947[4]; 20. 621G-Trevor Gibbons, 00:20.999[10]; 21. 1D-Paul DeRuyter, 00:21.031[5]; 22. 7O7-Greg Brinklow, 00:21.034[2]; 23. 91-Josh Reome, 00:21.126[19]; 24. 5R-Steve Roberts, 00:21.184[20]; 25. 25-George Sanford, 00:21.192[22]; 26. (DNS) 18G-Justin Gadbaw; 27. (DNS) 32RS-Ryan Shanahan; 28. (DNS) 92-Frank Sibley; 29. (DNS) 32-Joe Trichilo; 30. (DNS) 95-Kearra Backus
FABCO DIRTCAR PROSTOCK
Feature (20 Laps): 1. 12S-Dakota Sharp[7]; 2. 690R-Sid Harmer Jr[9]; 3. X15-Tyler Bushey[2]; 4. 2-Pete Stefanski[1]; 5. 57K-Kevin Fetterly Jr[6]; 6. 28-Burton Ward[5]; 7. 75-Kenneth Hartshorn Jr[4]; 8. 75W-Mike White[8]; 9. 72G-Denis Gauvreau[3]; 10. 22B-Blayne Nichols[10]; 11. 3-Rick Dusckas[11]; 12. 1X-Ian Bressette[13]; 13. 5-Connor White[14]; 14. 00C-Cameron Reif[15]; 15. 4S-Styles Arquiett[12]
Heat 1 (8 Laps): 1. 2-Pete Stefanski[1]; 2. 28-Burton Ward[4]; 3. 72G-Denis Gauvreau[3]; 4. 75W-Mike White[6]; 5. 690R-Sid Harmer Jr[5]; 6. 3-Rick Dusckas[8]; 7. 1X-Ian Bressette[2]; 8. (DNS) 0-Cameron Reif
Heat 2 (8 Laps): 1. 12S-Dakota Sharp[5]; 2. X15-Tyler Bushey[1]; 3. 57K-Kevin Fetterly Jr[4]; 4. 75-Kenneth Hartshorn Jr[3]; 5. 22B-Blayne Nichols[2]; 6. 4S-Styles Arquiett[6]; 7. 5-Connor White[7]
Hot Laps: 1. 12S-Dakota Sharp, 00:22.217[6]; 2. 2-Pete Stefanski, 00:22.411[7]; 3. 75-Kenneth Hartshorn Jr, 00:22.471[5]; 4. 690R-Sid Harmer Jr, 00:22.533[4]; 5. 28-Burton Ward, 00:22.556[8]; 6. 22B-Blayne Nichols, 00:22.851[11]; 7. 72G-Denis Gauvreau, 00:22.895[3]; 8. 57K-Kevin Fetterly Jr, 00:23.201[10]; 9. 1X-Ian Bressette, 00:23.332[13]; 10. 5-Connor White, 00:23.767[14]; 11. (DNS) 4S-Styles Arquiett; 12. (DNS) X15-Tyler Bushey; 13. (DNS) 75W-Mike White; 14. (DNS) 0-Cameron Reif; 15. (DNS) 3-Rick Dusckas
SUNDANCE LEISURE THUNDERCAR
Feature (15 Laps): 1. 27-Justin Pope[6]; 2. 60-Francis White[8]; 3. 26R-Phil Desormeau III[7]; 4. 16-Steve Smith[2]; 5. 111J-Anthony St Mary Jr[4]; 6. 94-OJ White[1]; 7. 22J-Jared Gilson[3]; 8. 100-Taylor Doxtater[12]; 9. 111-Pat Sullivan[9]; 10. 11R-Shawn Reid[13]; 11. M1-Micheal Marcinko[10]; 12. 3R-David Rasmussen[11]; 13. 26B-Damien Bechler[5]; 14. (DNS) 52-Robert Flint
Heat 1 (6 Laps): 1. 27-Justin Pope[7]; 2. 16-Steve Smith[2]; 3. 26R-Phil Desormeau III[5]; 4. 111J-Anthony St Mary Jr[3]; 5. 111-Pat Sullivan[1]; 6. 3R-David Rasmussen[4]; 7. 11R-Shawn Reid[6]
Heat 2 (6 Laps): 1. 26B-Damien Bechler[3]; 2. 60-Francis White[5]; 3. 22J-Jared Gilson[2]; 4. 94-OJ White[7]; 5. M1-Micheal Marcinko[6]; 6. (DNS) 100-Taylor Doxtater; 7. (DNS) 52-Robert Flint
Hot Laps (3 Laps): 1. 26B-Damien Bechler, 00:23.660[1]; 2. 26R-Phil Desormeau III, 00:23.846[2]; 3. 22J-Jared Gilson, 00:24.496[4]; 4. 111J-Anthony St Mary Jr, 00:25.301[8]; 5. 11R-Shawn Reid, 00:26.196[6]; 6. (DNS) 52-Robert Flint; 7. (DNS) 3R-David Rasmussen; 8. (DNS) 16-Steve Smith; 9. (DNS) 111-Pat Sullivan; 10. (DNS) 100-Taylor Doxtater; 11. (DNS) M1-Micheal Marcinko; 12. (DNS) 60-Francis White
DONATH MOTOR WORX LIMITED SPORTSMAN
Feature (12 Laps): 1. 35D-Dylan Moore[2]; 2. 34-Keegan Nier[3]; 3. 54-Brady Howard[1]; 4. 16-Dustin Woods[4]; 5. 11-Genavieve Bartlett[5]; 6. 33-Alan McDonald[7]; 7. 57H-Averi Cunningham[6]
Heat 1 (6 Laps): 1. 35D-Dylan Moore[4]; 2. 54-Brady Howard[2]; 3. 34-Keegan Nier[5]; 4. 16-Dustin Woods[6]; 5. 11-Genavieve Bartlett[3]; 6. 57H-Averi Cunningham[7]; 7. 33-Alan McDonald[1]
Hot Laps (3 Laps): 1. 34-Keegan Nier, 00:21.098[5]; 2. 35D-Dylan Moore, 00:21.433[4]; 3. 54-Brady Howard, 00:21.626[2]; 4. 11-Genavieve Bartlett, 00:22.712[1]; 5. 33-Alan McDonald, 00:24.858[3]; 6. (DNS) 16-Dustin Woods; 7. (DNS) 57H-Averi Cunningham
---
Article Credit: Tim Baltz
Submitted By: Tyler & Michelle Bartlett
Article Media
Back to News