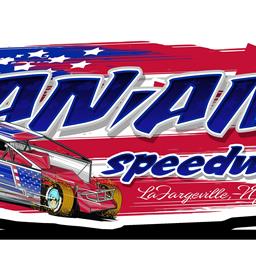 ---
Powder Puff to Highlight Ladies Night at Can-Am Speedway
Plenty will be taking place this coming Friday night at the Can Am Speedway in Lafargeville New York and it will be a night for the ladies. Five classes of racing are set to go for this weekend plus a Powder Puff event, which has been popular over many years not just at Can Am, but racing in the North Country in general.
Last week all fans were treated to a fantastic evening. Lance Willix jumped out front early and dominated the Whitesboro Plow Shop DIRTCar 358 Modified 25 lap feature. Willix won by over a straight away for his second win of the season.
In Bob Johnson Auto Group DIRTCar Sportsman, Fulton New York's Mike Fowler finally ended a winless drought and answered the question, "when are you gonna win again?" Fowler answered that scoring his first win since August 27th of 2021, over three-time and defending track champion Tyler Corcoran.
Keegan Nier made it look easy in Donath Motorworx Limited Sportsman. Nier took the lead early and charged to his 2nd win of the season. In victory lane he dedicated the win to his grandfather, who passed away earlier this season
Josh Verne Jr. remained undefeated in Panther Frameworx 602 Crate Sprint Car action. Verne was caught back in traffic but made his way forward. With two laps remaining, Verne made the pass on Tiger Chapman to score his 4th win in as many events last Friday.
Dakota Sharp picked up the opening day victory in the FABCO DIRTCar Pro Stock division on April 28th. On July 7th, Sharp made it back to victory lane for a second time, holding off Tyler Bushey and Veteran Pete Stefanski for the checkered flag.
One of the closest finishes took place in the Sundance Leisure Thundercar division last week. Points leader Francis White and Justin Pope battled hard for the lead. On the final lap both cars crossed the line nearly even. Francis White was declared the winner.
This week's action features the Whitesboro Plow Shop DIRTCar 358 Modifieds, Bob Johnson Auto Group DIRTCar Sportsman, Panther Frameworx 602 Crate Sprints, Donath Motorworx Limited Sportsman, Sundance Leisure Thundercars and the Powder Puff all on Ladies night. The FABCO DIRTCar Pro Stocks have the night off.
Spectator gates open at 5pm racing starts at 7pm, with opening ceremonies and National Anthems by Miss Thousand Islands and Miss Adirondak.
To keep up with what is happening at the speedway check out our website at racecanam.com. For instant updates be sure to give us a follow on our Facebook page.
---
Article Credit: Tim Baltz
Submitted By: Tyler & Michelle Bartlett
Article Media
Back to News