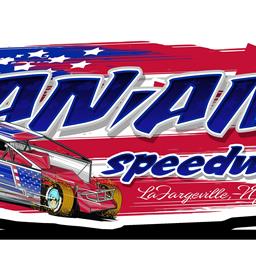 ---
Can-Am to Treat All Dads with a Six Division Card Friday night
With weather delaying the start of last week's program the staff, management and drivers at the Can Am Speedway stuck through it and came out with a great racing program with the Armed Forces, Children's Miracle Network, and Walmart.
Tim Fuller did not let weather delays and rainouts dampen his momentum one bit. Fuller charged from 14th starting spot, to take the lead late in the 25 lap Whitesboro Plow Shop DIRTCar 358 Modified feature last Friday. Fuller got by Jordan Kelly late in the race and sailed to his second straight win. Kelly came home second with Jordan McCreadie third, Lance Willix from 18th to 4th and Shaun Shaw took 5th.
Dave Rogers was making his season debut in the Bob Johnson Auto Group DIRTCar Sportsman division at Can Am. Rogers moved from 11th on the grid to take the lead from Jessica Power on lap 7. Even with a couple of yellows Rogers was not to be denied as he scored his first win of the year, with Power crossing in second and Gavin Eisle third.
A new comer to the division and to Can-Am made his presence known in the Donath Motorworx Limited Sportsman. Jake Granacker took the lead after Brady Howard broke while running in the top spot. Granacker then held off a hard charging Genavieve Bartlett to grab his first win in his first start also.
Francis White has finished no worse than second all season after his win on opening day April 28th. White would hold off a charge from Damien Bechler to score his 2nd win in 4 tries in the Sundance Leisure ThunderCar division. DIRTCar Sportsman driver Taylor Doxtator went from 15th to complete the podium.
A crowd favorite to everyone is the Eastern Ontario Vintage Stock Car Club featuring cars from the 50s, 60s, 70s and 80s. In the 70/80 division Jason Riddell got the lead right away and would hold off Steve Billings for his first Series win of the year and 2nd in a row at Can-Am. Same for Greg Hale in the 50/60 division. The veteran driver led all the way to the checkers holding off Mason Barkley for his second straight win at The Nasty Track of the North.
This Father's Day weekend features a full card of racing for the Whitesboro Plow Shop DIRTCar 358 Modifieds, Bob Johnson Auto Group DIRTCar Sportsman, Donath Motorworx Limited Sportsman, Panther Frameworx 602 Crate Sprints, Sundance Leisure ThunderCars and FABCO DIRTCar Pro Stocks.
Gates open at 5pm with opening ceremonies and National Anthems featuring Miss Thousand Islands and Miss Adirondack. The green flag drops at 7pm.
To keep up on what is happening at the speedway, check out our website at racecanam.com. For instant updates be sure to give us a follow on our Facebook page.
---
Article Credit: Tim Baltz
Submitted By: Tyler & Michelle Bartlett
Back to News