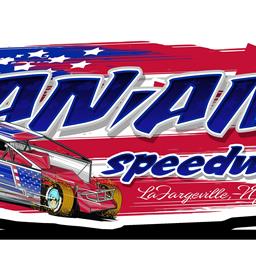 ---
Fuller, Corcoran, and Verne Jr. Hold Points Lead at Can-Am
It just seems like we were all talking about when opening day was coming at the Can Am Speedway for 2023. It was a long winter and aside from a rainout of the Thunder on the Thousand Islands Weekend and a rain out two weeks ago, it has been pedal to the medal for the last month.
So, what has happened on track, during the first three weeks of the season?
The Whitesboro Plow Shop DIRTCar 358 Modifieds have seen a variety of winners. Lance Willix grabbed the season opener in dramatic fashion, while Matt Caprara stole the show with career win number one a week later, the defending track champion and current point leader Tim Fuller notched his first of the year on May 5th and 39th Modified win at Can-Am.
The Bob Johnson Auto Group DIRTCar Sportsman has also seen three different winners. Carthage New York's Ryan Shanahan kicked it off with his first win in nearly three years on opening day with Brennan Moore scoring his first ever triumph a week later. Gavin Eisle overcame the early season struggles to win two weeks ago. Tyler Corcoran has been consistent and leads the points in search of his 4th straight track title.
Josh Verne Jr. won five times last year enroute to the inaugural Panther Frameworx 602 Crate Sprint track title and this year he has been dominant. Despite challenges by Tucker Donath, rookies Bruno Richard and Andrew Hennessy, it has been a perfect year with three wins in three events. Verne Jr. leads the points comfortably.
Sundance Leisure has come on board as sponsor of the Thundercar class for this year, but the racing action has been just as intense. Francis White is the current points leader after a win on opening day and back-to-back runner up finishes. Remington Hamm won his first Thundercar feature on week two, while Justin Pope overcame two flat tires the last time out, to edge out White for his first win in his first start. By the way Hamm is chasing Sportsman and Thundercar titles and sits third in points in both divisions.
Only two events for the FABCO DIRTCar Pro Stocks and Sid Harmer Jr. shows the way as the current points leader. Dakota Sharp kicked off the season on April 28th with his first ever feature win, while Harmer fended off Tyler Bushey for the win on May 5th. Pete Stefanski has joined the Can Am line up this year and has been in contention to win on both nights also.
Donath Motorworx is back for another season as sponsor of the Limited Sportsman division. Keegan Nier kicked off the year with a dominant victory, but the story has been Brady Howard, who told his dad in the off-season, "hey I wanna go racing this year". Howard has responded well with his first career win on May 5th and his second in a row on May 12th.
So what will we see happen the remainder of this year? Will Fuller get his third straight title? Will Corcoran remain the driver to beat for his 4th title in a row? Who will beat Josh Verne Jr.? Can Remington Hamm remain in contention for the Sportsman and Thundercar championships and grab two track titles in the same season? All that and more to be answered as the 2023 season marches on!
Racing resumes at Can-Am on Friday June 2nd with Youth Sports Night and six divisions of racing set for 7pm. We send our well wishes to the young ladies from Miss Thousand Islands and Miss Adirondak, as they compete for Miss New York in Peekskill on June 1st, 2nd, 3rd, and 4th in hopes of a chance at Miss America. Best of luck girls!
As we head into the off week for Memorial Day weekend, we take time to remember those who gave the ultimate sacrifice for our freedom and thank everyone who continues to serve our country.
---
Article Credit: Tim Baltz
Submitted By: Tyler & Michelle Bartlett
Article Media
Back to News