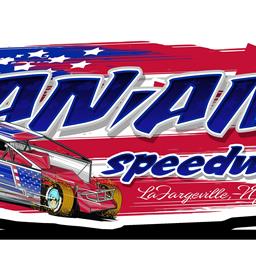 ---
Can-Am set for a Friday Night of Remembrance
LAFARGEVILLE, NY - With the season in full swing at the Can Am Speedway for 2023, this coming Friday will bring another full card of racing in all six divisions. Much like last week, the action will be exciting.
The evening began with a tribute to a long time member of the Can-Am family. Earlier in the week the Can Am Speedway family lost Ed Nier, who supported the speedway in the Karting days for Eric, Owen and Keegan Nier and also in their DIRTCar Sportsman ventures.
Tim Fuller got things going his way as he grabbed his first Whitesboro Plow Shop DIRTCar 358 Modified win of 2023, but it was not easy. Ryan Bartlett had the car to beat and looked well on his way to the win. A late race caution allowed for two-time and defending track champion Tim Fuller one more shot at the lead. Fuller would grab the lead from Bartlett on the restart and coast home for his 39th career Can-Am Modified win.
We nearly saw a first time winner in the 20 lap Bob Johnson Auto Group DIRTCar Sportsman as Kingston Ontario's Greg Brinklow was having a career night. He took the lead just before half way from early pace setter Dustin Hutton. As Brinklow led Gavin Eisle was on the move and looking for something good to happen as he closed in on the leader. Brinklow would get held up in traffic on lap 18, allowing Eisle to get by and cruise to his first win of the season, while Brinklow finished a career best 2nd.
Brady Howard decided in the off-season that he wanted to go racing. It paid off with his first career win in the Donath Motorworx Limited Sportsman on May 5th. This past Friday, Howard grabbed the lead early but had to deal with Keegan Nier as the two drivers re-ignited their battle from a week ago. Nier would suffer mechanical problems with two laps remaining, allowing Howard to drive away to his second win in a row in the 12 lap feature event.
Sid Harmer Jr. came so close to winning the season opener on April 28th with a second place finish, but was strong when the FABCO DIRTCar Pro Stocks returned for the Mother's Day Special. Harmer took the lead from Eli Gilbert, who led the opening 8 laps. Harmer would lead the remaining 12 laps to score his first Can-Am win since May 14th of 2021 in the FABCO DIRTCar Pro Stocks. While Tyler Bushey and Pete Stefanski rebounded from early race troubles to finish second and third.
Despite a few extra entries that included Action Sprint Tour drivers like Mike Bowman and Cam McKinnon, Josh Verne Jr. showed that he was still the top driver in the Panther Frameworx 602 Crate Sprint Car ranks. Andrew Hennessy lead early on until Verne took over the top spot on lap 7 of the 20 lap affair. Once in front Verne would drive away to his third win in three events this season. Hennessy finished a career best 2nd with Mike Bowman taking third.
The Sundance Leisure Thundercars closed out the night and eventual race winner Justin Pope was making his first start of the season. It was an adventure to say the least. Pope went to the pits early with a flat tire, his team changed it and he came back through the field. While this was happening Francis White took the lead from OJ White on lap 4 of the 15 laps feature and was poised to take his second win in three tries. With five to go it appeared he was headed for victory, but Justin Pope, who under a series of mid race yellow flags, pitted for a second flat tire, charged to the front and battled with White for the lead. The top two raced wheel to wheel and by 0.047 seconds Justin Pope would edge out Francis White for the big win.
This coming Friday all six classes will be back in action for A Night of Remembrance at Can-Am. Gates open at 5pm with the first green flag of the night falling at 7pm. For more information including news results and updated points, visit our website and racecanam.com. You can also get instant updates by giving Can Am a follow-on Facebook.
---
SPECIAL REQUESTS - NIGHT OF REMEMBRANCE:
A special night of racing and remembrance is planned for Friday night at Can-Am Speedway in LaFargeville, New York. Racing has a rich heritage in the North Country and Can-Am Speedway is taking the opportunity to call to mind and recognize those past drivers, race team members and fans who have impacted our sport and our lives. If there are race teams, fans, or family members who would like to honor their dearly departed racing-related individuals, please use this link below to enter their information.
Link: https://docs.google.com/forms/d/e/1FAIpQLSc-1dviQ3OU1PBWfKKePD2lPwJJ2cHU4ONf1b9qaBrFjzecFQ/viewform?usp=sf_link
---
Article Credit: Tim Baltz
Submitted By: Tyler & Michelle Bartlett
Article Media
Back to News