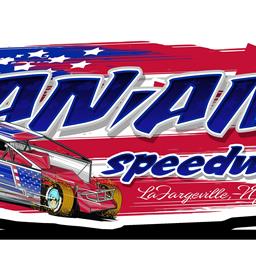 ---
First Time Winners Look to Continue Trend on Mother's Day Weekend at Can Am
LAFARGEVILLE, NY - The 2023 season has been a memorable one for plenty of drivers in all six divisions at the Can Am Speedway. Eleven total features have been run this season across all classes with a total of 10 different winners, the bulk of those first-time winners coming one week ago.
Last week Matt Caprara took the high road to victory lane in the Whitesboro Plow Shop DIRTcar 358 Modifieds. Caprara passed Nick Webb with 4 laps to go and sailed to his first career win over Webb and Jordan McCreadie, who came from 11th on a fast track to finish 3rd.
Brennan Moore had many great runs in 2022 but last week he put it all together for his first career Bob Johnson Auto Group DIRTcar Sportsman win. Moore who makes the haul from Elgin Ontario run weekly at the Nasty Track of the North, grabbed the lead late and held off Owen Nier to claim the win, with three-time and defending track champion Tyler Corcoran finishing 3rd.
Remington Hamm has been one to watch in the Bob Johnson Auto Group DIRTCar Sportsman division, however he tested his talents against the best in the Sundance Leisure ThunderCars a week ago. He proved to be equally as good as he held off opening day winner Francis White to claim his first ever win in the class with Steve Smith claiming his 2nd straight podium finish in 3rd. Hamm mentioned in victory lane that he would continue his double-duty efforts the rest of the season.
The Donath Motor Worx Limited Sportsman saw a battle that involved two drivers that were not about to back down from each other, no matter what they dished out. Keegan Nier and Brady Howard traded paint, grooves and positions on track in the 12-lap event. Howard would hold off Nier at the finish for his first career win with Dustin Woods Third.
Bruno Richard tried to make it five straight first-time winners last week but defending track champion Josh Verne Jr. had other ideas. Verne was able to grab the lead with a great three wide move on both Richard and Michael Cousins to take the lead on lap 8 of the 15-lap feature. From there Verne made it two for two on the year over Tucker Donath and Richard.
This week is a perfect week to bring Mom to the races as The FABCO DIRTcar Pro Stocks will join the card making it a six division Friday night. Spectator gates open at 5pm with hot laps and opening ceremonies to follow. National anthems will also be sung live by Miss Adirondack and Miss Thousand Islands.
For more information about what is happening at the speedway check out our website at racecanam.com or for instant updates, give the speedway a follow on our Facebook page as well.
---
Article Credit: Tim Baltz
Submitted By: Tyler & Michelle Bartlett
Article Media
Back to News