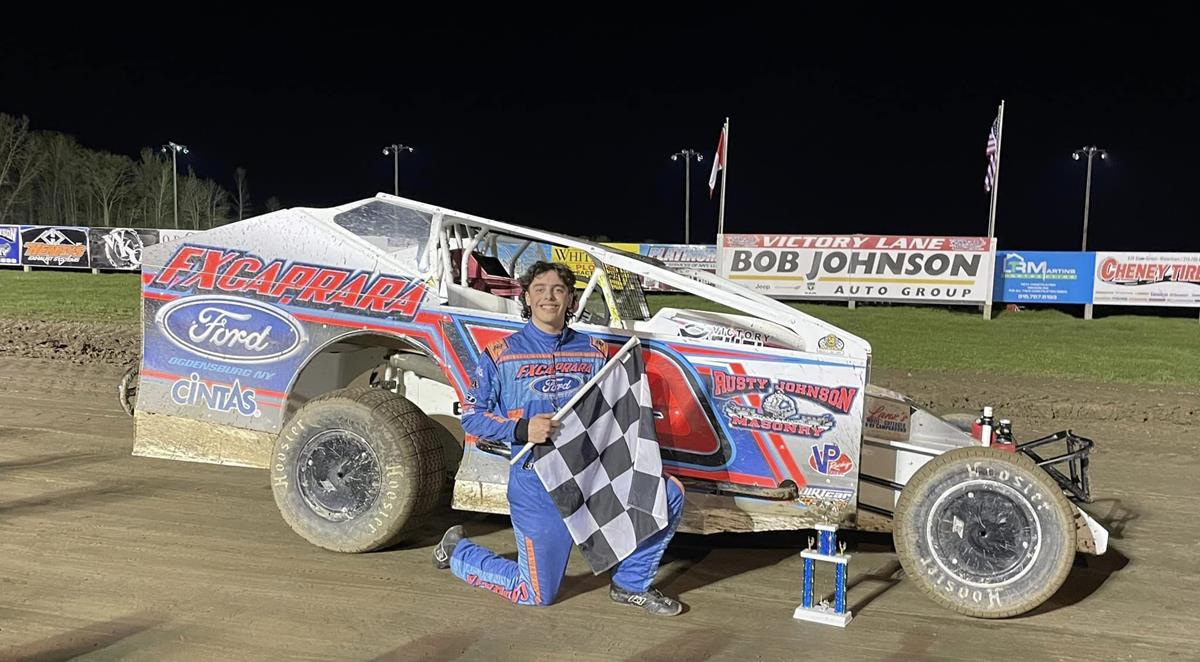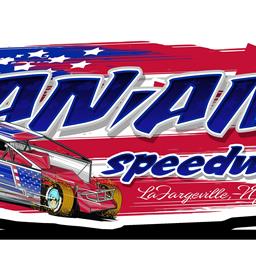 ---
Caprara, Moore, Hamm and Howard win career firsts at Can Am
By: Tim Baltz
Friday night at the Can Am Speedway was nothing short of exciting in all divisions with many teams having something to cheer about. Despite weather all week that was not exactly favorable, track crews did their best all night to give drivers the best track they could. What this produced, was a night of first-time winners on Cinco de Mayo night.
The Donath Motorworx Limited Sportsman kicked off the evening and the 12 lap event was a battle to remember as Brady Howard led early on over last weeks winner Keegan Nier. These two drivers would be the story of the race as they fought hard and even traded some paint, as the both wanted to win badly. Joey Wilcox lost his rear bumper on lap 6, which produced the first yellow of the race. When the green came back out, Brady Howard was determined to keep Keegan Nier at bay. Howard nearly spun on a few occasions, trying to keep Nier behind him and get to victory lane. After a tough physical race between Nier and Howard, it was Brady Howard coming away with his first ever win. Keegan Nier had to settle for 2nd with Dustin Woods finishing 3rd.
Anthony St. Mary Jr. was the driver out front at the start of the 15 lap Sundance Leisure Thundercar feature, but Remington Hamm, a star in the Bob Johnson Auto Group DIRTCar Sportsman, would be the driver to beat as he took the lead before the completion of lap 1 over St. Mary, OJ White, Steve Smith and Francis White. Hamm had a dominant car but opening day winner Francis White was on the move as well. White would grab second and begin to run down the leader. With 5 laps to go the big lead that Hamm had was down to less than a car length. OJ White broke the left front on his car, ending a solid top 5 run for him on lap 12 and the yellow flew. On the final restart Remington Hamm would jump out front and hold off a very determined Francis White, to record his first ever win in the Thundercar ranks. White crossed in second, while Steve Smith, Daniel Valade and Lyle Robinson rounded out the top 5.
The Whitesboro Plow Shop DIRTCar 358 Modifieds are always exciting but it was not an exciting time for last years runner up in points Ryan Bartlett. At the drop of the green flag Bartlett's car began to smoke heavily forcing a quick yellow. Under caution the car became engulfed in flames. Bartlett was able to get the car near the safety crew, climb out quickly and was not injured. The restart of the 25 lap even saw Nick Webb take the lead with Matt Caprara, Tyler Meeks, Shaun Shaw and Chris Raabe chasing him. Webb had a strong car in the early laps, but Matt Caprara was strong on this night and began to reel in the race leader. On lap 10 drivers started to enter traffic as the lead battle started to take shape with Webb and Caprara, while Shaw continued to run a distant third. With 5 laps to go Matt Caprara charged to the top of the track in turn 1 and grabbed the lead. Once in front Matt Caprara put it on auto pilot securing his first career win. Webb claimed 2nd with Jordan McCreadie coming from 11th starting spot to finish third, while Shaun Shaw and Tyler Meeks completed the top 5.
With three divisions seeing first time winners Taylor Doxtator and Owen Nier
were looking to keep that trend going in the 20 lap Bob Johnson Auto Group
DIRTCar Sportsman feature event. Both drivers traded the lead lap after lap at the start of the race, with nobody having a clear advantage, while Gavin Eisle, Tyler Corcoran and Brennan Moore also had a spirited battle in the top 5. Doxtator was able take the top spot away just before the halfway point while behind them,Brennan Moore was moving forwar, as he moved to the third spot. Moore would charge to the top spot on lap 14 as several late race cautions saw many drivers suffer mechanical issues. As the laps clicked off Brennan Moore remained strong while Nier stayed right there to challenge and both were looking for their first career wins. On the move was three-time and defending track champion Tyler Corcoran, who would challenge the top two drivers for his first win of the year. On this night Brennan Moore was determined to head back to Elgin Ontario with a trophy, as he rode the high side of the speedway to victory lane, scoring his first ever win. Owen Nier's bid for his first ever win would result in a career best 2nd place finish, with Corcoran, Dustin Bradley and Eric Nier, who rebounded from mechanical issues on lap 17, to finish 5th.
Bruno Richard was trying to make it five first time winners in five races on the
evening as he took the lead at the start of the 15 lap Panther Frameworx 602
Crate Sprint Car feature, with Michael Cousins and last weeks winner Josh Verne Jr. right there to challenge. Richard and Cousins put on a great show for the fans as they battled side by side for the lead while Verne and Tucker Donath joined the battle, making it a 4-car dance for the top spot. On lap 8 Josh Verne Jr. was tired of having cars in front of him, as he got by both Richard and Cousins to take over the lead. Verne would drive away and looked to be well on his way to his second win in a row. On lap 13 the yellow flew as Michael Cousins' great drive came to an end, slowing on the back stretch. On the final restart, Josh Verne Jr. would not be denied as he claimed his second win of the season. Tucker Donath made a great move to claim second while Bruno Richard and veteran Lee Sanders completed the field.
Next week it's all about Mom as Mother's Day weekend will feature six classes of racing, with the FABCO DIRTCar Pro Stocks making their second appearance of the season. Spectator gates will open at 5pm with the first green flag dropping at 7pm. Opening ceremonies and National Anthems will take place prior, featuring Miss Thousand Islands and Miss Adirondack. For further information on what is happening at the speedway, visit our website at racecanam.com, or give the track a follow-on Facebook.
WHITESBORO PLOW SHOP DIRTCAR 358 MODIFIED
Feature (25 Laps): 1. 29-Matt Caprara[6]; 2. 27W-Nick Webb[1]; 3. 28-Jordan McCreadie[11]; 4. 7S-Shaun Shaw[8]; 5. 9-Tyler Meeks[5]; 6. 19-Tim Fuller[13]; 7. 60-Jackson Gill[14]; 8. 23J-Jeff Sykes[10]; 9. 49-Billy Dunn[12]; 10. 18W-Scott Webb[16]; 11. 21C-Taylor Caprara[18]; 12. 21-Andrew Howard[19]; 13. 24-Jordan Kelly[3]; 14. (DNF) 45R-Preston Forbes[7]; 15. (DNF) 31-Lance Willix[21]; 16. (DNF) R70-Ryan Arbuthnot[17]; 17. (DNF) 44-Jonathan Ferguson[20]; 18. (DNF) 26-Michael Mandigo[22]; 19. (DNF) 66W-Derek Webb[15]; 20. (DNF) 01-Chris Raabe[4]; 21. (DNF) 23-Cameron Black[23]; 22. (DNF) 39-Ryan Bartlett[9]; 23. (DNS) 74-Lucas Fuller
Heat 1 (8 Laps): 1. 9-Tyler Meeks[3]; 2. 7S-Shaun Shaw[4]; 3. 74-Lucas Fuller[2]; 4. 23J-Jeff Sykes[5]; 5. 19-Tim Fuller[7]; 6. 18W-Scott Webb[6]; 7. 21-Andrew Howard[8]; 8. 26-Michael Mandigo[1]
Heat 2 (8 Laps): 1. 28-Jordan McCreadie[5]; 2. 24-Jordan Kelly[2]; 3. 29-Matt Caprara[3]; 4. 49-Billy Dunn[7]; 5. 60-Jackson Gill[4]; 6. R70-Ryan Arbuthnot[6]; 7. 44-Jonathan Ferguson[8]; 8. (DNS) 23-Cameron Black
Heat 3 (8 Laps): 1. 27W-Nick Webb[1]; 2. 01-Chris Raabe[2]; 3. 39-Ryan Bartlett[4]; 4. 45R-Preston Forbes[3]; 5. 66W-Derek Webb[5]; 6. 21C-Taylor Caprara[6]; 7. (DNF) 31-Lance Willix[7]
Hot Laps (3 Laps): 1. 44-Jonathan Ferguson, 00:18.923[7]; 2. 01-Chris Raabe, 00:18.988[16]; 3. 28-Jordan McCreadie, 00:19.139[14]; 4. 9-Tyler Meeks, 00:19.219[15]; 5. 49-Billy Dunn, 00:19.269[6]; 6. 7S-Shaun Shaw, 00:19.476[17]; 7. 21C-Taylor Caprara, 00:19.562[5]; 8. 29-Matt Caprara, 00:19.594[4]; 9. R70-Ryan Arbuthnot, 00:19.640[1]; 10. 21-Andrew Howard, 00:19.677[11]; 11. 45R-Preston Forbes, 00:19.683[8]; 12. 66W-Derek Webb, 00:19.849[19]; 13. 27W-Nick Webb, 00:19.856[20]; 14. 23-Cameron Black, 00:20.043[3]; 15. 23J-Jeff Sykes, 00:20.067[18]; 16. 60-Jackson Gill, 00:20.076[10]; 17. 74-Lucas Fuller, 00:20.152[9]; 18. 24-Jordan Kelly, 00:20.270[12]
BOB JOHNSON DIRTCAR SPORTSMAN
Feature (20 Laps): 1. 35B-Brennan Moore[6]; 2. 17-Owen Nier[2]; 3. 64-Tyler Corcoran[12]; 4. 83D-Dustin Bradley[4]; 5. 34-Eric Nier[9]; 6. 410-Mike Fowler[10]; 7. 2-Taylor Doxtater[1]; 8. FOX28-Tyler Stevenson[7]; 9. (DNF) 5R-Steve Roberts[18]; 10. (DNF) 57H-Remington Hamm[11]; 11. (DNF) 32RS-Ryan Shanahan[15]; 12. (DNF) 91-Josh Reome[21]; 13. (DNF) 18-Gavin Eisele[5]; 14. (DNF) 52-Jessica Power[8]; 15. (DNF) 7O7-Greg Brinklow[17]; 16. (DNF) 6-Brian Hudson[24]; 17. (DNF) 12S-Kyle Sharp[13]; 18.(DNF) 7D-Dustin Hutton[3]; 19. (DNF) 92-Frank Sibley[26]; 20. (DNF) 95-Kearra Backus[23]; 21. (DNF) 62-Jonathan Murphy[20]; 22. (DNF) 98-Domonick Merkley[25]; 23. (DNF) 10B-Jamie Brown[16]; 24. (DNF) 1D-Paul DeRuyter[19]; 25. (DNS) 10X-Cory Castell; 26. (DNS) 11X-Devon Guyette
Heat 1 (8 Laps): 1. 2-Taylor Doxtater[1]; 2. 35B-Brennan Moore[6]; 3. 57H-Remington Hamm[8]; 4. 52-Jessica Power[7]; 5. 12S-Kyle Sharp[3]; 6. 10B-Jamie Brown[4]; 7. (DNF) 1D-Paul DeRuyter[2]; 8. (DNF) 11X-Devon Guyette[5]; 9. (DNF) 98-Domonick Merkley[9]
Heat 2 (8 Laps): 1. 7D-Dustin Hutton[2]; 2. FOX28-Tyler Stevenson[6]; 3. 64-Tyler Corcoran[8]; 4. 34-Eric Nier[7]; 5. 10X-Cory Castell[9]; 6. 7O7-Greg Brinklow[1]; 7. 62-Jonathan Murphy[3]; 8. 95-Kearra Backus[5]; 9. (DNF) 92-Frank Sibley[4]
Heat 3 (8 Laps): 1. 18-Gavin Eisele[3]; 2. 17-Owen Nier[1]; 3. 410-Mike Fowler[7]; 4. 83D-Dustin Bradley[2]; 5. 32RS-Ryan Shanahan[8]; 6. 5R-Steve Roberts[4]; 7. 91-Josh Reome[6]; 8. (DNF) 6-Brian Hudson[5]
Hot Laps (3 Laps): 1. 57H-Remington Hamm, 00:20.178[12]; 2. 18-Gavin Eisele, 00:20.209[9]; 3. 83D-Dustin Bradley, 00:20.355[2]; 4. FOX28-Tyler Stevenson, 00:20.375[26]; 5. 10X-Cory Castell, 00:20.426[5]; 6. 410-Mike Fowler, 00:20.430[10]; 7. 91-Josh Reome, 00:20.519[21]; 8. 34-Eric Nier, 00:20.554[18]; 9. 11X-Devon Guyette, 00:20.562[11]; 10. 7D-Dustin Hutton, 00:20.640[14]; 11. 12S-Kyle Sharp, 00:20.649[24]; 12. 98-Domonick Merkley, 00:20.707[15]; 13. 1D-Paul DeRuyter, 00:20.749[7]; 14. 5R-Steve Roberts, 00:20.842[22]; 15. 2-Taylor Doxtater, 00:20.865[8]; 16. 6-Brian Hudson, 00:20.913[13]; 17. 10B-Jamie Brown, 00:20.942[4]; 18. 35B-Brennan Moore, 00:20.951[16]; 19. 62-Jonathan Murphy, 00:20.975[17]; 20. 17-Owen Nier, 00:20.987[19]; 21. 7O7-Greg Brinklow, 00:21.120[3]; 22. 95-Kearra Backus, 00:21.220[1]; 23. 64-Tyler Corcoran, 00:21.311[6]; 24. 52-Jessica Power, 00:21.481[20]; 25. 92-Frank Sibley, 00:21.617[25]
PANTHER FRAMEWORX 602 CRATE SPRINT CARS
Feature (15 Laps): 1. 1V-Josh Verne Jr[4]; 2. Z28-Tucker Donath[6]; 3. 88-Bruno Richard[1]; 4. 23M-Lee Sanders[7]; 5. 73-Michael Cousins[2]; 6. 271-Tiger Chapman[3]; 7. 87-Andrew Hennessy[5]
Heat 1 (6 Laps): 1. 88-Bruno Richard[1]; 2. 73-Michael Cousins[2]; 3. 1V-Josh Verne Jr[6]; 4. 271-Tiger Chapman[4]; 5. 87-Andrew Hennessy[3]; 6. Z28-Tucker Donath[5]; 7. 23M-Lee Sanders[7]
Hot Laps: 1. 1V-Josh Verne Jr, 00:18.041[7]; 2. Z28-Tucker Donath, 00:18.184[3]; 3. 88-Bruno Richard, 00:18.292[5]; 4. 87-Andrew Hennessy, 00:18.343[4]; 5. 271-Tiger Chapman, 00:18.777[1]; 6. 73-Michael Cousins, 00:18.956[2]; 7. 23M-Lee Sanders, 00:19.950[6]
SUNDANCE LEISURE THUNDERCAR
Feature (15 Laps): 1. 13-Remington Hamm[3]; 2. 60-Francis White[7]; 3. 16-Steve Smith[4]; 4. 22-Daniel Valade[5]; 5. 61-Lyle Robinson[13]; 6. 73T-Timothy Greenfield[10]; 7. (DNF) 111J-Anthony St Mary Jr[1]; 8. (DNF) 94-OJ White[2]; 9. (DNF) 21-Corey Valade[6]; 10. (DNF) 1-Bre Chambers[11]; 11. (DNF) 26-Damien Bechler[9]; 12. (DNF) 22J-Jared Gilson[8]; 13. (DNF) 5M-Ray Bechler[14]; 14. (DNS) 11J-Justin Burns
Heat 1 (6 Laps): 1. 21-Corey Valade[6]; 2. 111J-Anthony St Mary Jr[1]; 3. 94-OJ White[3]; 4. 60-Francis White[5]; 5. 26-Damien Bechler[4]; 6. (DNF) 1-Bre Chambers[7]; 7. (DNF) 61-Lyle Robinson[2]
Heat 2 (6 Laps): 1. 13-Remington Hamm[3]; 2. 16-Steve Smith[4]; 3. 22-Daniel Valade[5]; 4. 22J-Jared Gilson[1]; 5. 73T-Timothy Greenfield[6]; 6. 11J-Justin Burns[7]; 7. (DNS) 5M-Ray Bechler
Hot Laps (3 Laps): 1. 73T-Timothy Greenfield, 00:29.856[5]; 2. 22J-Jared Gilson, 00:30.073[4]; 3. 22-Daniel
Valade, 00:30.537[11]
DONATH MOTOR WORX LIMITED SPORTSMAN
Feature (12 Laps): 1. 54-Brady Howard[2]; 2. 34-Keegan Nier[4]; 3. 16-Dustin Woods[7]; 4. 35D-Dylan Moore[3]; 5. 33-Alan McDonald[1]; 6. 11-Genavieve Bartlett[5]; 7. (DNF) 73-Joey Wilcox[6]
Heat 1 (6 Laps): 1. 33-Alan McDonald[1]; 2. 54-Brady Howard[3]; 3. 34-Keegan Nier[6]; 4. 35D-Dylan Moore[5]; 5. 11-Genavieve Bartlett[2]; 6. 73-Joey Wilcox[7]; 7. 16-Dustin Woods[4]
Hot Laps (3 Laps): 1. 54-Brady Howard, 00:21.956[2]; 2. 35D-Dylan Moore, 00:22.683[4]; 3. 34-Keegan Nier,
00:22.711[5]; 4. 16-Dustin Woods, 00:23.172[7]; 5. 11-Genavieve Bartlett, 00:23.512[1]
---
Article Credit: Tim Baltz
Submitted By: Tyler & Michelle Bartlett
Article Media
Back to News