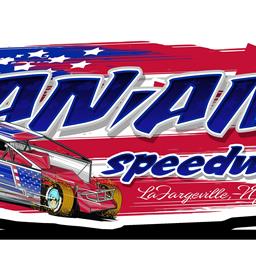 ---
Top Stars at Can Am ready for a Cinco de Mayo Frenzy Friday
By: Tim Baltz
Week number one is in the record books for the 2023 season at the Can Am Speedway and some exciting racing was seen in all divisions.
Lance Willix had no problems finishing in the top 5 on any night, but finally broke through for his first Whitesboro Plow Shop DIRTcar 358 Modified victory in nearly 3 years. Willix, who won his first Can-Am Modified feature July 31st of 2020, slipped past Billy Dunn in turn three with under 5 laps to go and mastered traffic perfectly to collect the opener over Dunn and two-time defending track champion Tim Fuller.
In the Bob Johnson Auto Group DIRTCar Sportsman racing last week, Ryan Shanahan also ended a near 3-year drought at Can-Am, scoring his first win since July 17th of 2020 at the speedway. Shanahan had a dominant car and took the lead early from Remington Hamm and drove to victory. 3-time and defending track champion Tyler Corcoran nipped Hamm at the line for second.
It was exciting and emotional in the FABCO DIRTCar Pro Stocks with Dakota Sharp holding off Pete Stefanski for the lead late in the 20-lap event. Sid Harmer Jr. would make it interesting at the finish as he took second with 2 laps to go and then closed in on the leader. Sharp would hold off both drivers for his first career win after a season of struggles in 2022.
In other action on VP Racing Fuels and Number One Speed night, it was Francis White, who battled brake problems to win the Sundance Leisure Thundercar 15 lapper.
White also tested his talents in the Panther Frameworx 602 Crate Sprints one week ago, which saw defending track champion Josh Verne Jr. overcome mechanical problems early in the night, then pass early leader Tucker Donath for the win with 5 laps left in the 15-lap contest to score the win.
Keegan Nier was clearly dominant in the Donath Motor worx Limited Sportsman 12 lap event. Nier won by over half a track over Dylan Moore and Dustin Woods in a caution free race.
This coming Friday May 5th will feature the Whitesboro Plow Shop DIRTcar 358 Modifieds, Bob Johnson Auto Group DIRTcar Sportsman, Panther Frameworx 602 Crate Sprint Cars, Donath Motor Worx Limited Sportsman and Sundance Leisure ThunderCars. The FABCO DIRTCar Pro Stocks have the night off but are scheduled to return on May 12th for Mother's Day weekend. General Admission Gates will open at 5pm with hot laps beginning at 6:20pm. The first green flag of the night will drop at 7pm after opening ceremonies and national anthems sung live by Miss Thousand Islands & Miss Adirondack Scholarship Competition.
To stay up to date on what is happening at the speedway in 2023, check out our website at racecanam.com or give us a follow on our Facebook page.
---
Article Credit: Tim Baltz
Article Media
Back to News