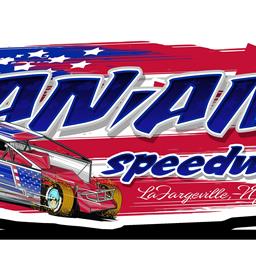 ---
OPEN PRACTICE
OPEN PRACTICE
Can-Am Speedway | Can-Am Speedway Karts
Saturday, April 22
Pit Gates open at 1pm
Cars | Karts on their tracks from 2:30pm - 5:30pm
Pit Concession will be OPEN 2pm - 6pm
No General Admission! The General Admission Gates will be locked.
Stock Car Pit Pass Pricing: All Ages - $25 US | $30 CA
Kart Pit Pass Pricing: All Ages - $20 US | $30 CA
Practice is weather dependent and could change. Please watch for updates.
DRIVERS:
Please take a minute to complete your yearly registration (FREE) on My Race Pass.
A Special Thank You to our 2023 Division Sponsors:
STOCK CARS:
Bob Johnson Auto Group
FABCO
Sundance Leisure
KARTS:
Heller's Gas
Lakeside Outdoor Services
Ron Herzig, Finishing Touch Construction
L&J Landscaping
Billy Whittaker Cars & Trux
D&S Landscaping & Circle T Enterprises
Foy Agency Insurance
Primal T Shop
Maggie's OntheRiver
Factory Direct Mattress Furniture and UHaul
See you at the track!
Back to News