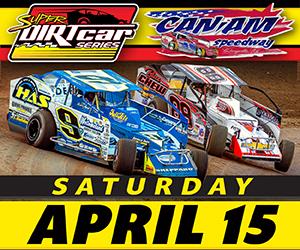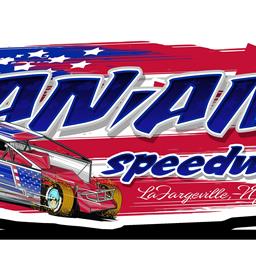 ---
Can Am Speedway ready for Thunder On The Thousand Islands Weekend!
Over the years Can Am Speedway in Lafargeville New York has put on some great racing and April 14th and 15th will be no exception, despite a threat from Mother Nature.
This past week several inches of water soaked the surface at Can-Am but Promoters Tyler and Michelle Bartlett noted that with a great long-range forecast, they will do what it takes to try and make this event happen, which will feature some of the top stars in the Northeast.
"I'm really optimistic about this weekend," noted Tyler Bartlett, "the track did have a lot of water on it but the weather has been good enough to get the track dry to where we can work on it and get it good."
Last year Super Matt Sheppard led every lap in a caution free 75 lap contest stopping Stewart Friesen, who was bidding for back-to-back wins at Can Am. Two-time and defending DIRTcar 358 Modified track champion Tim Fuller took a big block to third in 2022, the highest finishing Can Am regular. In DIRTcar Pro Stock Series action Tyler Bushey took the series opener, his second career tour win and lead every circuit of the 30-lap event, over Mike White and Ian Bressette.
This weekend will see the top stars opening the year for the DIRTcar 358 Modified Series on Friday night and to win this race it's a matter of who can beat Tim Fuller or Billy Dunn. Since 2007 it has been these two drivers who have won the last 7 series races, with Fuller taking 4 victories including the fall of 2022, with Dunn winning the other 3. Both drivers will be among the many top stars in the field, along with some big block invaders looking for extra weekend track time in the 50-lap event.
Joining the DIRTcar 358 Series will be a 25-lap feature for the Bob Johnson Auto Group DIRTcar Sportsman with all drivers chasing three-time and defending track champion Tyler Corcoran. Last year's runner up Mike Fowler, Gavin Eisle, Dave Rogers, Tyler Stevenson and others will be looking to get to victory lane in the first of two events on the weekend. The Super DIRTcar Series and DIRTcar Pro Stock Series are also part of the evening for an open practice session.
Saturday the Super DIRTcar Series Big Block Modifieds will highlight the evening and the question remains, who can stop the 9 time and defending Series champion Matt Sheppard, who has won 3 of the last 4 events at "The Nasty Track of the North."
Stewart Friesen could be the driver to do it, having won at Can Am in 2021 but others like track champion Tim Fuller, series regulars Mat Williamson, Max McLaughlin, Jimmy Phelps, Jack Lehner and Peter Britten, could be among the many drivers to challenge Sheppard for a trip to victory lane.
The DIRTcar Pro Stock Series will open their series and Tyler Bushey will be looking for his 3rd career series win and 2nd in a row at Can Am. Several of the top stars in the series will invade the speedway. Bushey and several other track regulars will also be on hand to challenge home turf and start the season off on the right foot.
Also, on the card the Bob Johnson Auto Group DIRTcar Sportsman will be back for a second straight 25 lap feature event and the Sundance Leisure ThunderCars part of the Saturday program for a 20-lap contest.
Friday pit gates will open at 2pm with hot laps and time trials getting underway at 6pm for the DIRTcar 358 Modified Series and DIRTcar Sportsman. Heat races will follow shortly after.
Saturday pit gates are set to open at 1pm with hot laps and time trials for the Super DIRTcar Series, DIRTcar Pro Stock Series and Bob Johnson Auto Group DIRTcar Sportsman set for 5pm. Heat races for all divisions including the Sundance Leisure ThunderCars will be after opening ceremonies.
For information on ticket prices and schedules of events, be sure to visit the speedway website at racecanam.com or give us a follow-on Facebook.
Quick Notes:
-23 events have been held for the Super DIRTCar Series and Steve Paine leads all drivers with 4 series wins (1991, 1993, 1997 and 2007).
-Brett Hearn leads all drivers with 11 top 5 and 16 top 10 finishes in 20 career starts.
-Billy Decker is the only driver to start all 23 Super DIRTCar Series events at Can Am since 1988.
-Tim Fuller is the winningest driver in DIRTCar 358 Modified Series events at Can Am with 6 wins.
-Pete Stefanski, Louie Jackson, Justin White and Tyler Bushey have won the previous 4 DIRTCar Pro Stock Series events held at the speedway since 2005.
---
Article Credit: Tim Baltz
Back to News