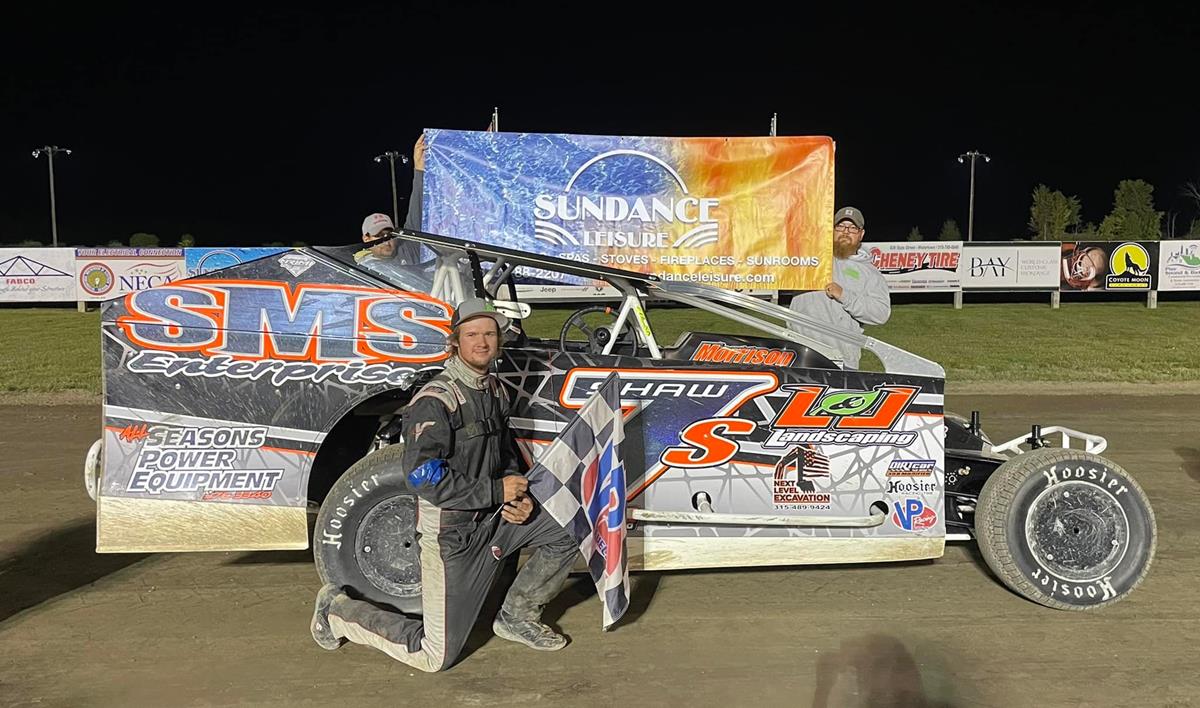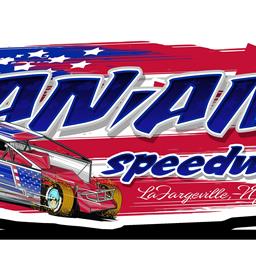 ---
SHAUN SHAW SCORES HIS FIRST CAREER 358 MOD VICTORY AT CAN-AM ON CHAMPIONS NIGHT - FULLER, CORCORAN CROWNED TRACK CHAMPIONS
LAFARGEVILLE, NY – It was the Night of Champions at Can-Am Speedway Friday night. The night when the points were tallied for the last time and track champions were crowned was sponsored by Channel 7 News and Sundance Leisure.
Shaun Shaw, of Philadelphia, New York, collected his first career victory in the Whitesboro Plow Shop 358 Modified class on Friday night, leading the entirety of the race after he claimed the lead from RJ Tresidder, of Edwards, New York, in the first lap. Shaw got past Tresidder and kept his foot through the floor to power ahead of a competitive field for the win.
"It's been a long time coming," Shaw said when speaking with Can-Am track announcer, Tim Baltz after the race in victory lane. "We got out ahead there at the beginning, and I got into cruise control early and just kept hitting my marks. It's great to finally check this one off the list. I haven't won at Can-Am since I was in Novice Sportsman seven or eight years ago, so this is awesome."
Tim Fuller, of Watertown, New York, had already wrapped up the track championship in the Whitesboro Plow Shop DIRTcar 358 Mods one week ago, but he put in a fine finish himself, climbing up from 8th position to finish third, just behind Ryan Bartlett, also of Watertown, New York, who finished the season second in points.
Fuller seemed rather sedate after claiming his second track championship in as many years. "I have been here for a few years. Thankfully we had a good season over the last couple. It's amazing to see all the people over the years here. We get to see a lot of the same faces. Cars have changed over the years. You can get yourself into a position with a good car and try not to make a stupid decision and you can win."
In the Bob Johnson Auto Group DIRTcar Sportsman Modified feature, it was all on the line for the track championship, with Mike Fowler, of Fulton, New York, heading into the race leading by three points over two-time track champion, Tyler Corcoran, of Central Square, New York. Corcoran started the race in 8th position, while Fowler started in 9th. As the race progressed, Corcoran climbed up through the field, with Fowler just a few positions behind.
By lap thirteen, Corcoran was in second place and Fowler was in fourth. It did not seem like Fowler was going to have a chance to catch Corcoran, but a late race caution came out and brought the field together for a single-file restart. On the first restart there was a tangle of cars back in the field that elicited a second chance. It was what Corcoran needed to fire past the leader, Ryan Shanahan, of Carthage, New York. Corcoran powered through the final few laps as the leader. Fowler was able to get into second position on the final lap, but wasn't able to get a chance to challenge Corcoran for the lead before the checkered flag was flying.
Corcoran took home the victory for the night and with a one-point-lead, became the track champion at Can-Am Speedway for the third time in a row.
"It's definitely so surreal to win three in a row," Corcoran said, after the race. "It was definitely a hard earned one. I tried doing everything I could. Top and bottom. I saw the yellow and said 'Thank God!' We had that first restart, and I thought he [Ryan Shanahand] knew what I was going to do with him. Then we got another shot at it and I had a helluva restart and got it. Coming into this one I knew I had to go out there and get it to seal the deal. It's definitely a hell of an accomplishment. This gives us good momentum going into the series race we have next week."
In the Panther Frame Worx 602 Crate Sprint Car feature, Tucker Donath, of Palermo, New York, took home the victory, his second of the year. He had to get past Tiger Chapman, of Rochester, New York, to gain the win. After that it was clear sailing all the way to the finish line.
Josh Verne Jr. claimed the track championship in the Sprint Car class, the first ever at Can-Am Speedway.
Paul DeRuyter, of Inlet, New York, got back into victory lane in the Donath Motorworx Limited Sportsman feature, getting past Cole Perry, of Ontario, ON Canada to claim the win.
In the Marsha Gibbons TLC Real Estate Thunder car feature, it was Francis White, of Ogdensburg, New York, who took home the win. He was trailing Jock Symonds, of LaFargeville, New York, in lap eleven, and made a power move on the outside in turn one to take the lead. It was right at the moment when something seemed to go away in Symonds car, and he took it behind the wall to the pits. White went on to be unchallenged for the rest of the race, taking home his second win in as many weeks at the Nasty Track of the North.
Joe Orvis, of Watertown, New York, was crowned the track champion, running a solid season, consistently at the top of every race.
Only one night of racing remains at Can-Am Speedway for the year, with the Showdown in September, sponsored by O.D. Greene Lumber & Hardware of Adams. Racing returns to Can-Am on Friday, September 9th with a DIRTcar series race for the Whitesboro Plow Shop 358 Modifieds as well as the Bob Johnson Auto Group Sportsman Mods. Also on hand, the FABCO DIRTcar ProStocks Night of Champions, and the Marsha Gibbons TLC Real Estate Thundercars for the Ron White Memorial.
For more info and full race results, visit: racecanam.com
FEATURE RESULTS:
WHITESBORO PLOW SHOP DIRTCAR 358 MODIFIED
Feature (25 Laps): 1. 7S-Shaun Shaw[2]; 2. 39-Ryan Bartlett[3]; 3. 19-Tim Fuller[8]; 4. 21C-Taylor Caprara[7]; 5. 31-Lance Willix[5]; 6. 18W-Scott Webb[4]; 7. 24-Jordan Kelly[9]; 8. 21R-RJ Tresidder[1]; 9. 9-Tyler Meeks[6]; 10. 66W-Derek Webb[13]; 11. 23-Cameron Black[10]; 12. 73-Michael Cousins[14]; 13. 49-Billy Dunn[12]; 14. 21-Andrew Howard[11]
BOB JOHNSON DIRTCAR SPORTSMAN
Feature (20 Laps): 1. 64-Tyler Corcoran[8]; 2. 410-Mike Fowler[9]; 3. 32RS-Ryan Shanahan[2]; 4. 34-Eric Nier[4]; 5. 18E-Gavin Eisele[10]; 6. 52-Jessica Power[6]; 7. 63M-Franklin Mackin[1]; 8. 7D-Dustin Hutton[5]; 9. 10B-Jamie Brown[3]; 10. 57H-Remington Hamm[7]; 11. FOX28-Tyler Stevenson[11]; 12. 92-Frank Sibley[14]; 13. 621G-Trevor Gibbons[17]; 14. 35B-Brennan Moore[15]; 15. 18-Justin Gadbaw[16]; 16. 6-Brian Hudson[12]; 17. 5R-Steve Roberts[18]; 18. 44-David Rogers[13].
PANTHER FRAMEWORX 602 CRATE SPRINT CARS
Feature (15 Laps): 1. Z28-Tucker Donath[2]; 2. 5-Tiger Chapman[1]; 3. 88-Logan Crisafulli[3]; 4. 1V-Josh Verne Jr[5]; 5. 27-Taylor Doxtater[6]; 6. 30-Ken Klinkowsky[4].
DONATH MOTOR WORX LIMITED SPORTSMAN
Feature (12 Laps): 1. 1D-Paul DeRuyter[2]; 2. 23-Cole Perry[1]; 3. 17-Owen Nier[4]; 4. 34-Keegan Nier[3]; 5. 93-Joey Wilcox[6]; 6. 16-Tim Bailey[5]; 7. 33-Alan McDonald[7].
MARSHA GIBBONS TLC REAL ESTATE THUNDERCAR
Feature (15 Laps): 1. 60-Francis White[15]; 2. 11J-Justin Burns[4]; 3. 5LR-Lyle Robinson[8]; 4. 5M-Damien Bechler[9]; 5. 02-Jr Durham[10]; 6. 100-Charles Monica[14]; 7. 52J-Justin McIntyre[2]; 8. 11A-Joe Orvis[7]; 9. 31-Austin Smith[11]; 10. 94-OJ White[3]; 11. (DNF) 9MM-Jock Symonds[6]; 12. (DNF) 22J-Jared Gilson[5]; 13. (DNF) 5-Don Woodworth[13]; 14. (DNF) 111-Aj Stmary Sr[12]; 15. (DNF) 111J-Anthony St Mary Jr[1].
Back to News