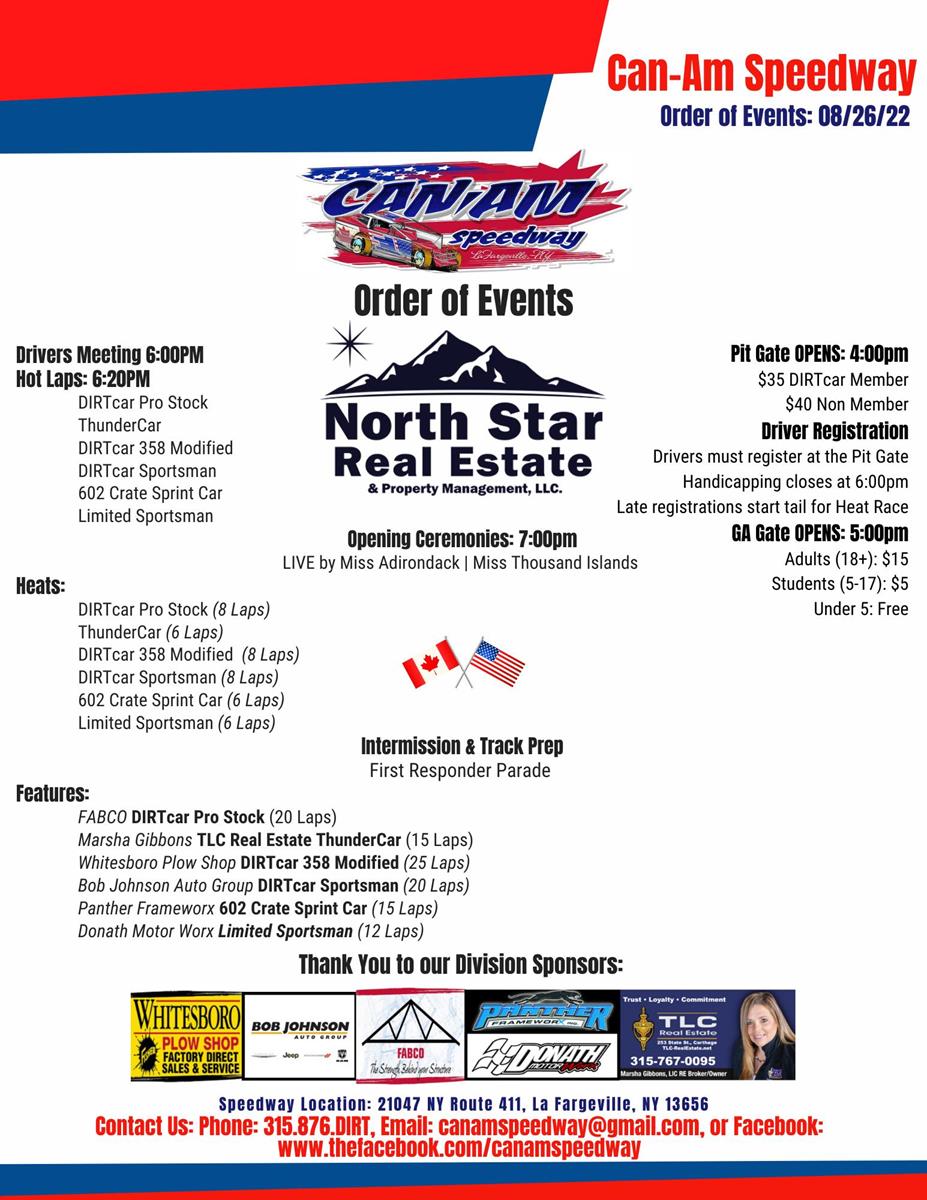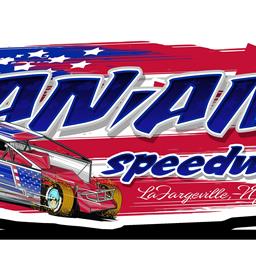 ---
CAN-AM RETURNS TO RACING WITH BIG FRIDAY NIGHT SHOW FEATURING SIX CLASSES
TUESDAY AUG 23, 2022
LA FARGEVILLE, NY – North Star Real Estate presents a return to racing at Can-Am Speedway with a full slate of six classes of racing action on the track. After taking a mid-summer break, Can-Am Speedway will light the lights and rev the engines Friday August 26th in LaFargeville, New York for the second-to-last night of racing that will impact the points chase and track championships for each division.
In the Whitesboro Plow Shop DIRTcar 358 Modified class, Tim Fuller, of Watertown, New York, looks like he will indeed repeat as track champion as he leads second place contender, Ryan Bartlett of Watertown, New York by 78 points. All the same, Fuller won't be letting off the throttle as he looks to add to his win total for the 2022 season. With a field packed with talent, it could be any driver's race to win.
The points chase is tight in the Bob Johnson Auto Group DIRTcar Sportsman Modified class, with Tyler Corcoran of Central Square, New York leading Mike Fowler of Fulton, New York by a slim 3 points! Gavin Eisele and David Rogers, both of LaFargeville, New York, are close behind, trailing by 40 and 43 points respectively. The Sportsman Mods have been one of the most competitive classes at Can-Am all season. Friday night could solidify a championship for Corcoran or it could see a new points leader anointed. Anything could happen, do not miss the action as it unfolds.
The FABCO DIRTcar Pro Stocks will be back at the Nasty Track of The North with Bruno Richard of Gatineau, Quebec Canada leading the charge. Also running at the front will be Eli Gilbert of Brasher Falls, New York, Tyler Bushey of Heuvelton, New York and Justin White Winthrop, New York. The Pro Stocks are sure to put on a show as the season winds down with Friday night's competition.
The new addition of the Panther Frameworx 602 Crate Sprint Cars at Can-Am Speedway for the 2022 season has been a welcome variant of racing. Josh Verne Jr. of Theresa, New York and Logan Crisafulli of Oswego, New York are in a tight battle for the points chase atop the class, with Crisafulli trailing by just 16 points. Friday night may be the deciding race in the class and is a do-not-miss race for the Sprints.
The tenacious battles in the Marsha Gibbons TLC Real Estate Thundercars have been raging each and every week of racing at Can-Am all season long. Joe Orvis of Watertown, New York has risen to the top of the field, but the ThunderCars are always competitive and anyone could take home the win Friday night.
Friday night promises to have great racing on the track with great food and a family-fun atmosphere in the stands. Arrive early to enjoy hot laps and take full advantage of available pit-passes to get up close to the drivers and their cars!
Pit Gates open at 4:00pm with General Admission gates opening at 5:00pm. The drivers meeting will take place at 6:00pm sharp with Hot Laps to ensue at 6:20pm. Opening Ceremonies for the evening will kick off at 7:00pm by the lovely Miss Adirondack/Miss Thousand Islands and Heat Races will immediately follow.
Dirt Track Digest (DTD) continues to offer an on-demand digital viewing option for fans who cannot attend the races in person throughout the 2022 racing season.
GENERAL ADMISSION (SPECTATOR) PRICING:
Adults (18+): $15
Students (5-17): $5
Under 5: Free
GA Gate Reminder: NO COOLERS (including food or beverage).
PIT ADMISSION PRICING:
DIRTcar Members: $35 | Non-Members $40
Under 5: $15
Please use the Pit Gate for all MEDIA Admissions.
Can-Am Speedway was built in 1974 by Evans Mills, NY real estate Broker Leslie W. Brown. Ownership has changed hand over the decades, with Tyler Bartlett purchasing the track in 2018. Bartlett, owner of D.P. Bartlett & Son's Plumbing, Heating and A/C, LLC and TRB Properties has spearheaded many track improvements with a goal of continuing the great North Country racing tradition. Can-Am Speedway is a family-friendly racing facility with a regular racing program on Friday nights and Kart track racing on Saturday Nights. For more information go to racecanam.com, email: canamspeedway@gmail.com or call 315-876-DIRT (3478).
Can-Am Speedway is located at 21047 NYS Route 411, LaFargeville, New York 13656. Take Exit 49 (LaFargeville /Theresa) off I-81. Take NYS Route 411 west towards LaFargeville.
Visit us on Facebook: https://www.facebook.com/canamspeedway
For more information about digital viewing on Dirt Track Digest, visit dirttrackdigest.tv. Dirt Track Digest is available for viewing on your computer browser, mobile device or on your television.
Back to News