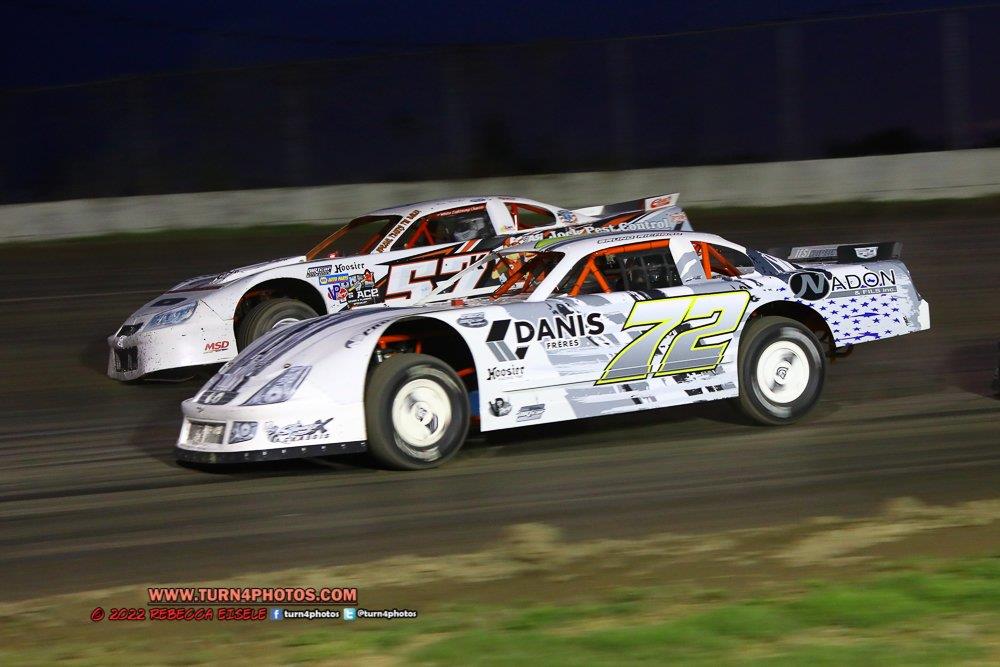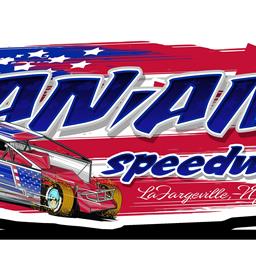 ---
DIRTcar Pro Stocks Return For Packed Show at Can-Am
By: Tim Baltz
The action has been great at the Can Am Speedway in 2022 with new comers and veterans gracing victory lane throughout the year. This week six classes of action will be on hand and ready to tackle the Nasty Track of the North.
The Whitesboro Plow Shop DIRTcar 358 Modifieds has seen defending track champion Tim Fuller start to get on a hot streak at the right time. Fuller picked up his 2nd win in a row, 5th of the season and third win in the last five weeks and currently leads the points comfortably. Other Can Am regulars are riding momentum already this week. Billy Dunn scored a DIRTcar 358 Modified Series win at Thunder Mountain on Wednesday night. Lance Willix, Tyler Meeks, Derek Webb and Ryan Bartlett all scored top ten runs in the event, and will all be looking for victory lane this Friday night.
The Bob Johnson Auto Group DIRTcar Sportsman saw Gavin Eisle return to victory lane for his 2nd win of the 2022 season. Eisle jumped out front and never looked back on his way to a dominant performance leading all 20 laps. Tyler Corcoran and Mike Fowler will continue their war for the track title, with Corcoran holding a 5 point advantage heading into this weekend.
The FABCO DIRTcar Pro Stocks return and Bruno Richard will be the driver to beat as he leads the points by 14 over Eli Gilbert off the strength of three feature wins. Richard has already visited victory lane this week, as he comes off of his 4th win of the season at Mohawk on Thursday night, his 14th overall win this season as well. He will shoot for win number four at Can Am this weekend.
Josh Verne Jr. and Logan Crisafulli will continue their battle for the Panther Frameworx 602 Crate Sprint car title this weekend. Verne leads the way by 20 points coming into the evening. Tucker Donath became the 5th different winner in the division this season, as he claimed the victory one week ago.
Joe Orvis has not finished any worse than third all season and will look to keep that momentum going as he leads by nearly 100 points in the Marsha Gibbons TLC Real Estate Thundercar division, over Anthony St. Mary Jr.. Last week Justin Pope returned to victory lane for his third win in five starts in 2022.
Donath Motorworx Limited Sportsman has been a battle all year long. Paul DeRuyter, who has 4 wins in the last 6 weeks. Last week Joe Trichilo out of North Syracuse, led all 12 laps to score his first career win and will try for two in a row this week.
Pit Gates are set to open Friday at 4pm with spectator gates opening at 5pm. Hot laps will follow at 6:20 with opening ceremonies National Anthems by Miss Adirondack/Miss Thousand Islands at 6:55pm. The first green flag of the night is set to drop at 7pm.
GENERAL ADMISSION (SPECTATOR) PRICING:
Adults (18+): $15
Students (5-17): $5
Under 5: Free
GA Gate Reminder: NO COOLERS (including food or beverage).
PIT ADMISSION PRICING:
DIRTcar Members: $35 | Non-Members $40
Under 5: $15
Please use the Pit Gate for all MEDIA Admissions.
ONLINE VIEWING PRICING:
Dirt Track Digest (DTD) continues to offer an on-demand digital viewing option for fans who cannot attend the races in person throughout the 2022 racing season.
Price: $19.99
Link: https://dirttrackdigest.tv/videos/22176
For more information about digital viewing on Dirt Track Digest, visit dirttrackdigest.tv. Dirt Track Digest is available for viewing on your computer browser, mobile device or on your television.
---
Submitted By: Tyler & Michelle Bartlett
Back to News