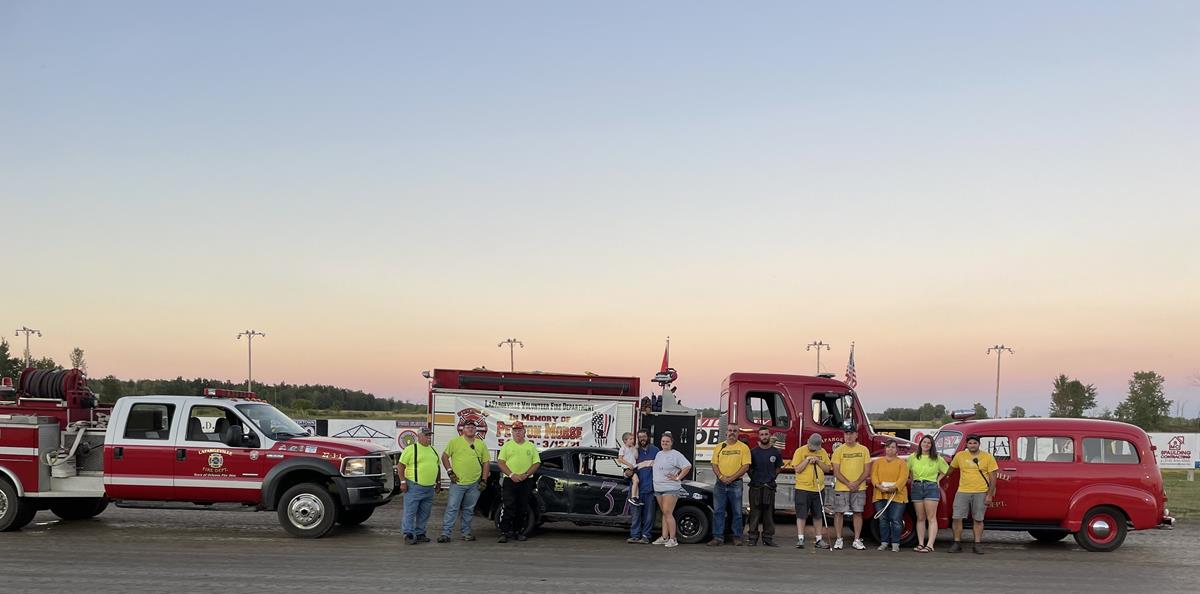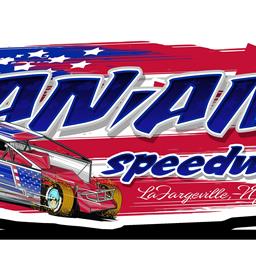 ---
TIM FULLER TIGHTENS GRIP ON TRACK CHAMPIONSHIP WITH FIFTH VICTORY AT CAN-AM
LA FARGEVILLE, NY – With only a couple of weeks remaining on the 2022 season at Can-Am Speedway, Tim Fuller, of Watertown, NY, made a strong move to solidify control over the track championship with his fifth victory of the season Friday night in the Whitesboro Plow Shop DIRTcar 358 Modified feature race.
It was another hard-fought win for Fuller, who has found himself starting features back in the pack. Friday night his starting position was tenth, side by side with Ryan Bartlett. Fuller was quick to improve that, powering ahead on the outside, jumping up to third position by lap two.
Jordan McCreadie, of Watertown, NY, took over first place, supplanting Tyler Meeks, of Evans Mills, NY, who had started the race in first place. Meeks held tough in second place trying several times to retake the lead, but McCreadie put multiple car lengths between himself and Meeks. Meanwhile, Meeks had to deal with a hard-charging Tim Fuller who seemed laser focused on victory.
Fuller passed up Meeks by lap ten and by lap 13 Fuller had caught and passed McCreadie. Fuller then proceeded to run a perfect race, dodging lapped traffic and staying on the accelerator to never give McCreadie a chance to retake the lead.
At the end of the feature, it was Fuller taking home his fifth victory on the season and second in as many weeks, with McCreadie in second, Lance Willix of Theresa, NY in third, Meeks in fourth, and Taylor Caprara, of Watertown, NY in fifth.
Gavin Eisele, of LaFargeville, NY, followed Fuller's example when he took to the track in the Bob Johnson Auto Group DIRTcar Sportsman feature, as Eisele jumped ahead in the field quickly at the drop of the green flag. Eisele grabbed the lead almost immediately at the start of the race, after starting sixth and drove it all the way to victory lane without giving anyone else a chance to challenge for it. It was the second win for Eisele in his 2022 campaign at Can-Am.
The fireworks in the Sportsman feature came in the battle between Mike Fowler, of Fulton, NY and Tyler Corcoran, of Central Square, NY as they battled each other from the get-go, all the way through the field into second and third positions. Corcoran managed a late lap pass to grab second place away from Fowler and secure a few more points to retain a slight lead in the track championship competition. With the second-place finish, Corcoran stayed ahead of Fowler, and with the victory, Eisele put himself right in the middle of contention for the championship title.
A special feature was on hand for the fans Friday night, as the Eastern Ontario Vintage Stock Car Club came to town with a display of throwback modified vehicles that harkened back to racing from yesteryear. Jason Riddell, of Cardinal, Ontario, was able to get by Chad Lackie, of Kemptville, Ontario, early in the race. Riddell had to keep Steve Billings, of Merrickville, Ontario, at bay to secure the victory. The top five finishers were Jason Riddell in first, Steve Billings in second, Chad Lackie in third, Ian Gordon in fourth and Gavin Riddell in fifth place.
The Panther Frame Worx 602 Crate Sprint Cars had a new winner Friday night, as Tucker Donath, of Palermo, NY, drove a flawless race and took home his first feature win at Can-Am. After the victory, Donath was excited as he spoke with track announcer, Tim Baltz: "It's unbelievable – I've been coming with my family for years. Just to be able to win here at Can-Am is awesome."
Justin Pope, of Rome, NY was the winner in the Marsha Gibbons, TLC Real Estate Thundercar feature. That feature saw points leader, Joe Orvis, of Watertown, NY, get spun out by Tony Frezzo, of Evans Mills, NY, early in the race. Orvis headed to the pits but was able to return to racing while still under caution. Frezzo was penalized and sent to the back of the field for the hit. Orvis managed to climb all the way back into third position to finish the race.
The racing action was rounded out with the Donath Motorworx Limited Sportsman Modifieds, where Joe Trichilo, of North Syracuse, NY, took home his first victory at Can-Am in his career.
There were firetrucks, ambulances and other first responder vehicles called to the track, but not for a wreck. Rather, it was first responders' night at Can-Am Speedway, where the community had the opportunity to salute the regions' first responders during a brief parade of vehicles during the intermission. Flashing lights and screaming sirens sounded over the track as fans cheered on those individuals who put themselves second to aid their community whenever needed.
Racing returns to Can-Am Speedway Friday, August 12th with a full schedule of racing and six classes of cars on the track. For more info, visit: racecanam.com
FULL FEATURE RESULTS:
WHITESBORO PLOW SHOP DIRTCAR 358 MODIFIED
Feature (25 Laps): 1. 19-Tim Fuller[10]; 2. 28-Jordan McCreadie[4]; 3. 31-Lance Willix[7]; 4. 9-Tyler Meeks[1]; 5. 21C-Taylor Caprara[5]; 6. 7S-Shaun Shaw[8]; 7. 49-Billy Dunn[6]; 8. 23J-Jeff Sykes[3]; 9. 39-Ryan Bartlett[9]; 10. 24-Jordan Kelly[12]; 11. 18W-Scott Webb[18]; 12. 21-Andrew Howard[13]; 13. 21R-RJ Tresidder[2]; 14. 23-Cameron Black[11]; 15. 29-Preston Forbes[17]; 16. 6W-Derek Webb[14]; 17. 27-Nick Webb[16]; 18. 74-Lucas Fuller[19]; 19. 36B-Dan Beachard[20]; 20. 25-George Sanford[15].
BOB JOHNSON DIRTCAR SPORTSMAN
Feature (20 Laps): 1. 18E-Gavin Eisele[6]; 2. 64-Tyler Corcoran[12]; 3. 410-Mike Fowler[10]; 4. 6-Brian Hudson[4]; 5. 10B-Jamie Brown[3]; 6. 34-Eric Nier[5]; 7. 57H-Remington Hamm[11]; 8. 32RS-Ryan Shanahan[8]; 9. 44-David Rogers[9]; 10. 52-Jessica Power[7]; 11. 92-Frank Sibley[1]; 12. 35B-Brennan Moore[13]; 13. 91-Josh Reome[15]; 14. 62-Jonathan Murphy[2]; 15. 63M-Franklin Mackin[16]; 16. FOX28-Tyler Stevenson[19]; 17. 707-Greg Brinklow[14]; 18. 7D-Dustin Hutton[20]; 19. 18-Justin Gadbaw[18]; 20. 621G-Trevor Gibbons[17].
PANTHER FRAMEWORX 602 CRATE SPRINT CARS
Feature (15 Laps): 1. Z28-Tucker Donath[2]; 2. 1V-Josh Verne Jr[4]; 3. 9-Luke Stewart[5]; 4. 5-Tiger Chapman[6]; 5. 30-Ken Klinkowsky[1]; 6. 88-Logan Crisafulli[3].
DONATH MOTOR WORX LIMITED SPORTSMAN
Feature (12 Laps): 1. 32-Joe Trichilo[1]; 2. 1D-Paul DeRuyter[4]; 3. 34-Keegan Nier[3]; 4. 17-Owen Nier[2]; 5. 2-Steven Tabor[7]; 6. 33-Alan McDonald[6]; 7. 16-Tim Bailey[5].
MARSHA GIBBONS TLC REAL ESTATE THUNDERCAR
Feature (15 Laps): 1. 27-Justin Pope[8]; 2. 60-Francis White[15]; 3. 11A-Joe Orvis[5]; 4. 22-Tony Frezzo[6]; 5. 11J-Justin Burns[3]; 6. 9MM-Jock Symonds[7]; 7. 21-Corey Valade[10]; 8. 31-Austin Smith[1]; 9. 90-Charles Monica[2]; 10. 73T-Timothy Greenfield[14]; 11. 111J-Anthony St Mary Jr[12]; 12. 22J-Jared Gilson[11]; 13. 46-William Sherman[16]; 14. 25-Tyler Collette[13]; 15. 52J-Justin McIntyre[9]; 16. 94-OJ White[4].
Peyton Morse Dash (4 Laps): 1. 31-Austin Smith[3]; 2. 9MM-Jock Symonds[5]; 3. 11J-Justin Burns[4]; 4. 11A-Joe Orvis[6]; 5. 111J-Anthony St Mary Jr[2]; 6. 22J-Jared Gilson[1].
EASTERN ONTARIO VINTAGE STOCK CAR CLUB
A Feature 1 (20 Laps): 1. 9-Jason Riddell[2]; 2. 84-Steve Billings[6]; 3. 7-Chad Lackie[1]; 4. 17IG-Ian Gordon[8]; 5. 9G-Gavin Riddell[4]; 6. 10-Paul Billings[5]; 7. 27-Sheldon Hoogwerf[7]; 8. 9W-Wayne Riddell[9]; 9. 41-Tim Natalino[10]; 10. 17G-Joe August Jr[3]; 11. 28G-Greg Hale[11]; 12. 13-Joe Hilts[15]; 13. 42-Patrick Charland[12]; 14. 12-Tim Charland[13]; 15. 11-Audy Bedard[14]; 16. 00-Darrell Wilson[16]; 17. 38-Denzil Billings[17].
For full results including heat races, visit myracepass.com, keyword: Can-Am.
Back to News