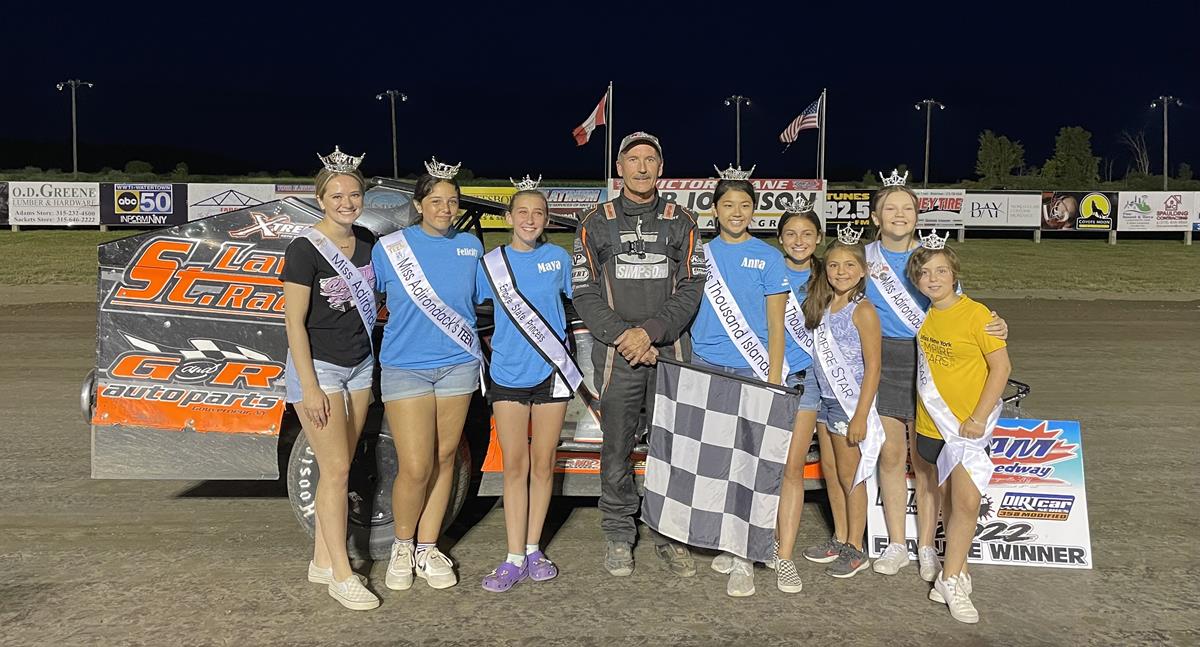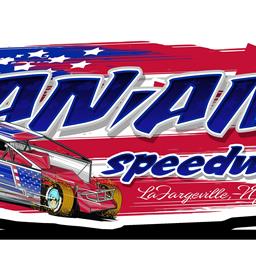 ---
TIM FULLER BATTLES FOR FOURTH VICTORY OF SEASON AT CAN-AM SPEEDWAY
JULY 29, 2022
TIM FULLER BATTLES FOR FOURTH VICTORY OF SEASON AT CAN-AM SPEEDWAY
LA FARGEVILLE, NY - On a night where he started the feature in twelfth position, Tim Fuller of Watertown, NY had to battle his way to the front of the Whitesboro Plow Shop DIRTcar 358 modified race to secure his fourth victory of the season and an even stronger grip on the track championship points chase.
Fuller was able to climb up to second place by lap ten, right behind Billy Dunn of Watertown, NY. For a moment it was a return to the battle of the titans from last year, when Dunn and Fuller duked it out, week in and week out for track supremacy. In lap eleven, a caution came out over the track and Dunn opted to restart on the outside, giving Fuller the inside restarting position. Fuller took full advantage, grabbing ahold of the lead and not relenting, even as another caution a few laps later gave Dunn the chance to regain the lead. Fuller completed the 25-lap competition in complete control of the lead, with Ryan Bartlett snagging second and Billy Dunn crossing the finish line in third.
Fuller's fourth victory of the season extends his points lead over the rest of the competition as he looks to repeat as track champion. It also moved him up the leaderboard for all time victories at Can-Am.
"It was a very versatile racetrack tonight," Fuller said, in victory lane. "You could run the top or the bottom. I like two lane racing and it was a lot better than last week."
In the Bob Johnson Auto Group DIRTcar Sportsman feature, Tyler Corcoran of Central Square, NY found his way back into victory lane, his second win of the season, the first coming in week one of the season. It was a hard-fought victory, as Corcoran had to climb up from a seventh position start and battle with the likes of Ryan Shanahan, Gavin Eisele and Mike Fowler. A late race caution proved to be the difference as Fowler led as the race returned to green flag racing, but Corcoran found a fast lane on the outside and was able to fire past Fowler for the lead, hanging on for the final few laps to take home the win. Mike Fowler finished second in the Sportsman feature, with Eric Nier taking third place.
"Mike Fowler isn't coming off the bottom there, so I knew I had to make a bold move," Tyler Corcoran said, referring to his high side power move to take over the lead. "We brought out a new coil package on our right rear tonight, so I guess it worked out pretty well for us."
The Panther Frameworx 602 Crate Sprint Cars saw Josh Verne Jr. of Thereasa, NY finish the night in victory lane, once again. It was his second win in as many weeks. Jordan Bennett finished second with Logan Crisafulli finishing third.
Paul DeRuyter rolled to victory once again in the Donath Motor Worx Limited Sportsman feature, and Joc Symonds won the Marsha Gibbons TLC Real Estate Thundercar feature.
The night was accentuated by the Victims Assistance Center & Child Advocacy Center partnering with Can-Am Speedway to give the first 250 youth in attendance a free bike helmet! Additionally, bikes and scooters were given away to a few lucky winners thanks to Billy Dunn Racing, Frosty's Ice Cream, Fowler Motorsports / 410 Racing and Taylor Caprara Racing. FABCO helped sponsor the entire night's events.
Racing returns to Can-Am Speedway Friday, August 5th, sponsored by Whitesboro Plow Shop.
For more info and complete racing results, visit: racecanam.com
FEATURE RESULTS:
WHITESBORO PLOW SHOP DIRTCAR 358 MODIFIED
Feature (25 Laps): 1. 19-Tim Fuller[12]; 2. 39-Ryan Bartlett[9]; 3. 49-Billy Dunn[6]; 4. 28-Jordan McCreadie[10]; 5. 21C-Taylor Caprara[11]; 6. 31-Lance Willix[7]; 7. 7S-Shaun Shaw[8]; 8. 9-Tyler Meeks[1]; 9. 74-Lucas Fuller[17]; 10. 66W-Derek Webb[5]; 11. 18W-Scott Webb[15]; 12. 23-Cameron Black[3]; 13. 29-Preston Forbes[14]; 14. 21R-RJ Tresidder[2]; 15. 21-Andrew Howard[4]; 16. 36B-Dan Beachard[18]; 17. 25-George Sanford[20]; 18. 73-Michael Cousins[19]; 19. (DNF) 23J-Jeff Sykes[13]; 20. (DNF) 24-Jordan Kelly[16].
BOB JOHNSON DIRTCAR SPORTSMAN
Feature (20 Laps): 1. 64-Tyler Corcoran[7]; 2. 410-Mike Fowler[6]; 3. 34-Eric Nier[2]; 4. 32RS-Ryan Shanahan[4]; 5. 18E-Gavin Eisele[3]; 6. 63M-Franklin Mackin[14]; 7. FOX28-Tyler Stevenson[12]; 8. 91-Josh Reome[10]; 9. 6-Brian Hudson[11]; 10. 7D-Dustin Hutton[9]; 11. 35B-Brennan Moore[19]; 12. 57H-Remington Hamm[5]; 13. 44-David Rogers[8]; 14. 10X-Cory Castell[21]; 15. 707-Greg Brinklow[15]; 16. 83D-Dustin Bradley[17]; 17. 10B-Jamie Brown[13]; 18. 18-Justin Gadbaw[22]; 19. 52-Jessica Power[18]; 20. 2-Taylor Doxtater[16]; 21. 621G-Trevor Gibbons[1]; 22. 62-Jonathan Murphy[20]; 23. (DNS) 92-Frank Sibley.
PANTHER FRAMEWORX 602 CRATE SPRINT CARS
Feature (15 Laps): 1. 1V-Josh Verne Jr[2]; 2. 06-Jordan Bennett[3]; 3. 88-Logan Crisafulli[4]; 4. Z28-Tucker Donath[1]; 5. 30-Ken Klinkowsky[5]; 6. 5-Tiger Chapman[6].
DONATH MOTOR WORX LIMITED SPORTSMAN
Feature (12 Laps): 1. 1D-Paul DeRuyter[4]; 2. 17-Owen Nier[1]; 3. 34-Keegan Nier[2]; 4. 93-Joey Wilcox[5]; 5. 23-Cole Perry[7]; 6. 32-Joe Trichilo[3]; 7. 33-Alan McDonald[6].
MASRHA GIBBONS TLC REAL ESTATE THUNDERCAR
Feature (15 Laps): 1. 9MM-Jock Symonds[7]; 2. 60-Francis White[6]; 3. 11A-Joe Orvis[8]; 4. 94-OJ White[3]; 5. 100-Josh Verne Sr[15]; 6. 111J-Anthony St Mary Jr[10]; 7. 11J-Justin Burns[4]; 8. 90-Charles Monica[2]; 9. 22J-Jared Gilson[12]; 10. 52-Robert Flint[9]; 11. 111-Aj Stmary Sr[11]; 12. 46-William Sherman[14]; 13. 52J-Justin McIntyre[5]; 14. 198-Jeffrey Putnam[13]; 15. 31-Austin Smith[1].
Back to News