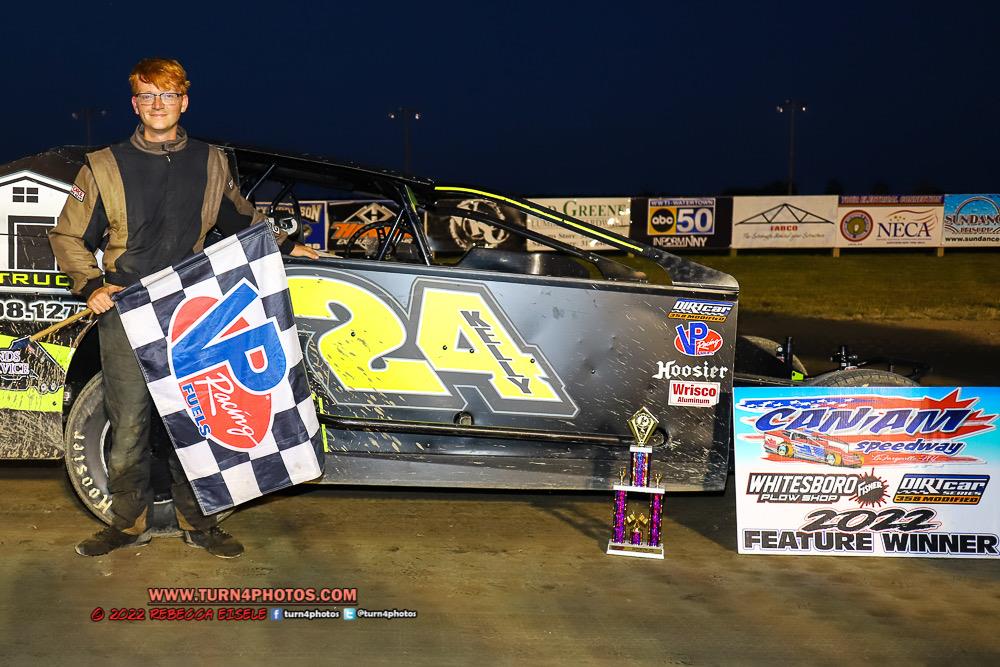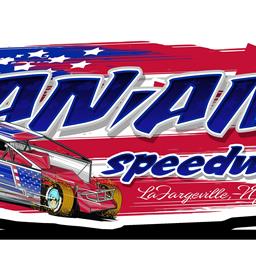 ---
JORDAN KELLY SCORES FIRST 358 MOD VICTORY FRIDAY NIGHT AT CAN-AM SPEEDWAY
July 22, 2022
FOR IMMEDIATE RELEASE
JORDAN KELLY SCORES FIRST 358 MOD VICTORY FRIDAY NIGHT AT CAN-AM SPEEDWAY
LA FARGEVILLE, NY – The legends will be written about that hot summer night in late July, when Jordan Kelly rode in from Black River, NY on his black and yellow number 24 hot rod to take his first victory in the Whitesboro Plow Shop DIRTcar 358 modified feature race at Can-Am Speedway. It was just four years ago that he got his first win in the Sportsman class, now he can lay claim to a victory in the 358 Mods as well.
Kelly started on the front line in second place next to Cameron Black, but immediately he jumped out to the lead and owned first place for the entirety of the 25-lap feature, racing green to checkered to collect his first victory in the 358 Mod class in his career. Shaun Shaw of Philadelphia, NY took second, having fended off Billy Dunn, Derek Webb and Ryan Bartlett who rounded out the top five finishes, respectively.
"I was just trying to block the whole track if I could," Kelly said in victory lane. "I didn't know how close they were behind me, so I just pushed hard to try to get a podium finish and it worked out."
Current 358 Modified points leader, Tim Fuller, finished 6th after starting 12th.
In the Bob Johnson Auto Group DIRTcar Sportsman Modified feature, it was Josh Reome of Clayton, NY who took the win. Reome had a busy week, starting a new job with the Fort Drum Fire Department. He half joked in victory lane that he wasn't even going to race this week because of how hectic everything was. But with a crew that got the car ready for him, Reome stormed into Can-Am on fire… and won his class. Tyler Corcoran took second place, with Remington Hamm in third, Mike Fowler in fourth and Gavin Eisele finishing fifth.
Bruno Richard of Gatineau, Quebec returned to his winning ways at Can-Am Friday night, climbing up from his third place start almost immediately, and racing three-wide with Eli Gilbert and Kevin Fetterly Jr. to take an early lead. From there, he ran the table, controlling the lead all the way to the checkered flag. Denis Gauvreau of Chelsea, Quebec took second, with Eli Gilbert in third, Justin White in fourth and Tyler Bushey in fifth place.
In the Donath Motor Worx Limited Sportsman feature it was Keegan Nier of Carthage, NY with the win. Nier started on the pole and carried the lead all the way across the finish line with not much challenge. Paul DeRuyter was denied his bid for a fourth straight victory, settling for second position on the night.
In the Panther Frameworx 602 Crate Sprint Car feature race, it was Josh Verne Jr. who ran a perfect green to checkered victory, starting in first and finishing in first. It was Verne's third victory of the year in the class as he won back-to-back races back in the middle of May of this year.
In the Marsha Gibbons TLC Real Estate ThunderCars, Joe Orvis returned to victory lane, with his first win of the season since week one back on May 3rd. Orvis has consistently run in the top three all season long, and was happy to be able to park it in victory lane once again, extending his points lead in the class.
Racing returns to Can-Am Speedway Friday July 29 with five classes of racing Including the Whitesboro Plow Shop DIRTcar 358 Mods, the Bob Johson Auto Group DIRTcar Sportsman Mods, the Panther Frameworx 602 Crate Sprint Cars, the Donath Motor Worx Limited Sportsman and the Marsha Gibbons TLC Real Estate Thundercars.
For more info, check out racecanam.com
For full heat and feature results, visit: myracepass.com keyword: Can-Am.
FEATURE RESULTS:
WHITESBORO PLOW SHOP DIRTCAR 358 MODIFIED
Feature (25 Laps): 1. 24-Jordan Kelly[2]; 2. 7S-Shaun Shaw[6]; 3. 49-Billy Dunn[7]; 4. 66W-Derek Webb[5]; 5. 39-Ryan Bartlett[11]; 6. 19-Tim Fuller[12]; 7. 18W-Scott Webb[3]; 8. 21C-Taylor Caprara[10]; 9. 31-Lance Willix[8]; 10. 29-Preston Forbes[4]; 11. 36B-Dan Beachard[16]; 12. 23-Cameron Black[1]; 13. 74-Lucas Fuller[19]; 14. 23J-Jeff Sykes[13]; 15. 28-Jordan McCreadie[14]; 16. 37-Paul St Sauveur[22]; 17. 25-George Sanford[17]; 18. 73-Michael Cousins[15]; 19. 47-Brent Cross[18]; 20. 21R-RJ Tresidder[21]; 21. 21-Andrew Howard[9]; 22. (DNS) 9-Tyler Meeks.
BOB JOHNSON DIRTCAR SPORTSMAN
Feature (20 Laps): 1. 91-Josh Reome[3]; 2. 64-Tyler Corcoran[9]; 3. 57H-Remington Hamm[6]; 4. 410-Mike Fowler[8]; 5. 18E-Gavin Eisele[4]; 6. FOX28-Tyler Stevenson[11]; 7. 44-David Rogers[17]; 8. 32RS-Ryan Shanahan[5]; 9. 52-Jessica Power[10]; 10. 92-Frank Sibley[2]; 11. 6-Brian Hudson[12]; 12. 10B-Jamie Brown[16]; 13. 77L-Ed Lukas[22]; 14. 62-Jonathan Murphy[14]; 15. 7D-Dustin Hutton[18]; 16. 10X-Cory Castell[15]; 17. 99R-Anthony Rasmussen[23]; 18. 707-Greg Brinklow[21]; 19. 621G-Trevor Gibbons[13]; 20. 18-Justin Gadbaw[19]; 21. 12S-Kyle Sharp[24]; 22. 34-Eric Nier[7]; 23. 271-Tiger Chapman[1]; 24. 35B-Brennan Moore[20].
FABCO DIRTCAR PROSTOCK
Feature (20 Laps): 1. 72-Bruno Richard[3]; 2. 72G-Denis Gauvreau[4]; 3. 75-Eli Gilbert[2]; 4. 1X-Justin White[5]; 5. X15-Tyler Bushey[6]; 6. 96-Eric Loyer[7]; 7. 57K-Kevin Fetterly Jr[1]; 8. 00C-Michael Clark[9]; 9. 22B-Blayne Nichols[8]; 10. 101-Edward Kotary[10]; 11. 3K-Shawn Kirby[11].
PANTHER FRAMEWORX 602 CRATE SPRINT CARS
Feature (15 Laps): 1. 1V-Josh Verne Jr[1]; 2. 06-Jordan Bennett[4]; 3. 88-Logan Crisafulli[3]; 4. Z28-Tucker Donath[6]; 5. 00-Ryan Poole[5]; 6. 27-Taylor Doxtater[2]; 7. 30-Ken Klinkowsky[7].
DONATH MOTOR WORX LIMITED SPORTSMAN
Feature (12 Laps): 1. 34-Keegan Nier[1]; 2. 1D-Paul DeRuyter[4]; 3. 32-Joe Trichilo[2]; 4. 17-Owen Nier[3]; 5. 23-Cole Perry[5]; 6. 73-Joey Wilcox[6]; 7. 33-Alan McDonald[7].
MARSHA GIBBONS TLC REAL ESTATE THUNDERCAR
Feature (15 Laps): 1. 11A-Joe Orvis[6]; 2. 22-Tony Frezzo[7]; 3. 60-Francis White[4]; 4. 21-Corey Valade[12]; 5. 52J-Justin McIntyre[9]; 6. 11J-Justin Burns[5]; 7. 111J-Anthony St Mary Jr[3]; 8. 73T-Timothy Greenfield[13]; 9. 52-Robert Flint[10]; 10. 94-OJ White[2]; 11. 9MM-Jock Symonds[8]; 12. 31-Austin Smith[1]; 13. 100-Charles Monica[11].
Back to News