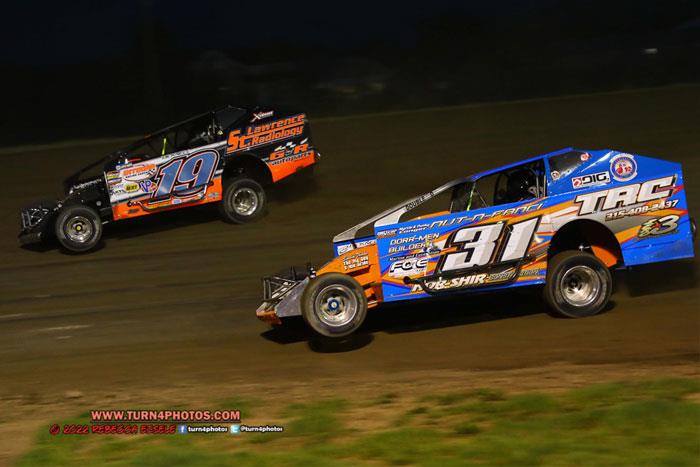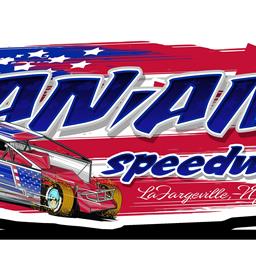 ---
Tim Fuller Reasserts Dominance In 358 Mod Victory At Can-Am; Stevenson Wins Sportsman Feature With Broken Hand
LAFARGEVILLE, NY - Tim Fuller had two victories for the 2022 season at Can-Am Speedway in the 358 Modified division heading into Friday night's competition. Fuller was forced to fight through bad starting positions over the last few weeks, still managing top five finishes to keep himself atop the track championship points race, but as other drivers scored victories, his points lead was shrinking. Week in and week out he had a competitive car, but not enough laps to complete a charge all the way to the front. Friday night Fuller frustration faded as he managed to return to his dominant form, climbing up from a ninth position start to take home the victory.
Fuller was methodical in his conquest over the Whitesboro Plow Shop DIRTcar 358 modified field, moving up to third position by lap eleven, benefiting from several cautions. Once he got to the front of the field, Fuller had to battle with Lance Willix and Preston Forbes to wrest away control of the lead by lap twelve. One he got control of first position, he never gave it back, pulling away from the field and dominating the final laps.
For Fuller, who hails from nearby Watertown, NY, it was his third win on the season in the 358 Modified division, but it also marked his 35th victory at Can-Am, tying his career record with that of legendary Barefoot Bob McCreadie.
"Any time you can tie Bob McCreadie in anything that's a good thing, but it just means I've been around for a long time,� Fuller said from victory lane. "We have some fantastic racers here at Can-Am. Sometimes you don't make it sometimes you do. It's been tough the last couple of weeks. The cautions helped tonight. When it goes green to checkered here, it makes it really tough. It's good to get back down here [in victory lane.]�
Lance Willix finished second with Preston Forbes in third, Ryan Bartlett in fourth and Shaun Shaw in fifth.
In the Bob Johnson Auto Group DIRTcar Sportsman feature, it was Tyler Stevenson of Watertown, NY, driving the Fox28 car who took home the win. Stevenson had a good starting position in third place at the beginning of the feature and he made the most of it, pushing past race starting leaders Trevor Gibbons and Ryan Shanahan by lap three. Behind him, David Rogers and Jessica Power parried each other's attacks, eventually settling into second and third positions respectively. Stevenson proceeded to drive away from the rest of the field multiple times after several cautions and restarts. It was Stevenson's second win of the season at Can-Am, after scoring his first victory back in late May.
As Stevenson climbed out of the car, and track announcer Tim Baltz reached out with a congratulatory handshake, it was clear that Stevenson had won the victory with an injury. He was sporting a cast on his right hand.
"I won't get into details, but I got a broken hand and it's been a struggle,� Stevenson said. "We had a lot of work to do on the car and then getting it on the track and doing it all with one hand was a challenge. We made some changes from the heat to the feature – we were right there for it. I really got a feel for the car, I thought we've got a winning car.�
The FABCO DIRTcar Pro Stocks returned to the track for racing Friday night, with Eli Gilbert netting his first victory of the season at Can-Am. He did so by trading some paint with Tyler Bushey in the last few laps, nudging Bushey out of the way to retain the lead. After the race Gilbert conceded that he got into Bushey more than he intended, "I got down into turn one and I leaned on him a little. I didn't want to touch him, but I guess I got him a little bit.�
In other features on the night, Jordan Bennett won his second for the year in dominant fashion in the Panther Frame Worx 602 Crate Sprint Car feature. Paul DeRuyter scored his third victory of the year in the Donath Motorworx Limited Sportsman feature race. Jock Symonds rolled to another win, his second of the year, in the Marsha Gibbons TLC Real Estate Thunder Car feature.
Racing returns to the Nasty Track of the North, Can-Am Speedway on July 22 with another complete show featuring six divisions of racing. For more info, visit: racecanam.com
For complete results and updated points standings, visit: myracepass.com keyword: Can-Am.
FEATURE RESULTS:
WHITESBORO PLOW SHOP DIRTCAR 358 MODIFIED
Feature (25 Laps): 1. 19-Tim Fuller[9]; 2. 31-Lance Willix[6]; 3. 29-Preston Forbes[2]; 4. 39-Ryan Bartlett[11]; 5. 7S-Shaun Shaw[8]; 6. 66W-Derek Webb[10]; 7. 74-Lucas Fuller[3]; 8. 49-Billy Dunn[22]; 9. 18W-Scott Webb[4]; 10. 28-Jordan McCreadie[20]; 11. 9-Tyler Meeks[5]; 12. 24-Jordan Kelly[7]; 13. 21-Andrew Howard[17]; 14. 23J-Jeff Sykes[14]; 15. 38J-Jarrett Herbison[15]; 16. 21R-RJ Tresidder[13]; 17. 23-Cameron Black[1]; 18. 47-Brent Cross[19]; 19. 73-Michael Cousins[16]; 20. (DNF) 21C-Taylor Caprara[12]; 21. (DNF) 36B-Dan Beachard[21]; 22. (DNF) 1-Jack Meeks[18].
BOB JOHNSON AUTO GROUP DIRTCAR SPORTSMAN
Feature (20 Laps): 1. FOX28-Tyler Stevenson[3]; 2. 44-David Rogers[8]; 3. 52-Jessica Power[7]; 4. 410-Mike Fowler[10]; 5. 64-Tyler Corcoran[9]; 6. 32RS-Ryan Shanahan[2]; 7. 6-Brian Hudson[11]; 8. 57H-Remington Hamm[5]; 9. 34-Eric Nier[6]; 10. 92-Frank Sibley[13]; 11. 10B-Jamie Brown[14]; 12. 621G-Trevor Gibbons[1]; 13. 271-Tiger Chapman[18]; 14. 29-Matt Caprara[15]; 15. 63M-Franklin Mackin[16]; 16. 62-Jonathan Murphy[17]; 17. 11-Dan Ferguson[20]; 18. 18-Justin Gadbaw[19]; 19. 707-Greg Brinklow[21]; 20. (DNF) 18E-Gavin Eisele[12]; 21. (DNF) 91-Josh Reome[4].
FABCO DIRTCAR PROSTOCK
Feature (20 Laps): 1. 75-Eli Gilbert[3]; 2. X15-Tyler Bushey[1]; 3. 72-Bruno Richard[4]; 4. 1X-Justin White[2]; 5. 30-Zack Daniels[5]; 6. 57K-Kevin Fetterly Jr[6]; 7. 22B-Blayne Nichols[7]; 8. 00C-Michael Clark[8].
PANTHER FRAMEWORX 602 CRATE SPRINT CARS
Feature (15 Laps): 1. 06-Jordan Bennett[1]; 2. 88-Logan Crisafulli[4]; 3. 5-Taylor Doxtater[3]; 4. (DNF) 1V-Josh Verne Jr[2]; 5. (DNF) Z28-Tucker Donath[5]; 6. (DNF) 30-Ken Klinkowsky[6].
DONATH MOTOR WORX LIMITED SPORTSMAN
Feature (12 Laps): 1. 1D-Paul DeRuyter[4]; 2. 17-Owen Nier[3]; 3. 23-Cole Perry[5]; 4. 32-Joe Trichilo[2]; 5. 73-Joey Wilcox[6]; 6. 33-Alan McDonald[7]; 7. (DNF) 34-Keegan Nier[1].
MARSHA GIBBONS TLC REAL ESTATE THUNDERCAR
Feature (15 Laps): 1. 9MM-Jock Symonds[8]; 2. 60-Francis White[1]; 3. 11A-Joe Orvis[7]; 4. 22-Tony Frezzo[9]; 5. 111J-Anthony St Mary Jr[4]; 6. 11J-Justin Burns[6]; 7. 94-OJ White[2]; 8. 100-Charles Monica[5]; 9. 52J-Justin McIntyre[3]; 10. 73T-Timothy Greenfield[14]; 11. 111-Aj Stmary Sr[13]; 12. 52-Robert Flint[11]; 13. 77W-Kyle Wurtz[18]; 14. 14D-Scott Duffany[15]; 15. 22J-Jared Gilson[16]; 16. 31-Austin Smith[12]; 17. 16B-Chris Bonoffski[10]; 18. (DNS) 26-Damien Bechler.
Back to News