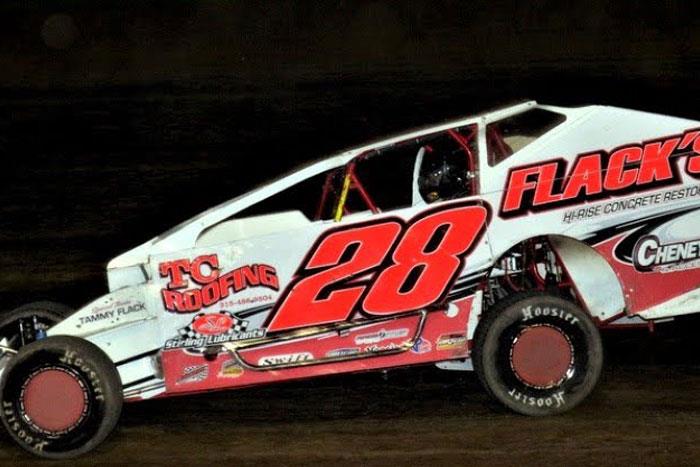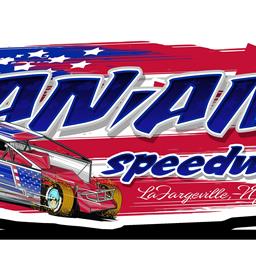 ---
Jordan McCreadie Wins His first Of The Year At Can-Am Friday Night
LAFARGEVILLE, NY - Jordan McCreadie's autograph was sure to be in even higher demand after he drove to victory in the Whitesboro Plow Shop DIRTcar 358 Modified feature, Friday night at Can-Am Speedway. McCreadie waited until Family Autograph night at the track to sign his name on the big check and score his first win of the season. It was a hard-fought victory that required him to fend off the likes of Jordan Kelly, Ryan Bartlett, Billy Dunn and Tim Fuller to secure the win.
McCreadie, of Watertown, NY, started the feature in fourth position behind Jeff Sykes and Jordan Kelly, who were in positions one and two, respectively. McCreadie battled Kelly for second position almost immediately at the drop of the green flag. Ryan Bartlett stormed up from 9th position to try to leap-frog McCreadie and Kelly for the first runner-up position, but McCreadie battled back and took over second place merely a lap later. McCreadie chased race leader Jeff Sykes of Edwards, NY for half the race before finally passing him and taking over sole possession of first by lap thirteen of the twenty-five lap feature. Bartlett moved into second place in lap 17, and a late race caution gave Bartlett an opportunity to take the lead away from McCreadie. It was not to be for Bartlett, however, as it was McCreadie's night, and he drove his white and orange number 28 to victory lane. McCreadie became the sixth different winner at Can-Am in the DIRTcar 358 division. Only Tim Fuller has had multiple victories at the track in the 358 division for 2022.
With McCreadie taking first place, it was Ryan Bartlett in second, Billy Dunn in third, Tim Fuller in fourth and Jeff Sykes in fifth. Dunn and Fuller both had to overcome mid-field starts to climb up to the top five finishes, with Dunn proving to be the hard-charger for the night, moving up ten positions to claim third place.
"Our guys worked pretty hard to get us back to feeling good here. We've been struggling a bit,� McCreadie said from victory lane. "We'll enjoy it tonight and hopefully we'll keep it up. I felt a little too tight at the start, but it got more comfortable out there as it went on. Can-Am is a great track, lots of room to move out there, which is great, especially for the 358s. You can't do that at a lot of tracks. My hat's off to the crew here at Can-Am for a great track tonight.�
The finish tightens the points race in the division for the track, with Fuller still remaining atop the leader board with Bartlett close behind. Derek Webb sits in third place in points at the track, and with the victory, Jordan McCreadie has climbed into a close fourth position in points.
In the Bob Johnson Auto Group DIRTcar Sportsman feature, Brian Hudson of Adams, NY took the pole after qualifying and ran with the lead all the way to victory lane. Jessica Power of Kingston, Ontario made several plays for the lead throughout the race from second position, but Hudson was able to fend them all off and charge ahead to victory, forcing Power to accept a second place finish, her best of the year so far at Can-Am. It was Hudson's second victory of the year at Can-Am.
"I was just happy to start on the pole and out run the field,� Hudson said after the win. "After the corners slicked up a little, I just had to keep hammering on it. The bottom was definitely the quickest way around tonight but starting out in the front definitely helps."
Prior to the feature, in the first heat race of the Bob Johnson Auto Group DIRTcar Sportsman division, Skylar Greenfield had a hard wreck off turn one as his 76G went nearly end over end up over the berm of the turn, tearing off the front end of the car. It was a scary moment, but Greenfield emerged unscathed and unable to compete in the feature as the car had both front wheels and shock towers torn from the vehicle.
Logan Crisafulli took the checkered flag for the win in the Panther Frameworx 602 Crate Sprint Car feature after trailing Josh Verne Jr. for most of the race. Crisafulli started in first but climbed up behind the leader after the first lap. Crisafulli looked destined to stay in second place until he seemed to find extra horsepower or a sweet spot on the track, powering past Verne with just three laps remaining in the fifteen-lap feature. Verne was unable to recover and had to settle for second position. It was Crisafulli's second victory of the year at Can-Am in the 602 Crate Sprint Car division.
Other winners on the night included Paul DeRuyter of Inlet, NY who captured his second victory of the year in the Donath Motor Worx Limited Sportsman feature. In the Marsha Gibbons TLC Real Estate ThunderCars, it was Tony Frezzo of Evans Mills, NY with the victory, his second of the year.
Racing returns to Can-Am Speedway, Friday July 15th with a complete show, including the return of the Pro-Stocks.
For more information, visit: racecanam.com
FEATURE RESULTS:
WHITESBORO PLOW SHOP DIRTCAR 358 MODIFIED
A Feature 1 (25 Laps): 1. 28-Jordan McCreadie[4]; 2. 39-Ryan Bartlett[9]; 3. 49-Billy Dunn[13]; 4. 19-Tim Fuller[10]; 5. 23J-Jeff Sykes[1]; 6. 24-Jordan Kelly[2]; 7. 66W-Derek Webb[15]; 8. 31-Lance Willix[5]; 9. 7S-Shaun Shaw[16]; 10. 9-Tyler Meeks[7]; 11. 21-Andrew Howard[11]; 12. 18W-Scott Webb[8]; 13. 38J-Jarrett Herbison[3]; 14. 27W-Nick Webb[20]; 15. 74-Lucas Fuller[21]; 16. 55-Matt Woodruff[18]; 17. 21R-RJ Tresidder[17]; 18. 29-Preston Forbes[14]; 19. 1-Jack Meeks[6]; 20. 7MM-Michael Maresca[12]; 21. 25-George Sanford[22]; 22. 23-Cameron Black[19].
BOB JOHNSON DIRTCAR SPORTSMAN
A Feature 1 (20 Laps): 1. 6-Brian Hudson[1]; 2. 52-Jessica Power[2]; 3. 44-David Rogers[5]; 4. 410-Mike Fowler[11]; 5. 57H-Remington Hamm[3]; 6. 64-Tyler Corcoran[8]; 7. 34-Eric Nier[7]; 8. FOX28-Tyler Stevenson[12]; 9. 18E-Gavin Eisele[18]; 10. 32RS-Ryan Shanahan[4]; 11. 91-Josh Reome[6]; 12. 10B-Jamie Brown[9]; 13. 271-Tiger Chapman[15]; 14. 35B-Brennan Moore[10]; 15. 7D-Dustin Hutton[17]; 16. 92-Frank Sibley[13]; 17. 2X-Michael Amell[21]; 18. 62-Jonathan Murphy[16]; 19. 621G-Trevor Gibbons[14]; 20. (DNS) 18-Justin Gadbaw; 21. (DNS) 76G-Skylar Greenfield.
PANTHER FRAMEWORX 602 CRATE SPRINT CARS
A Feature 1 (15 Laps): 1. 88-Logan Crisafulli[3]; 2. 1V-Josh Verne Jr[1]; 3. Z28-Tucker Donath[4]; 4. 06-Jordan Bennett[2]; 5. 30-Ken Klinkowsky[5]; 6. 5-Mason Spencer[6].
DONATH MOTOR WORX LIMITED SPORTSMAN
A Feature 1 (12 Laps): 1. 1D-Paul DeRuyter[2]; 2. 17-Owen Nier[4]; 3. 8-Josh Hughto[6]; 4. 2-Steven Tabor[5]; 5. 33-Alan McDonald[7]; 6. 34-Keegan Nier[3]; 7. (DQ) 73-Joey Wilcox[1].
MASHA GIBBONS TLC REAL ESTATE THUNDERCAR
A Feature 1 (15 Laps): 1. 22-Tony Frezzo[12]; 2. 9MM-Jock Symonds[6]; 3. 11A-Joe Orvis[5]; 4. 60-Francis White[1]; 5. 100-Charles Monica[4]; 6. 31-Austin Smith[3]; 7. 52J-Justin McIntyre[8]; 8. 111J-Anthony St Mary Jr[7]; 9. 94-OJ White[2]; 10. 73T-Timothy Greenfield[9]; 11. 60R-Ron White[11]; 12. 11J-Justin Burns[10].
Back to News