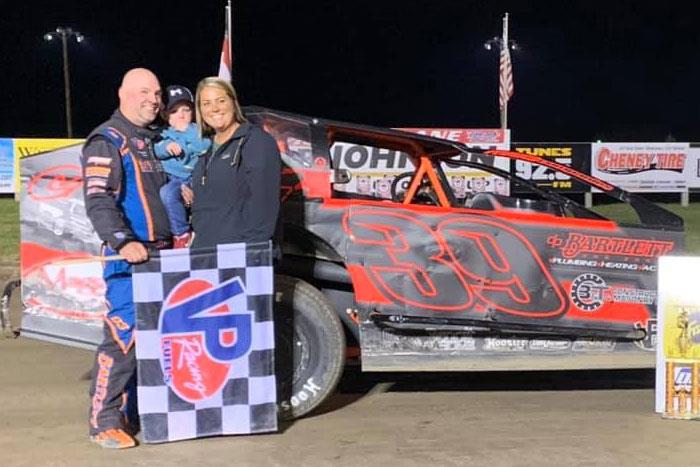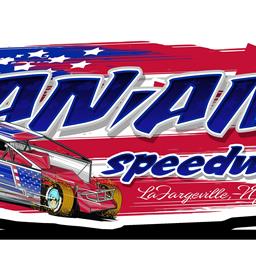 ---
Ryan Bartlett Nabs Second Of '21 Friday At Can-Am; Fuller, Corcoran, White Capture Track Titles
LAFARGEVILLE, NY - It was a hard-fought season in the DIRTcar 358 division at Can-Am Speedway. In the end, 2021 belonged to Tim Fuller in his St. Lawrence Radiology number 19 in the Whitesboro Plow Shop DIRTcar 358 division at Can-Am Speedway.
Fuller was crowned track champion after finishing the night in second place behind Ryan Bartlett in the feature race.
Entering Friday night, Fuller was tied with Billy Dunn for the points lead. The pair started the Whitesboro Plow Shop DIRTcar 358 feature side by side, Dunn in 13th position, Fuller in 14th. At the drop of the green, Fuller got a clear avenue toward the front, leaping up to 9th position by lap 5. Ryan Bartlett 39 and Tyler Meeks 9 battled for second position behind Andrew Howard 21h at the front of the pack. By lap 15 Bartlett had captured the lead from Howard. Meanwhile, Fuller managed to move up to 4th position, while Dunn was in 7th with just ten laps remaining. With 5 laps remaining, Bartlett still owned the lead, while Tim Fuller moved into third position. With a lap remaining Fuller moved into second and challenged Bartlett out of turn four on the final lap for the victory, but it was Ryan Bartlett with his second victory of the year, with Tim Fuller in second place. That second-place finish was enough to give Tim Fuller the Track Championship for 2021.
Tyler Corcoran 64 entered the night as the points leader in the Bob Johnson DIRTcar Sportsman division, starting the feature in 15th position. To solidify the track championship, Corcoran merely needed to finish 10th or better on the night. By lap five, Corcoran had already moved up to 12th position, as a caution came out, bringing the field back together for a restart. At the half-way point, Dalton Rambough 41 and Josh Reome 91 were pitching an absolute battle for first place, with Rambough slipping into the lead with just five laps remaining. At the checkered flag it was Dalton Rambough with his first victory at Can-Am for 2021, Josh Reome in second place and Tyler Corcoran in third position. That third-place finish served up the track championship on a silver platter for Corcoran, his second championship at Can-Am in back-to-back seasons.
Justin White 1x, the points leader in the FABCO DIRTcar Pro Stock Division heading into the night's feature, started in 7th position. By lap two, White had moved up to 4th, focused on putting enough points up on the board for the night to be the unquestioned champion for 2021. After a lap two caution restart, White maneuvered up to second position, battling with Tyler Bushey. Through the middle of the race, White chased 91 Ian Bressett for the lead. At the checkered flag, it was 91 Ian Bressett with the victory, with Justin White in second. That second place finish clinched the track championship for White for 2021.
In the Marsha Gibbons TLC Real Estate Thunderstock division, Tony Frezzo 22 entered the night as the points leader. He started the night's feature in 6th position and wasted no time driving to the front of the field. It was a three-way battle between Frezzo, A.J. St. Mary 111j and O.J. White 94 for the lead through laps 5 and 6, with Frezzo moving into sole possession of the lead by lap 7. With the lead firmly in hand, Frezzo drove away from the field to victory lane and the track championship.
In the Donath Motor Worx Sportsman Limited feature, it was Owen Nier 17 with the trip to the Bob Johnson Auto Group victory lane.
Tim Fuller Captured the Roof to Rails Hard Charger award in the 358 Feature, while Tyler Corcoran claimed the Hard Charger bonus in the Sportsman feature.
Racing returns for one final, spectacular weekend at Can-Am Speedway with back to back nights of the Showdown in September – Friday and Saturday night, Sept 10th & 11th. Visit racecanam.com for more info.
FULL RESULTS:
WHITESBORO PLOW SHOP DIRTCAR 358 FEATURE:
39 Ryan Bartlett, 2. 19 Tim Fuller, 3. 60 Jackson Gill, 4. 9 Tyler Meeks, 5. 45r Preston Forbes, 6. 21h Andrew Howard, 7. 49 Billy Dunn, 8. 18 Scott Webb, 9. 28 Jordan McCreadie, 10. 31 Lance Willix, 11. 7s Shaun Shaw, 12. 27w Nick Webb, 13. 29j Jeff Sykes, 14. 24 Jordan Kelly, 15. 21 Taylor Caprara, 16. 55 Matt Woodruff, 17. 74 Lucas Fuller, 18. 21r RJ Tresidder, 19. 36b Dan Beachard, 20. 31jr Tom Jock Jr, 21. 26 Mike Mandigo, 22. 66w Derek Webb, 23. 25 George Sanford.
BOB JOHNSON DIRTCAR SPORTSMAN FEATURE:
41 Dalton Rombough, 2. 91 Josh Reome, 3. 64 Tyler Corcoran, 4. 32rs Ryan Shanahan, 5. 34 Eric Nier, 6. 18e Gavin Eisele, 7. 1R David Rogers, 8. Fox28 Tyler Stevenson, 9. 57H Remington Hamm, 10. 6 Brian Hudson, 11. 7d Dustin Hutton, 12. 10b Jaime Brown, 13. 2x Mike Amell, 14. 18G Justin Gadbaw, 15. 8 Kevin Warren, 16. 36m Franklin Mackin, 17. 92 Frank Sibley, 18. 2 Taylor Doxtator, 19. 15 Greg Henry, 20. 62 Johnathan Murphy, 21. 131 Mike Fairbanks, 22. 621 Trevor Gibbons, 23. 4B Richard Paige, 24. 410 Mike Fowler, 25. 0 Jeremy Corcoran (DNS).
FABCO DIRTCAR PRO STOCK FEATURE:
91 Ian Bressett, 2. 1x Justin White, 3. x15 Tyler Bushey, 4. 57k Kevin Fetterly Jr., 5. 28 Burton Ward, 6. 75 Eli Gilbert, 7. 14R Ray Hughto, 8. 16x Tim Bailey, 9. 57 Blayne Nichols, 10. 33 Pete Schroy, 11. 102 Anthony Mossow, 12. x37 Ryan Rarick, 13. 6 Steven Gilmore.
MARSHA GIBBONS TLC REAL ESTATE THUNDERSTOCK FEATURE:
22 Tony Frezzo, 2. 111j AJ St. Mary, 3. 94 OJ White, 4. 16s Steve Smith, 5. 2 JR Durham, 6. 11j Justin Burns, 7. 73 Tim Greenfield, 8. 88 Travis Berkman, 9. 22j Jared Gilson, 10. 5m Damien Bechler, 11. 26r Ray Bechler, 12. 77w Kyle Wurtz (DNS).
DONATH MOTOR WORX LIMITED SPORTSMAN FEATURE:
17 Owen Nier, 2. 1D Paul Deruyter, 3. 34 Keegan Nier.
Back to News