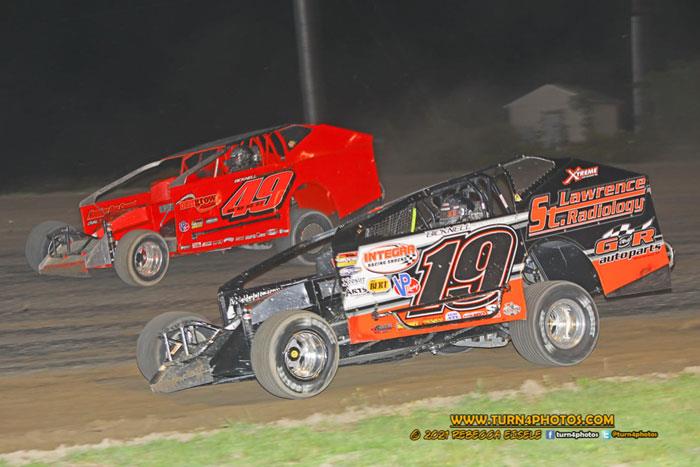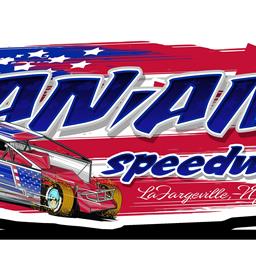 ---
Track Champions Will Be Crowned At Can-Am Speedway Friday Evening
LAFARGEVILLE, NY - The season has come down to a final night of championship points racing at the Nasty Track of the North, Can- Am Speedway.
In the Whitesboro Plow Shop DIRTcar 358 Modified division, the competition could not be any tighter. Tim Fuller and Billy Dunn have battled throughout the season to a dead even points race for the track championship.
The points race in the Bob Johnson Auto Group DIRTcar Sportsman division is also a tight one, with Tyler Corcoran barely leading David Rogers for that top spot. Not to be outdone, the FABCO DIRTcar Prostocks have their own championship battle raging between Justin White and Burton Ward.
Who will come out on top? You have to be there in person to see it! Do not miss the culmination of one of the most exciting years of racing in Can-Am Speedway history! Friday night's race is sponsored by WWNY NEWS 7 in Watertown, and promises a full night of exciting, family-friendly, action packed racing!
The program will feature Whitesboro Plow Shop DIRTcar 358 Modifieds, Bob Johnson Auto Group DIRTcar Sportsman, Donath Motor Worx Limited Sportsman, Marsha Gibbons TLC Real Estate Thunderstocks and the always exciting FABCO DIRTcar Prostocks. Additionally, drivers can qualify for The Roof to Rails Hard Charger Award for DIRTcar 358 Modified & DIRTcar Sportsman or The Hard Luck Award sponsored by NNY Racing Connection & North Country Custom Embroidery.
Pit Gates open at 4pm with General Admission gates opening at 5pm. The drivers meeting will take place at 6:30pm sharp with Hot Laps to ensue at 6:45pm. Opening Ceremonies for the evening will kick off at 7:30pm performed live by the lovely Miss Adirondack/Miss Thousand Islands with Heat Races to immediately follow.
GENERAL ADMISSION (SPECTATOR) PRICING:
Adults (18+): $15
Students (5-17): $5
Under 5: Free
GA Gate Reminder: NO COOLERS (including food or beverage).
PIT ADMISSION PRICING:
Driver & Crew Members: $35
5 and Under: $15
Please use the Pit Gate for all MEDIA Admissions.
ONLINE VIEWING PRICING:
(DTD) continues to offer an on-demand digital viewing option for fans who cannot attend the races in person throughout the 2021 racing season.
Back to News