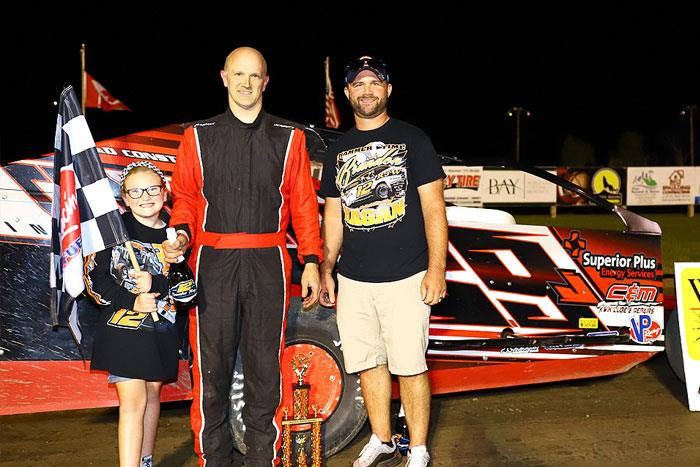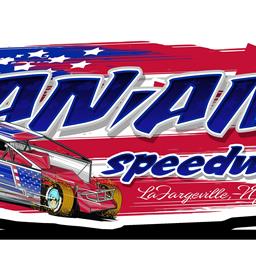 ---
A Total Team Effort: Jeff Sykes Takes First Of '21 Friday Night At Can-Am Speedway
BY BOBBY CHALMERS - LAFARGEVILLE, NY - From the drop of the green until the checkered flag flew Friday night at Can-Am Speedway, it will appear as if Jeff Sykes had a pretty easy run to his first Whitesboro Plow Shop DIRTcar 358-Modified win in quite some time.
Not quite. He had to earn it. The veteran campaigner held off the likes of Nick Webb, point leader Billy Dunn and, in the end, a fast-closing Tim Fuller to join the list of 358-Modified winners at "the Nasty Track of the North� in 2021 on North Star Real Estate night.
"This was definitely a team effort tonight,� Sykes said. "We've had just an unbelievable summer. I popped a motor at Fulton (Speedway), we blew the rear end here last week and we were ready to pack it up. But, this team and my family really came together.�
The 2021 season has been a trying year for Sykes who has taken over ownership of the team he's been driving for. Now he makes the decisions and getting to victory lane Friday was absolutely huge for him.
"I can't say enough about all of our sponsors and everyone that supports this car,� he said. "We bought out Conklin this year and this team is all mine now. Tonight's kind of a dream come true. We beat the Fuller, Dunn and a stout field tonight.�
While he doesn't like starting up front, the box score will show he was victorious on this night.
"I'll probably get ragged for winning from the pole,� he said. "I want to start back in tenth and beat these guys but just to beat the field of drivers we have here is extremely tough. I'm grateful we were able to get it done tonight.�
On the final restart of the 25-lap feature with six laps remaining, Fuller was able to make a power move on the outside through turns one and two to charge from fifth to third. He then set his sights on Webb for second and the Edwards, NY racer got by the 27w one lap later. However, he was never able to get close enough to challenge Sykes for the win.
With his second place finish, though, he did capture the Roof to Rails Hard Charger award, gaining 12 spots since the start of the main event. Webb, Dunn and Lance Willix made up the rest of the top five.
The Bob Johnson Auto Group DIRTcar Sportsman feature Friday was a special one for everyone in attendance. The event was held in honor of fallen Sportsman competitor Brandon Hagan and thanks to the last lap, it'll be a race people talk about for years to come.
Heading to the white flag, leader Ryan Shanahan held the top spot with the 410 of Mike Fowler chasing after him. Shanahan had run a great race, keeping his car glued to the bottom of the track.
If there was a way Fowler was going to take the Tribute Race win, he'd have to drive around the leader, and heading into turn three on the last lap, that's what he did.
With a power move a single car width higher than Shanahan, the Fulton, NY driver maneuvered around the leader heading off of turn four and went on to score the emotional victory.
"This is for you, baby,� Fowler screamed from the roof of his car in victory lane as he pointed to the sky.
After stalking Shanahan for the entire race, Fowler knew what his only shot was if he wanted the win.
"I followed him lap after lap,� Fowler said. "I'd screw up in (turns) one and two and then it'd take a lap or two for me to get back into a rhythm. He'd gap me out of four and I'd gain getting into the next corner. I didn't want to run him over. I didn't want to move him because I race how I'd like to be raced.�
That's when he made the decision to take the shot on the outside on the last lap.
"I just said, screw it,� he said. "I'm going take it to the top shelf and it's either going work or someone else is going underneath me.�
Fowler's won before, even earlier this year at Can-Am, but this win meant a lot to him.
"I wanted this one, pretty damn bad,� he said. "This race is pretty personal to me. Brandon was a good friend. We shared a lot of fun times together. This one's for you Big Guy.�
Shanahan had to settle for the runner-up spot after coming so close to winning. Josh Reome, David Rogers and Dalton Rombough completed the top five.
In the FABCO DIRTcar Pro Stock feature, third-place starter Burton Ward took the top spot as lap one was clicked off and never looked back, holding off Justin White and the rest of the field to take the checkered flag.
"It was a tough day for us but we came out on top tonight,� Ward said. "We're pretty happy about that.�
After the win, Ward talked about why he loves racing at Can-Am.
"We love coming here,� he said. "I wish it was a little closer to home but it's a fun track and we go home in one piece. That's why we keep coming back.�
White finished second with Ian Bressett, Kevin Fetterly Jr. and Steve Smith rounding out the top five.
Tony Frezzo grabbed yet another win in the Marsha Gibbons TLC Real Estate Thunderstock feature after an early race issue. He was forced to restart at the tail of the field but drove his way back to the front and passed leader OJ White just before halfway.
Steve Smith was second with White, Justin Burns and Travis Berkman the third through fifth, respectively.
Paul DeRuyter was victorious once again in the 15-lap Donath Motor Worx Limited Sportsman Feature. Owen Nier, Tony Frezzo, Jason Breezee and Owen Skitts were the rest of the top five.
Next Friday night, September 3rd, will be the final night of points for all weekly divisions. The DIRTcar 358-Modified, Sportsman, and Pro Stocks will be joined by the Thunderstocks and Limited Sportsman. Race time is 7:30pm.
Be sure to visit racecanam.com for all the latest in news from "the Nasty Track of the North� and don't forget to like us on Facebook and Twitter.
FULL RESULTS
Whitesboro Plow Shop DIRTcar 358 Modified - Official Results: 1 29j Jeff Sykes 2 19 Tim Fuller 3 27w Nick Webb 4 49 Billy Dunn 5 31 Lance Willix 6 74 Lucas Fuller 7 21 Taylor Caprara 8 18 Scott Webb 9 34F George Foley 10 24z Zach Aubertine 11 60 Jackson Gill 12 23L Cameron Black 13 66w Derek Webb 14 55 Matt Woodruff 15 7s Shaun Shaw 16 39 Ryan Bartlett 17 29jh Joel Hall 18 36b Dan Beachard 19 21r RJ Tresidder 20 31jr Tom Jock Jr 21 24r Glenn Forward 22 21H Andrew Howard 23 28 Jordan McCreadie 24 45r Preston Forbes 25 26 Mike Mandigo 26 9 Tyler Meeks 27 25 George Sanford
Roof to Rails Hard Charger - 19 Tim Fuller
Bob Johnson DIRTcar Sportsman Feature - Official Results: 1 410 Mike Fowler 2 32rs Ryan Shanahan 3 91 Josh Reome 4 1R David Rogers 5 41 Dalton Rombough 6 64 Tyler Corcoran 7 34 Eric Nier 8 1m Jack Meeks 9 Fox28 Tyler Stevenson 10 15 Greg Henry 11 57H Remington Hamm 12 10b Jaime Brown 13 7d Dustin Hutton 14 6 Brian Hudson 15 18G Justin Gadbaw 16 2 Taylor Doxtator 17 16B Rachel Zacharias 18 92 Frank Sibley 19 8 Kevin Warren 20 131 Mike Fairbanks 21 18e Gavin Eisele 22 36m Franklin Mackin 23 4B Richard Paige 24 4 Chris Bonoffski 25 13B Trevor Gibbons
FABCO DIRTcar Pro Stock - Official Results: 1 28 Burton Ward 2 1x Justin White 3 91 Ian Bressett 4 57k Kevin Fetterly Jr. 5 6 Steve Smith 6 x15 TylerBushy 7 3 Rick Duskas 8 57 Blayne Nichols 9 16x Tim Bailey 10 14r Ray Hughto 11 102 Anthony Mossow 12 x37 Ryan Rarick
Marsha Gibbons TLC Real Estate ThunderStock - Official Results: 1 22F Tony Frezzo 2 16s Steve Smith 3 94 OJ White 4 11j Justin Burns 5 88 Travis Berkman 6 22j Jared Gilson 7 74 James McIntosh 8 17 Mike Greenfield 9 73t Tim Greenfield 10 111j AJ St. Mary 11 14D Scott Duffany
Donath Motor Worx Limited Sportsman - Official Results: 1 1d Paul DeRuyter 2 17 Owen Nier 3 57 Tony Frezzo 4 16b Jason Breezee 5 4 Owen Skitts 6 13j Denny Jerome
Back to News