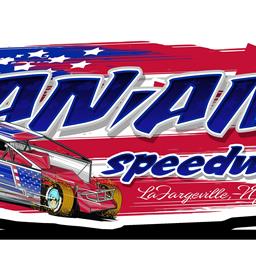 ---
Tim Fuller Back Atop Points Chase With Victory At Can-Am
LAFARGEVILLE, NY - Tim Fuller had to pass twelve other cars in the Whitesboro Plow Shop DIRTcar 358 Modified feature on his way to the Bob Johnson Auto Group victory lane at Can-Am Speedway on Friday night. The win put Fuller back on top of competitor Billy Dunn in the points chase for the track championship, just one week after Dunn had managed to climb past Fuller with his own victory.
Mike Mandigo led early laps of the race but had a miscue on a caution restart which gave Fuller the opening to take the lead and drive away with it.
A late caution added drama to the feature race, as the extensive lead Fuller had created was erased, and competitor Billy Dunn was in third position with a handful of laps left to race. By the time five laps remained, it was Fuller in the lead and Dunn in second place, and the battle between the titans was set. But Fuller was Mr. Perfect on the night, hitting his marks for each corner and stringing together perfect laps to end the race and take home the victory, relegating Dunn to second place.
"It's all in who can get the breaks and who can get the advantage in traffic,� Fuller said in victory lane. "They did a great job patching up the track [in turns three and four] and it needed it. It's nice now, sealed over. On that restart, Mike [Mandigo] went high, and I thought that was a mistake, there was so much traction down low I just had to step on it and that was it.�
It was Fuller's fourth victory at Can-Am on the season, putting him in prime position in the points race for track champion.
Gavin Eisele was able to net himself a victory in the Bob Johnson Auto Group DIRTcar Sportsman feature. On the final lap, Eisele, Tyler Corcoran and Jamie Brown were all vying for the lead while dodging lapped traffic. Eisele chose the correct lane and slipped by the lapped traffic and landed in victory lane.
"It was a lot of fun,� Eisele said after the race. "I saw the 64 [Tyler Corcoran] coming, and it kind of scared me,� he joked.
Corcoran is the current points leader in the track championship race for Sportsman, breaking the tie with David Rogers this week after finishing second, while Rogers placed tenth.
Justin White nabbed his second win in a row in the FABCO DIRTcar Pro Stock feature, fending off Kevin Fetterly Jr. in the final laps to get the victory. White just shook his head in seeming disbelief at the victory after the race, "It took 8 years to get here, and now two in a row.�
In the Donath Motor Worx Limited Sportsman 15 lap feature it was Owen Nier with the victory. Steve Smith won the Marsha Gibbons TLC Realty Thunderstock feature, battling with Tony Frezzo on his way to the victory.
Billy Dunn went from 15th to 2nd positions to win the Roof to Rails Hard Charger award in the 358 feature. It was Tyler Corcoran who went from 15th to 3rd who netted the award in the Sportsman race.
Racing returns to Can-Am Speedway August 13th with a full show. Visit racecanam.com for more info.
FULL RESULTS
Whitesboro Plow Shop DIRTcar 358 Modified Feature:
19 Tim Fuller, 2. 49 Billy Dunn, 3. 28 Jordan McCreadie, 4. 60 Jackson Gill, 5. 31 Lance Willix, 6. 45r Preston Forbes, 7. 21 Max Mclaughlin, 8. 9 Tyler Meeks, 9. 26 Mike Mandigo, 10. 39 Ryan Bartlett, 11. 27w Nick Webb, 12. 29j Jeff Sykes, 13. 1 Larry Welling, 14. 23L Cameron Black, 15. 7s Shaun Shaw, 16. 74 Lucas Fuller, 17. 34F George Foley, 18. 21r RJ Tresidder, 19. 29jh Joel Hall, 20. 21h Andrew Howard, 21. 31jr Tom Jock Jr., 22. 36b Dan Beachard, 23. 66w Derek Webb, 24. 18 Scott Webb, 25. 27z Dylan Zacharias, 26. 25 George Sanford-DNS.
Bob Johnson Auto Group DIRTcar Sportsman Feature:
18e Gavin Eisele, 2. 64 Tyler Corcoran, 3. 10b Jamie Brown, 4. 2x Mike Amell, 5. 410 Mike Fowler, 6. 18g Justin Gadbaw, 7. Fox28 Tyler Stevenson, 8. 6 Brian Hudson, 9. 32rs Ryan Shanahan, 10. 1 David Rogers, 11. 34 Eric Nier, 12. 621 Trevor Gibbons, 13. 7d Dustin Hutton, 14. 57H Remington Hamm, 15. 92 Frank Sibley, 16. 12s Kyle Sharp, 17. 17 Justin Nier, 18. 111 Skylar Greenfield, 19. 4 Richard Paige, 20. 91 Josh Reome, 21. 41 Dalton Rombough, 22. 8 Kevin Warren, 23. 2 Taylor Doxtater.
FABCO DIRTcar Pro Stock Feature:
1x Justin White, 2. 57k Kevin Fetterly Jr, 3. 28 Burton Ward, 4. x15 Tyler Bushy, 5. 91 Ian Bressett, 6. 3 Rick Duskas, 7. 57 Blayne Nichols, 8. 16x Tim Bailey, 9. 33 Pete Schroy, 10. 14r Ray Hughto, 11. 102 Anthony Mossow, 12. x37 Ryan Rarick.
Marsh Gibbons TLC Real Estate ThunderStock Feature:
16s Steve Smith, 2. 22F Tony Frezzo, 3. 11J Justin Burns, 4. 111j AJ St. Mary, 5. 88 Travis Berkman, 6. 73 Timothy Greenfield, 7. 22j Jared Gilson, 8. 111 Pops St. Mary, 9. 14d Scott Duffany, 10. 25 Tyler Collette, 11. 61 Jerry Rogers.
Donath Motor Worx Limited Sportsman Feature:
17 Owen Nier, 2. 1d Paul Deruyter, 3. 36m Franklin Mackin, 4. 17J Josh Verne Jr.
Back to News