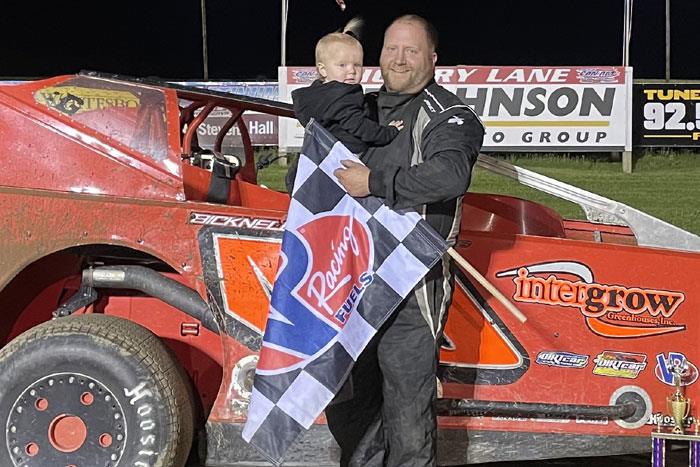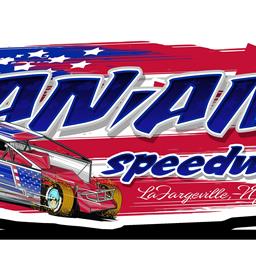 ---
Billy Dunn Returns To Dominant Form Celebrating His 100th Modified Win At Can-Am
LAFARGEVILLE, NY - On a summer night that felt like an early autumn night with cooler temperatures, 49 Billy Dunn was red hot at Can-Am Speedway. Dunn blasted back into his early season form in the Whitesboro Plow Shop DIRTcar 358 Modified feature race, notching an impressive 100th win over his career at the Modified level.
Dunn was fast in qualifying and found himself starting the feature in tenth position. He was able to leapfrog up to 5th position by a lap 5 caution. On the restart, he reeled in three more positions, landing in second. One lap later, he was the leader. The rest of the race ran caution-free and Dunn was able to weave through lapped traffic and complete a decisive victory, well ahead of the rest of the field.
"We were really good in the heat race, almost too good,� Dunn said from the Bob Johnson Auto Group Victory Lane. "We made some changes to drive through the holes a bit better and that made a difference. It's nice having this many cars here, it's really competitive and you have to be able to pass anywhere on the track.�
With the victory, Dunn moves back into contention for the points lead for the track championship with Tim Fuller, who finished the night in 8th position in the feature.
"It's going to come down to who has the bad luck,� Dunn said, regarding the points race. "I'm not sure where Fuller finished tonight, but we broke a motor a few weeks ago. When it comes to points if you win some and run at the front, the points work themselves out.�
In the Bob Johnson Auto Group DIRTcar Sportsman feature, it was 91 Josh Reome with the victory. It was a solid performance by Reome who drove out to the lead after starting in seventh position.
"Finally, all the stars aligned,� Reome said of his victory.
The points race in the Sportsman division continues to remain tight. Tyler Corcoran was the leader entering the feature, with David Rogers just two points behind. They finished fourth and third, respectively, Friday night, adding even more drama to that battle. The Sportsman division is setting up to have a spectacularly competitive finish as the season enters into August with just a handful of races remaining.
In an extremely exciting FABCO DIRTcar Pro Stock feature, 1x Justin White was able to edge out 28 Burton Ward for the victory. White and Ward, along with x15 Tyler Bushey put on a show, going three-wide multiple times throughout the race for the lead position. Each driver took their turn in the lead, but it was White who was able to make his way to the Bob Johnson Auto Group Victory Lane.
In an equally exciting finish in the Marsha Gibbons TLC Real Estate ThunderStocks, it was 16 Steve Smith with the victory. On the final lap, after trailing 27 Justin Pope for a number of laps, Smith went high in turn one for the lead, while Pope dove low. Pope drove through turn two to recapture the lead sliding high, while Smith dove back down low, completing the do-si-do maneuver, and cutting in for the lead with just two turns remaining. Pope was only able to rub Smith's back bumper to challenge for the lead by the checkered flag. It was Smith's first victory for the year at Can-Am Speedway.
In the Donath Motor Works Limited Sportsman Feature, it was 36m Frank Mackin with the victory.
Billy Dunn and Ryan Bartlett split the Roof to Rails Hard Charger award in the 358 Modified feature, while 64 Tyler Corcoran netted the award in the Sportsman feature.
Racing returns to CAN-AM Speedway August 6th. For More info, visit: racecanam.com.
FULL RESULTS:
WHITESBORO PLOW SHOP DIRTcar 358 MODIFIED FEATURE:
49 Billy Dunn, 2. 9 Tyler Meeks, 3. 66W Derek Webb, 4. 7s Shaun Shaw, 5. 39 Ryan Bartlett, 6. 60 Jackson Gill, 7. 28 Jordan McCreadie, 8. 19 Tim Fuller, 9. 66x Carey Terrance, 10. 21 Max Mclaughlin, 11. 27w Nick Webb, 12. 29jh Joel Hall, 13. 21h Andrew Howard, 14. 23L Cameron Black, 15. 34F George Foley, 16. 45r Preston Forbes, 17. 74 Lucas Fuller, 18. 36b Dan Beachard, 19. 21r RJ Tresidder, 20. 29j Jeff Sykes, 21. 55 Matt Woodruff, 22. 26 Mike Mandigo, 23. 25 George Sanford, 24. 88x Perry Francis, 25. 27z Dylan Zacharias, 26. 31jr Tom Jock Jr, 27. 31 Lance Willix.
BOB JOHNSON AUTO GROUP DIRTcar SPORTSMAN FEATURE:
91 Josh Reome, 2. 57H Remington Hamm, 3. 1R David Rogers, 4. 64 Tyler Corcoran, 5. 34 Eric Nier, 6. 410 Mike Fowler, 7. 18e Gavin Eisele, 8. 32rs Ryan Shanahan, 9. Fox28 Tyler Stevenson, 10. 2x Mike Amell, 11. 6 Brian Hudson, 12. 41 Dalton Rombough, 13. 10b Jaime Brown, 14. 92 Frank Sibley, 15. 2 Taylor Doxtator, 16. 7d Dustin Hutton, 17. 8 Kevin Warren, 18. 12s Kyle Sharp, 19. 18G Justin Gadbaw, 20. 62 Johnathan Murphy, 21. 4 Richard Paige, 22. 621 Trevor Gibbons.
FABCO DIRTcar PRO STOCK FEATURE:
1x Justin White, 2. 28 Burton Ward, 3. 57k Kevin Fetterly Jr, 4. x15 Tyler Bushy, 5. 3 Rick Dusckas, 6. 91 Ian Bressett, 7. 16x Tim Bailey, 8. 57 Blayne Nichols, 9. 14r Ray Hughto, 10. x37 Ryan Rarick, 11. 33 Pete Schroy, 12. 102 Anthony Mossow, 13. 60 Taylor Doxtator-DNS.
MARSHA GIBBONS TLC REAL ESTATE FEATURE:
16s Steve Smith, 2. 27 Justin Pope, 3. 22F Tony Frezzo, 4. 17 Matt Zira, 5. 11J Justin Burns, 6. 73 Timothy Greenfield, 7. 77 Tyler Burns, 8. 111j AJ St. Mary, 9. 88 Travis Berkman, 10. 14d Scott Duffany, 11. 21 Corey Valade, 12. 22j Jared Gilson, 13. 16m Matt Marcinko, 14. 9 Colby Goodale, 15. 5 Don Woodworth, 16. 4 Mike Durham, 17. 25 Tyler Collette, 18. 3D Kevin Duffany.
DONATH MOTOR WORX LIMITED SPORTSMAN FEATURE:
36m Frank Mackin, 2. 17 Owen Nier, 3. 17J Justin Pope, 4. 16 Savannah Laflair, 5. 23 Cole Perry.
Back to News