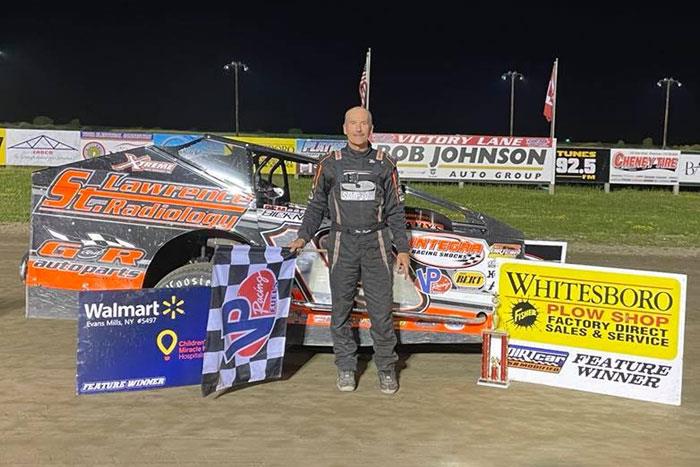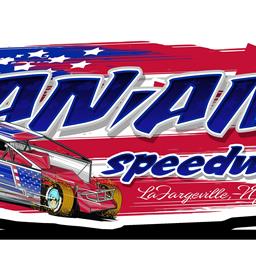 ---
Tim Fuller Returns To Victory Lane At Can-Am
LAFARGEVILLE, NY - Tim Fuller returned to victory lane on a picture-perfect summer night at Can-Am Speedway Friday night. The pleasant weather was a welcome change for fans and racers alike as Northern New York has suffered from nearly two months of racing activities being under threat from weather.
The headline event was the Whitesboro Plow Shop DIRTcar 358 Modified feature race. Track points leader, Tim Fuller, starting in twelfth position had to battle his way through the field on his way to his third victory of the season.
"With this field it's important to get to the front early and stay in the clear,� Fuller said in victory lane.
Fuller remained in first place throughout the race after passing up Jeff Sykes for the lead by lap 8. Meanwhile, behind him and all out melee ensued between drivers Ryan Bartlett, Carey Terrance, Billy Dunn and Lance Willix as they all competed for position and points.
With the victory, Fuller continued to pad his points lead, but it's not his primary focus.
"I don't think about the points. If you run good, the points take care of themselves. I've never won a championship here. It would be cool to do in front of the home crowd here in Watertown,� Fuller said from the Bob Johnson Auto Group Victory Lane.
In the Bob Johnson Auto Group DIRTcar Sportsman feature, it was Dustin Hutton with the victory. Hutton led the entire race after landing on the pole through qualifying.
With the points battle heating up in the DIRTcar Sportsman division, the battle for position behind Hutton was heated. Racing in Hutton's wake, it was Frank Sibley, Eric Nier, Tyler Corcoran and Josh Reome rounding out the top five finishers.
Kevin Fetterly took home the win in the FABCO Pro Stock feature, his second of the year at Can-Am.
Tony Frezzo ended his night in victory lane once again, adding to his commanding points lead for the season in the Marsha Gibbons TLC Realty ThunderStock feature race.
In the Donath Motor Worx Limited Sportsman feature it was Franklin Mackin in his blue and white Blevins Ford 36m with his first win at Can-Am. "We've been working on it. And it's been just out of reach. It's a pretty humbling sport to have it right there and not quite be able to take it.�
Ryan Bartlett scored the Roof to Rails Hard Charger award in the 358 Modified division, while Mike Fowler netted the extra bonus cash in the Sportsman division for his charge through the field. Dustin Hutton earned the Hamm Racing Halfway leader bonus on his way to victory in the Sportsman feature.
The night was accented with Family Autograph night at the track and an all-out effort to raise funds for the Children's Miracle Network.
Racing returns to Can-Am Speedway with a regular schedule on July 30th.
For more info, visit: racecanam.com
FULL RESULTS:
Whitesboro Plow Shop DIRTcar 358 Modified feature:
19 Tim Fuller, 2. 39 Ryan Bartlett, 3. 66x Carey Terrance, 4. 49 Billy Dunn, 5. 31 Lance Willix, 6. 29j Jeff Sykes, 7. 27z Dylan Zacharias, 8. 9 Tyler Meeks, 9. 1 Jackson Gill, 10. 23L Cameron Black, 11. 28 Jordan McCreadie, 12. 29jh Joel Hall, 13. 55 Matt Woodruff, 14. 74 Lucas Fuller, 15. 27w Nick Webb, 16. 21 Max Mclaughlin, 17. 45r Preston Forbes, 18. 21h Andrew Howard, 19. 34F George Foley, 20. 36b Dan Beachard, 21. 7s Shaun Shaw, 22. 21r RJ Tresidder, 23. 66w Derek Webb, 24. 26 Mike Mandigo, 25. 25 George Sanford, 26. 18 Scott Webb.
Bob Johnson Auto Group DIRTcar Sportsman feature:
7d Dustin Hutton, 2. 92 Frank Sibley, 3. 34 Eric Nier, 4. 64 Tyler Corcoran, 5. 91 Josh Reome, 6. 1R David Rogers, 7. 410 Mike Fowler, 8. 18e Gavin Eisele, 9. 77L Ed Lukas, 10. 32rs Ryan Shanahan, 11. 6 Brian Hudson, 12. Fox28 Tyler Stevenson, 13. 21 Taylor Caprara, 14. 57H Remington Hamm, 15. 10b Jaime Brown, 16. 18G Justin Gadbaw, 17. 2x Mike Amell, 18. 15 Greg Henry, 19. 41 Dalton Rombough, 20. 8 Kevin Warren, 21. 4x Mike Gadbaw, 22. 16 Alexa Jacobs, 23. 2 Taylor Doxtator, 24. 621 Trevor Gibbons.
FABCO Pro Stock feature:
57k Kevin Fetterly Jr, 2. 1x Justin White, 3. x15 Tyler Bushy, 4. 28 Burton Ward, 5. 101 Edward Kotary, 6. 16x Tim Bailey, 7. 3 Rick Dusckas, 8. 57 Blayne Nichols, 9. 14r Ray Hughto, 10. x37 Ryan Rarick, 11. 60 Taylor Doxtator.
Marsha Gibbons TLC Realty ThunderStock feature:
22F Tony Frezzo, 2. 27 Justin Pope, 3. 16 Steve Smith, 4. 11J Justin Burns, 5. 111j AJ St. Mary, 6. 11a Kevin Greenfield, 7. 94 OJ White, 8. 22j Jared Gilson, 9. 88b Travis Berkman, 11. 21 Corey Valade, 12. 14d Scott Duffany, 13. 111 Pops St. Mary, 14. 25 Tyler Collette, 15. 73 Tim Greenfield.
Donath Motor Worx Limited Sportsman feature:
36m Franklin Mackin, 2. 1d Paul Deruyter, 3. 17 Owen Nier, 4. 23 Cole Perry, 5. 131 Rick Mooney, 6. 13j Jordan Jerome.
Back to News