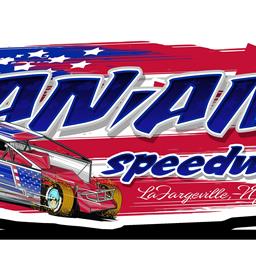 ---
Persistence Pays Off For Ryan Bartlett With Victory At Can-Am
LAFARGEVILLE, NY - The 2021 season hasn't been kind to Ryan Bartlett and his number 39 Troyer 358 Modified at the Nasty Track of the North. Several times this year Bartlett has qualified with a fast car only to have his night end in heartbreak as it broke down in the feature. The hard work and persistence behind the scenes have started to pay off. Last week Bartlett's fortunes took a turn for the better with a second-place finish behind Jordan McCreadie. This week, Bartlett built on that success and finished with a victory in the Whitesboro Plow Shop DIRTcar 358 Modified feature.
Bartlett started seventh in a very competitive feature and launched out to the front of the pack at the drop of the green, challenging for the lead almost immediately. An early caution gave Bartlett the opportunity he needed, and he passed up 27z Dylan Zacharias for the lead, never conceding it to anyone else for the rest of the night, even as regular top-finishers Billy Dunn and Tim Fuller battled for position behind him.
"We finally got the bugs worked out with this car,� Bartlett said from victory lane. "Tonight, the track really fit my style, I guess. The key was getting out ahead as quickly as possible. It gets tougher to pass as the race goes on.�
In the Bob Johnson Auto Group DIRTcar Sportsman feature it was 64 Tyler Corcoran with the victory. The Sportsman division has heated up at Can-Am, with a very tightly contested points chase developing between multiple drivers. With the victory, Corcoran moved within two points of the leader, David Rogers.
"The track was tough tonight. I knew [Mike] Fowler wasn't getting off the bottom and he wasn't going to make a mistake,� Corcoran said of the victory. "I wasn't sure if I was going to get him, but I did. Those restarts were tough. I wasn't sure if I was going to be able to manage the restart and get back to the top. But we were able to get it done.�
Tyler Bushy continued his winning ways by landing a victory in the FABCO DIRTcar ProStock feature for the second week in a row.
"This car was hooked up right off the trailer tonight. It makes for an easy night when that's the case,� Bushy said from victory lane.
Tony Frezzo notched another victory in the Marsha Gibbons TLC Real Estate ThunderStock feature. Owen Nier was the winner in the Donath Motor Worx Limited Sportsman feature.
Lance Willix was the Roof to Rails hard charger in the 358 Modified feature, while Dalton Rombough was given the award money as the hard charger in the Sportsman feature. Willix started 22nd and finished 10thin the 358 feature, while Rombough started in last place at 25th and finished 4th in the Sportsman feature.
Racing will return to Can-Am Speedway July 23rd. For more info visit: racecanam.com
FULL RESULTS:
Whitesboro Plow Shop DIRTcar 358 Modified feature:
39 Ryan Bartlett, 2. 49 Billy Dunn, 3. 19 Tim Fuller, 4. 7mm Mike Maresca, 5. 27z Dylan Zacharias, 6. 74 Lucas Fuller, 7. 28 Jordan McCreadie, 8. 18 Scott Webb, 9. 1 Jackson Gill, 10. 31 Lance Willix, 11. 7s Shaun Shaw, 12. 29j Jeff Sykes, 13. 36b Dan Beachard, 14. 45r Preston Forbes, 15. 29jh Joel Hall, 16. 9 Tyler Meeks, 17. 21r RJ Tresidder, 18. 55 Matt Woodruff, 19. 21h Andrew Howard, 20. 47 Brent Cross, 21. 23L Cameron Black-DNF, 22. 26 Mike Mandigo-DNF, 23. 25 George Sanford-DNF, 24. 66w Derek Webb-DNS.
Bob Johnson Auto Group DIRTcar Sportsman feature:
64 Tyler Corcoran, 2. 410 Mike Fowler, 3. 1R David Rogers, 4. 41 Dalton Rombough, 5. 32rs Ryan Shanahan, 6. 621 Trevor Gibbons, 7. 57H Remington Hamm, 8. Fox28 Tyler Stevenson, 9. 91 Josh Reome, 10. 3 Chris Mackey, 11. 34 Eric Nier, 12. 21 Taylor Caprara, 13. 34 Tyler Murray, 14. 92 Frank Sibley, 15. 18e Gavin Eisele, 16. 18G Justin Gadbaw, 17. 10b Jaime Brown, 18. 8 Kevin Warren, 19. 15 Greg Henry, 20. 47 Aaron Cross, 21. 12s Kyle Sharp, 22. 6 Brian Hudson-DNF, 23. 2x Mike Amell-DNF, 24. 7D Dustin Hutton-DNF, 25. 62 Johnathan Murphy-DNS.
FABCO DIRTcar ProStock feature:
x15 Tyler Bushy, 2. 1x Justin White, 3. 57k Kevin Fetterly Jr, 4. 3k Shawn Kirby, 5. 28 Burton Ward, 6. 16x Tim Bailey, 7. 33 Pete Schroy, 8. 57 Blayne Kirby, 9. 2e Eli Gilbert-DNF, 10. x37 Ryan Rarick-DNF, 11. 91 Ian Bressett-DNF, 12. 14r Ray Hughto-DNF, 13. 3 Rick Duskas-DNF, 14. 60 Taylor Doxtator-DNF.
Marsha Gibbons TLC Real Estate ThunderStock feature:
22F Tony Frezzo, 2. 16 Steve Smith, 3. 5 Adam Collins, 4. 22J Jared Gilson, 5. 111j AJ St. Mary, 6. 111 Tony St. Mary, 7. 73T Timothy Greenfield, 8. 11J Justin Burns-DNF, 9. 9s Lyle Robinson-DNF, 10. 14D Scott Duffany-DNF, 11. 77w Kyle Wurtz-DNF, 12. 25 Tyler Collette-DNF, 13. 82x OJ White-DNF, 14. 66w Ryan Wurtz-DNS.
Donath Motor Worx Limited Sportsman feature:
17 Owen Nier, 2. 36m Franklin Mackin, 3. 1D Paul Deruyter, 4. 23 Cole Perry.
Back to News