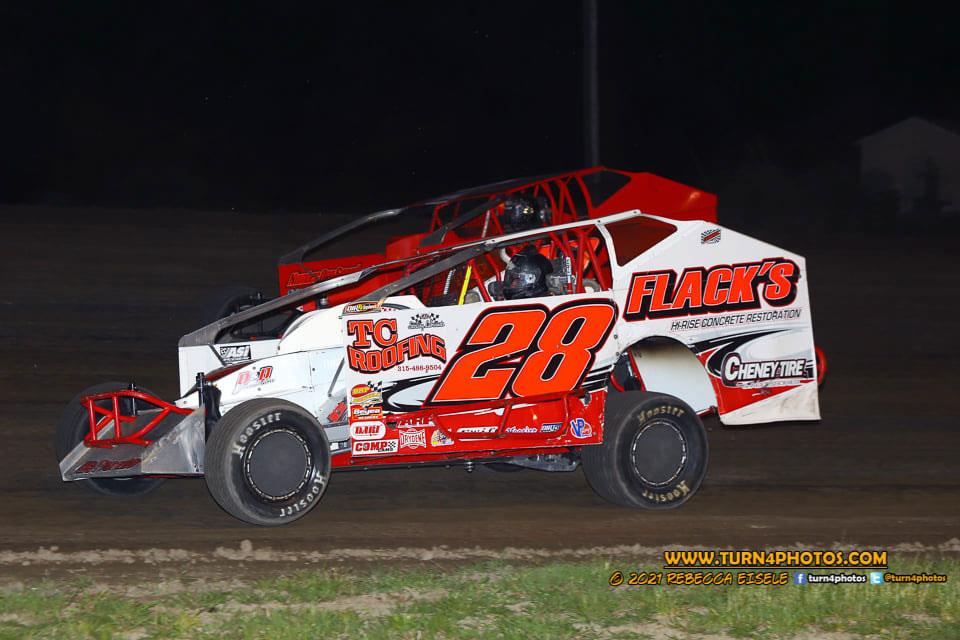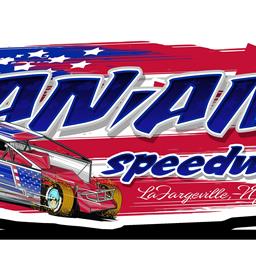 ---
Jordan McCreadie Wins At Can-Am; Wild Weather Equals Wild Racing Friday Night
LAFARGEVILLE, NY - It was an odd night at the Nasty Track of the North on Friday night, starting with a two-hour weather delay to begin the evening. With the track requiring far more grooming than normal, and with the surface retaining much of the moisture falling from the skies over the last few days, it was a different track than any of the drivers had experienced so far this year. In early heat races some of the drivers were having difficulty making their cars stick in the corners, as the track ran heavy and a little greasy. This led to far more rubbing, bumping and paint-exchanging racing than is the norm at Can-Am Speedway. Those fans who weathered the rain delay were treated to an exciting and unpredictable night of racing.
Jordan McCreadie, in the 28 car, was the victor in the Whitesboro Plow Shop DIRTcar 358 Modified feature after charging hard from a thirteenth starting position. Through the first half of the race, as McCreadie was winding his way through the field, 31jr Tommy Jock Jr. was the leader, having started on the pole. Number 21 Max McLaughlin, who started twelfth, was up on Jock Jr.'s rear bumper by lap 13 and owned the lead by lap 14. After just two more laps, Jock Jr.'s car came to a stop on the front stretch with mechanical issues and McLaughlin's car started billowing smoke and dumping oil on the track. Both cars headed back to the pits, leaving the lead for McCreadie. Once he owned the lead, he never gave it up, driving to victory lane in commanding fashion over the final nine laps. It was McCreadie's first victory of the season at Can-Am Speedway.
"The track was a little narrow in three and four because of the mud. When Max [McLaughlin] got by me, I thought he was the car to beat. He was fast. But he had some mechanical issues,� McCreadie said. "It's been awhile since we've been here [in victory lane]. A little over a year, I think, so we'll take it.�
In the Bob Johnson Auto Group DIRTcar Sportsman feature, it was Tyler Stevenson in the Fox28 who took home the victory. Stevenson took an early lead away from 15 Greg Henry and never gave it back. 32rs Ryan Shanahan and 6 Brian Hudson rounded out the top three finishers. It was Stevenson's first victory of the year at Can-Am Speedway and his first victory in the DIRTcar Sportsman division after moving up from the Limited Sportsman division for 2021.
In the Marsha Gibbons TLC Realty Thunderstock feature, it was 22 Tony Frezzo with a dominating victory, taking the lead early and never stopping until he parked it in the Bob Johnson Auto Group victory lane.
Tyler Bushey in his x15 Pro Street Stock wrapped up the evening just after midnight with a victory in the FABCO DIRTcar Pro Stock feature.
Racing returns to Can-Am Speedway July 16th for a full schedule of racing action. Visit racecanam.com for more information.
FULL RESULTS:
Whitesboro Plow Shop DIRTcar 358 Modified feature:
28 Jordan McCreadie, 2. 39 Ryan Bartlett, 3. 74 Lucas Fuller, 4. 60 Jackson Gill, 5. 19 Tim Fuller, 6. 31 Lance Willix, 7. 26 Mike Mandigo, 8. 36b Dan Beachard, 9. 45r Preston Forbes, 10. 27w Billy Dunn, 11. 21h Andrew Howard, 12. 21r RJ Tresidder, 13. 29jh Joel Hall, 14. 55 Matt Woodruff, 15. 9 Tyler Meeks-DNF, 16. 7s Shaun Shaw-DNF, 17. 21 Max Mclaughlin-DNF, 18. 31jr Tom Jock Jr-DNF, 19. 25 George Sanford-DNF, 20. 27z Dylan Zacharias-DNF, 21. 66w Derek Webb-DNF, 22. 29j Jeff Sykes-DNF, 23. 49 Nick Webb, 24. 23L Cameron Black
Bob Johnson Auto Group DIRTcar Sportsman feature:
Fox28 Tyler Stevenson, 2. 32rs Ryan Shanahan, 3. 6 Brian Hudson, 4. 64 Tyler Corcoran, 5. 41 Dalton Rombough, 6. 410 Mike Fowler, 7. 1R David Rogers, 8. 15 Greg Henry, 9. 34 Eric Nier, 10. 18e Gavin Eisele, 11. 57H Remington Hamm, 12. 18G Justin Gadbaw, 13. 10b Jaime Brown, 14. 12s Kyle Sharp, 15. 36m Franklin Mackin, 16. 21 Taylor Caprara-DNF, 17. 621 Trevor Gibbons-DNF, 18. 92 Frank Sibley Jr.-DNF, 19. 7d Dustin Hutton-DNF, 20. 91 Josh Reome-DNF, 21. 2 Taylor Doxtator-DNF, 22. 62 Johnathan Murphy-DNF, 23. 8 Kevin Warren-DNS.
FABCO Pro Stock feature:
x15 Tyler Bushy, 2. 60 Taylor Doxtator, 3. 57k Kevin Fetterly Jr, 4. 28 Burton Ward, 5. 1x Justin White, 6. 3 Rick Dusckas, 7. 91 Ian Bressett, 8. 102 Anthony Mossow, 9. 14r Raymond Hughto, 10. 2E Eli Gilbert, 11. x37 Kevin Rarick-DNF, 12. 16x Tim Bailey-DNS, 13. 56 Jay Fitzgerald-DNS.
Marsha Gibbons TLC Realty ThunderStock feature:
22 Tony Frezzo, 2. 16 Steve Smith, 3. 22j Jared Gilson, 4. 111J AJ St. Mary, 5. 9s Gerald Roger, 6. 82 Josh Verne-DNF, 7. 25 Tyler Collette-DNF, 8. 11J Justin Burns-DNF, 9. 14 Kevin Duffany-DNF, 10. 7x Tyler Bates-DNF.
Back to News