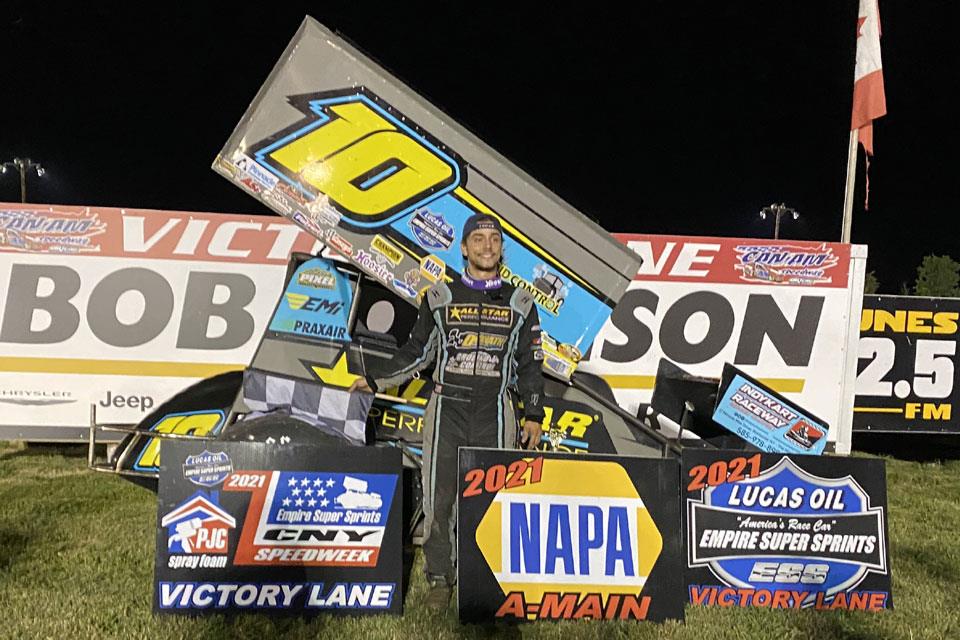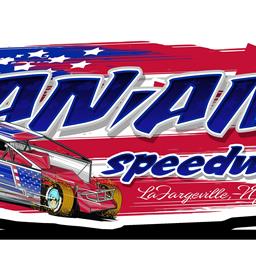 ---
Paulie Colagiovanni Victorious In ESS Pabst Shootout At Can-Am Speedway Wednesday
LAFARGEVILLE, NY - After nearly a month hiatus due to weather and scheduling, racing roared back into action at Can-Am Speedway with a special Wednesday night program which featured Empire Super Sprints for the 25 lap Pabst Shootout sponsored by Doldo Brothers, Inc.
Paulie Colagiovanni dominated the Empire Super Sprint feature, wasting no time moving into the lead after a lap one caution after starting in third position. Colagiovanni in the 10c blasted ahead of the field and was into lapped traffic by the halfway point of the 25-lap race. Colagiovanni was so dominant, he lapped the field all the way up to 11th position. The victory was the perfect springboard for Colagiovanni as he continues his conquest in the CNY ESS Speedweek.
In the 50-lap Whitesboro Plow Shop DIRTcar 358 Modifieds, Billy Dunn started the feature in first place and looked to be well on his way to yet another victory at the Nasty Track of the North. But it was not to be. Dunn pulled off the track with mechanical issues, relinquishing the lead to m1 Dave Marcucilli in lap 30. For his part, Marcuccilli took full advantage of the opportunity, dashing out to a commanding lead over the field, putting nearly half a track between himself and second place 31 Lance Willix by the time the checkered flag unfurled. It was a sweet victory for Marcuccilli who landed a cool $3000 for the win.
In the Bob Johnson Auto Group DIRTcar Sportsman feature, it was 64 Tyler Corcoran who took the victory after patiently waiting through most of the race for his opportunity for the lead. Corcoran slipped by 12 David Rogers with just eight laps remaining and was able to fend off second place finisher 33x Matt Janczuk after a caution slowed racing with just two laps remaining. It was Corcoran's second victory at Can-Am Speedway for the year.
In the Marsha Gibbons TLC Realty ThunderStock feature, it was 22F Tony Frezzo with the victory after fending off 16 Steve Smith and 11z Mike Greenfield who were both tenaciously competing for the lead throughout the race.
The night also featured an ESS Dash for Cash which was claimed by 9 Josh Pieniazik.
Racing returns to Can-Am Speedway July 9th for a full schedule of racing action. Visit racecanam.com for more information.
FULL RESULTS:
ESS Pabst Shootout sponsored by Doldo Brothers, Inc.
10c Paulie Colagiovanni, 2. 87 Jason Barney, 3.7c Dylan Swiernik, 4. 10 Jeff Cook, 5. 10h Kelly Hebing, 6. 17 Sammy Reakes IV, 7. 45 Chuck Hebing, 8. 0 Danny Varin, 9. 9 Josh Pieniazek, 10. 0 Matt Tanner, 11. 53 Shawn Donath, 12. 5k Jake Karklin, 13. 88c Chad Miller, 14. 3 Denny Peebles, 15. 29 Dalton Harrick, 16. 36 Nick Fratto, 17. 23 Tyler Cartier, 18. 33 Lacey Hanson, 19. 91 Scott Holcomb DNF, 20. 28f Davie Franek DNF
ESS Pabst Shootout Dash for Cash:
9 Josh Pieniazik, 2. 00 Danny Varin, 3. 29 Dalton Harrick, 4. 5k Jake Karklin, 5. 36 Nick Fratto, 6. 91 Scott Holcomb
Whitesboro Plow Shop DIRTcar 358 Modified feature:
1 m1 Dave Marcuccilli, 2. 31 Lance Willix, 3. 62 Tim Sears, 4. 25r Erick Rudolph, 5. 19 Tim Fuller, 6. 66x Carey Terrance, 7. 9 Tyler Meeks, 8. 66m Mike Maresca, 9. 1 Jackson Gill, 10. js98 Rocky Warner, 11. 23L Cameron Black, 12. 7s Shaun Shaw, 13. 39 Ryan Bartlett, 14. 18jr Louie Jackson, 15. 45r Preston Forbes, 16. 29jh Joel Hall, 17. 55 Matt Woodruff, 18. 28 Jordan McCreadie, 19. 21 Frankie Caprara, 20. 66w Derek Webb, 21. 49 Billy Dunn, 22. 20 Kyle Inman, 23. 29j Jeff Sykes, 24. 1 Robert Delormier, 25. 27 Dylan Zacharias, 26. 27 Nick Webb
Bob Johnson Auto Group DIRTcar Sportsman feature:
64 Tyler Corcoran, 2. 33x Matt Janczuk, 3. 1R David Rogers, 4. 410 Mike Fowler, 5. 91 Josh Reome, 6. 34M Tyler Murray, 7. 34N Eric Nier, 8. 3 Chris Mackey, 9. 32rs Ryan Shanahan, 10. 7z Zach Payne, 11. 621 Trevor Gibbons, 12. 7d Dustin Hutton, 13. 83 Dustin Bradley, 14. 18e Gavin Eisele, 15. 1m Jack Meeks, 16. 41 Dalton Rombough, 17. 1r Ricky Thompson, 18. Fox28 Tyler Stevenson, 19. 9 Kristan Smoke, 20. 25g Nick Guerreri, 21. 31b Ryan Dolbear, 22. 2x Mike Amell, 23. 9s Bentley Gray, 24. 57H Remington Hamm, 25. 88 Fire Swamp, 26. 92 Frank Sibley, 27. 6 Brian Hudson, 28. 17j Brent Joy, 29. 18G Justin Gadbaw, 30. 99R Anthony Rasmussen DQ
Marsha Gibbons TLC Realty ThunderStock feature:
22f Tony Frezzo, 2. 16 Steve Smith, 3. 11a Mike Greenfield, 4. 111 Francis White, 5. 272 Justin Pope, 6. 17 Zac Petrie, 7. 111J AJ St. Mary, 8. 11J Justin Burns, 9. 22 Zac McCauley, 10. 3d Kevin Duffany, 11. 97 David Liscolm, 12. 25 Tyler Collette, 13. 14d Scott Duffany, 14. 22j Jared Gilson, 15. 21 Corey Valade-DNF, 16. 60 Tony St. Mary-DNF
Back to News