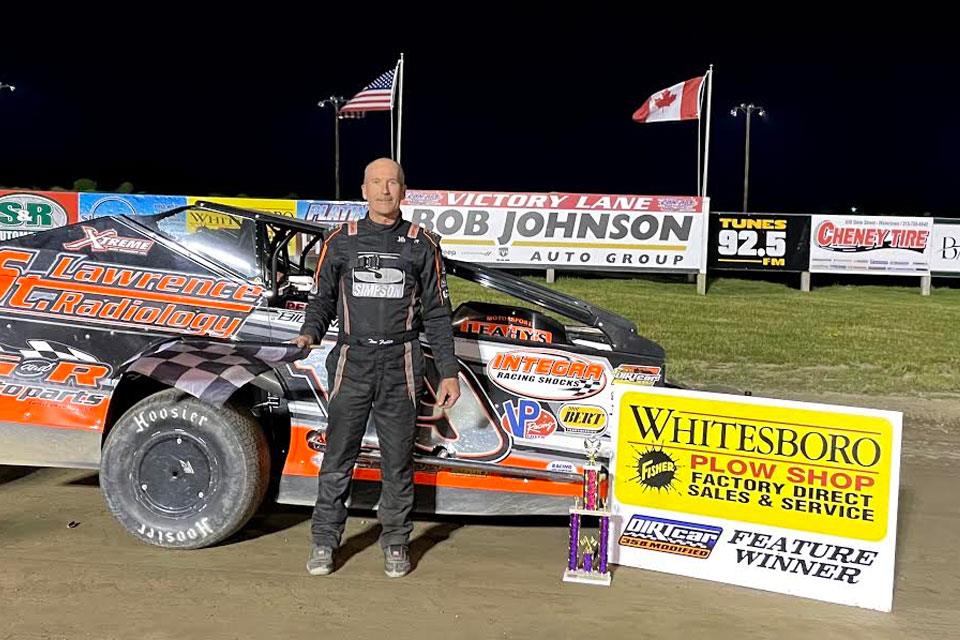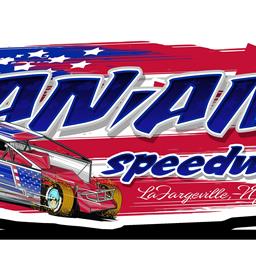 ---
Fuller Fantastic In Second Win Of Season Over Billy Dunn At Can-Am
LAFARGEVILLE, NY - After winning the first race of the season, 19 Tim Fuller had to settle for second place behind 49 Billy Dunn for two weeks in a row. Fuller evened up the victory column tally with Dunn by taking the checkered flag at the Nasty Track of the North on Friday Night.
It was a race to the front, once again for Fuller and Dunn in the Whitesboro Plow Shop DIRTcar 358 Modified feature on Friday night at Can-Am Speedway. Fuller started eleventh, while Dunn started twelfth in the feature race. They would both have to climb through a talented field of drivers to arrive at the front by race end.
Tim Fuller, of Watertown, New York, drove his number 19 St. Lawrence Radiology Bicknell racecar to the lead after an early caution. Dunn was on his tail most of the race, but could not get close enough to make any noise, allowing Fuller his second victory of the season at Can-Am.
"Isn't it always a hard-fought battle?� the always articulate Tim Fuller asked rhetorically, from the Bob Johnson Auto Group Victory Lane. "The track was rough, but not unmanageable. I've run just about all the rough tracks around, and this one isn't bad. It's fast.�
After taking a moment to thank his sponsor St. Lawrence Radiology, Fuller also thanked someone else.
"I want to thank Billy Dunn for telling me to pack a lunch last week,� Fuller said, with a wry grin. "He runs pretty good around here and I'm not going to spout off. But if he wants some competition he's got it.�
Fuller and Dunn certainly put on a show for the fans, who flocked to Can-Am Speedway to enjoy the racing action and the warmer weather; a welcome improvement over last week's temperatures that were only in the 40s.
Perhaps the highlight of the racing action on the night was the last lap lead-change victory by 1 David Rogers in the Bob Johnson Auto Group DIRTcar Sportsman feature. It looked as if 41 Dalton Rombough had the victory all but cinched up, when 16B Chris Bonoffski parked his car sideways in turns three and four as Rombough rounded the corner to take the checkered flag on the final lap. But there was no victory for Rombough, instead he had to take quick evasive action to avoid t-boning Bonoffski, which elicited a caution and triggered a green-white flag restart. Rogers restarted nose-to-tail with Rombough but was able to sling-shot past the leader in turns one and two, hanging on to that lead as Rombough charged out of turn four to make a final push at the finish line. The heart-pounding finish led to David Rogers' first victory of the season at Can-Am.
Rogers was succinct in his commentary on leading only the final lap in his win in the Bob Johnson Auto Group Victory Lane, saying, "I led the one that mattered.�
Other winners on the night included 2e Eli Gilbert in the FABCO DIRTcar Pro Stock feature, 272 Justin Pope in the Marsha Gibbons TLC Real Estate Thunderstock feature and 2 Taylor Doxtator in the Donath Motor Worx Limited Sportsman feature.
Racing will return June 11th at Can-Am Speedway in Lafargeville, New York. For more information visit: racecanam.com.
COMPLETE RESULTS
Whitesboro Plow Shop DIRTcar 358 Modified feature:
19 Tim Fuller, 2. 49 Billy Dunn, 3. 29j Jeff Sykes, 4. 31 Lance Willix, 5. 28 Jordan McCreadie, 6. 45r Preston Forbes, 7. 9 Tyler Meeks, 8. 26r Corey Cormier, 9. 1 Jackson Gill, 10. 18w Scott Webb, 11. 27w Nick Webb, 12. 36b Dan Beachard, 13. 7s Shaun Shaw, 14. 74 Lucas Fuller, 15. 21r RJ Tresidder, 16. 55 Matt Woodruff, 17. 1 Robert Delormier, 18. 29jh Joel Hall, 19. 27z Dylan Zacharias, 20. 21h Andrew Howard, 21. 47 Brent Cross, 22. 23 Cameron Black (DNF), 23. 39 Ryan Bartlett (DNF), 24. 26 Michael Mandigo (DNF), 25. 31jr Tommy Jock Jr (DNF).
Bob Johnson Auto Group DIRTcar Sportsman feature:
1 David Rogers, 2. 41 Dalton Rombough, 3. 57H Remington Hamm, 4. 7D Dustin Hutton, 5. 64 Tyler Corcoran, 6. 410 Mike Fowler, 7. 18e Gavin Eisele, 8. 32 Ryan Shanahan, 9. 6 Brian Hudson, 10. 34 Eric Nier, 11. 10B Jamie Brown, 12. 14 Zach Arquiett, 13. FOX28 Tyler Stevenson, 14. 18 Justin Gadbaw, 15. 621g Trevor Gibbons, 16. 1R Ricky Thompson, 17. 12s Kyle Sharp, 18. 92 Frank Sibley , 19. 8 Kevin Warren, 20. 16B Chris Bonoffski (DNF), 21. 15 Greg Henry (DNF), 22. 2x Mike Amell (DNF), 23. 62 Jonathan Murphy (DNF)
FABCO DIRTcar Prostock feature:
2e Eli Gilbert, 2. 28 Burton Ward, 3. X15 Tyler Bushy, 4. 1x Justin White, 5. 57k Kevin Fetterly Jr., 6. 16x Tim Bailey, 7. 33 Pete Schroy, 8. 60 Taylor Doxtator, 9. 83 Will Gates, 10. 66 Luke Hull, 11. 102 Anthony Mossow (DNF), 12. 97 Ryan Gates (DNS).
Marsha Gibbons TLC Real Estate Thunderstock feature:
272 Justin Pope, 2. 22 Tony Frezzo, 3. 16 Steve Smith, 4. 11J Justin Burns, 5. 111J AJ St. Mary, 6. 73t Timothy Greenfield, 7. 3D Kevin Duffany, 8. 22 Zachary Macaulay, 9. 72 Nathan Brothers, 10. 22J Jared Gilson, 11. 25 Tyler Collette, 12. XXX Donald Kimball, 13. 99 Dustin Murphy (DNF), 14. 9s Raymond Savage (DNF), 15. 21 Corey Valade.
Donath Motor Worx Limited Sportsman feature:
2 Taylor Doxtator, 2. 36m Franklin Mackin , 3. 17 Owen Nier, 4. 131 Mike Fairbanks, 5. 13j Jordan Jerome.
Back to News