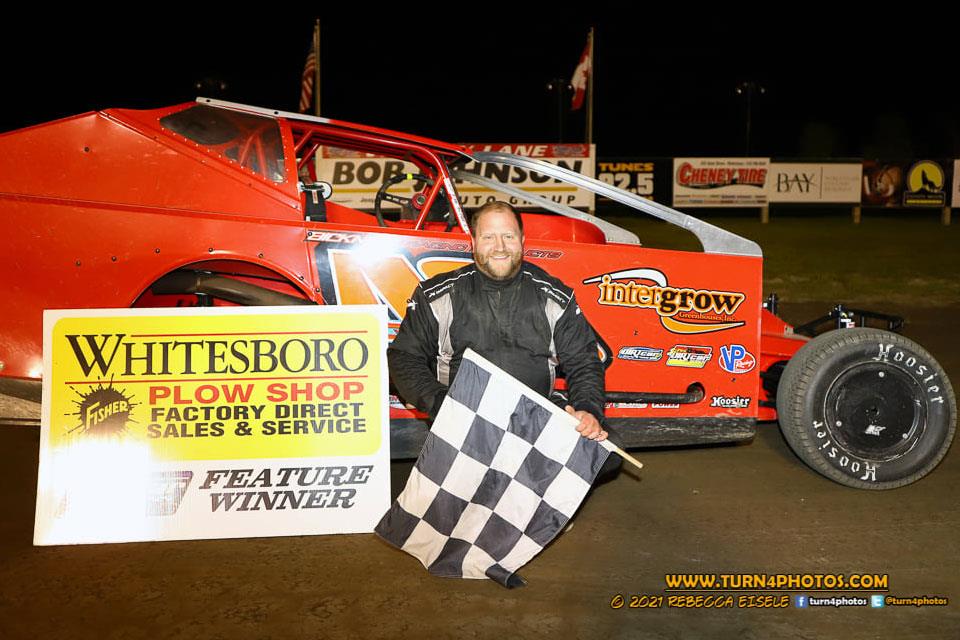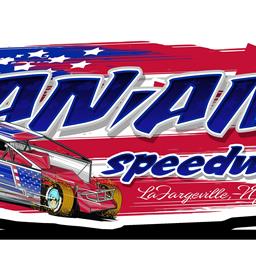 ---
Billy Dunn Victorious At Chilly Can-Am Speedway Friday Night
LAFARGEVILLE, NY - The weather was unusually cold in the North Country of New York for the Memorial Weekend race on Friday night, with temperatures hovering in the lower 40s when the feature races ensued. But no matter, Can-Am was the only track to wave the green flag as rain dampened all other tracks' activities in New York State for the night.
Fans were warmed by hot racing action on the track for a full night of racing sponsored by RJW Enterprises and Jiffy Dumpsters. Watertown, New York native, Billy Dunn, strung together a back-to-back victory in his unsponsored number 49 Bicknell race car for the Whitesboro Plow Shop DIRTcar 358 Modified feature. Once again, Tim Fuller (19) took second place, giving fans a sense of déjà vu all over again. It was a hard-fought victory as Dunn had to weave his way up from a twelfth place start to take the win. He was aided by a litany of early race cautions that allowed him to leap frog the field to the front of the pack relatively quickly.
"This was just a fast car. I have to thank my crew. I got the best group of guys anybody could ask for. This car is awesome,� Dunn said standing in the Bob Johnson Auto Group Victory Lane. Then, commenting on the competition, he said, "It's a race to the front every week with the number 19 (Fuller) he's always got a fast race car.�
It was an emotional victory for Mike Fowler (410) in the Bob Johnson Auto Group DIRTcar Sportsman feature.
"This was my fourth full season back after taking like a ten-year break, it's nice to put the car in victory lane. I was patient through the first part of the race, then he [Jamie Brown (10B)] left the door open around lap twelve and I took it. Donath Motor Worx put a great engine in this car. I never have to do any work on it,� Fowler said. Then when asked who he would like to thank, he got choked up.
"My dad never got a chance to see me win,� Fowler said, fighting back tears. "So, this one's for him.�
Kevin Fetterly (57k) was the victor in the always entertaining FABCO DIRTcar Pro Stock feature. In the Donath Motor Worx Limited Sportsman feature it was Paul DeRuyter (1D) with a repeat performance from the previous week.
"Had to work a little bit for that one,� DeRuyter said. "It was a good race. It was slippery in three and four, I thought there would be more grip with the colder weather, but it went the other way. I just want to thank the men and women of the armed forces for giving us the freedom to come out and race like this.�
Mike Zira (17) took home the victory in the Marsha Gibbons TLC Realty Thunderstock feature, while the Donath Motor Worx Sportsman Dash for Cash winner was Ryan Shanahan (32).
For more info, visit racecanam.com.
FULL RESULTS
Whitesboro Plow Shop DIRTcar 358 Modified feature:
49 Billy Dunn, 2. 19 Tim Fuller, 3. 28 Jordan McCreadie, 4. 31 Lance Willix, 5. 1 Jackson Gill, 6. 39 Ryan Bartlett, 7. 27z Dylan Zacharias, 8. 27w Nick Webb, 9. 7s Shaun Shaw, 10. 9 Tyler Meeks, 11. 66x Carey Terrance, 12. 29JH Joel Hall, 13. 29j Jeff Sykes, 14. 45r Preston Forbes, 15. 18w Scott Webb, 16. 36b Dan Beachard, 17. 21r RJ Tressider, 18. 21 Andrew Howard, 19. 4b Richard Paige (DNF) (Ran 21 Laps), 20. 47 Brent Cross (Ran 15 Laps), 21. 23L Cameron Black (DNF), 22. 74 Lucas Fuller (DNF), 23. 31JR Tom Jock Jr. (DNF).
Bob Johnson Auto Group DIRTcar Sportsman feature:
410 Mike Fowler, 2. 64 Tyler Corcoran, 3. 32 Ryan Shanahan, 4. 1 David Rogers, 5. 10B Jamie Brown, 6. 41 Dalton Rombough, 7. 1M Tyler Murray, 8. 34 Eric Nier, 9. 18e Gavin Eisele, 10. 91 Josh Reome, 11. 16b Chris Bonoffoski, 12. 57H Remington Hamm, 13. 21c Taylor Caprara, 14. 15 Greg Henry, 15. 1R Ricky Thompson, 16. 6 Brian Hudson, 17. 18g Justin Gadbaw, 18. Fox28 Tyler Stevenson, 19. 12s Kyle Sharpe, 20. 25 George Sanford, 21. 621g Trevor Gibbons, 22. 62 Jonathan Murphy, 23. 5K Matt Kitts, 24. 2x Mike Amell, 25. 2 Tiger Chapman (DNS).
FABCO DIRTcar Pro Stock feature:
57k Kevin Fetterly, 2. 2e Eli Gilbert, 3. X15 Tyler Bushy, 4. 28 Burton Ward, 5. 1x Justin White, 6. 3k Shawn Kirby, 7. 60 Taylor Doxtator, 8. 16x Tim Bailey, 9. 3 Rick Duskas, 10. 33 Pete Schroy, 11. 102 Anthony Mossow, 12. X37 Ryan Rarick.
Marsha Gibbons TLC Realty ThunderStock feature:
17 Matt Zira, 2. 11A Mike Greenfield, 3. 22F Tony Frezzo, 4. 17 Tyler Burns, 5. 11J Justin Burns, 6. 22J Jared Gilson, 7. 14D Scott Duffany, 8. 111J AJ St. Mary (DNF), 9. 272 Justin Pope (DNF), 10. 22 Zachary Macaulay (DNF), 11. 25 Tyler Collette (DNF), 12. 3D Kevin Duffany, 13. 21 Corey Balade (DNF).
Donath Motor Worx Limited Sportsman features
1D Paul Deruyter, 2. 17 Owen Nier, 3. 36M Franklin Mackin, 4. 42 Jeremy Hamilton, 5. 13J Jordan Jerome, 6. 131 Mike Fairbanks.
Donath Motor Worx Sportsman Dash-For-Cash
32 Ryan Shanahan, 2. 1R David Rogers, 3. 64 Tyler Corcoran, 4. 18G Justin Gadbaw, 5. 410 Mike Fowler, 6. 2x Mike Amell.
Back to News