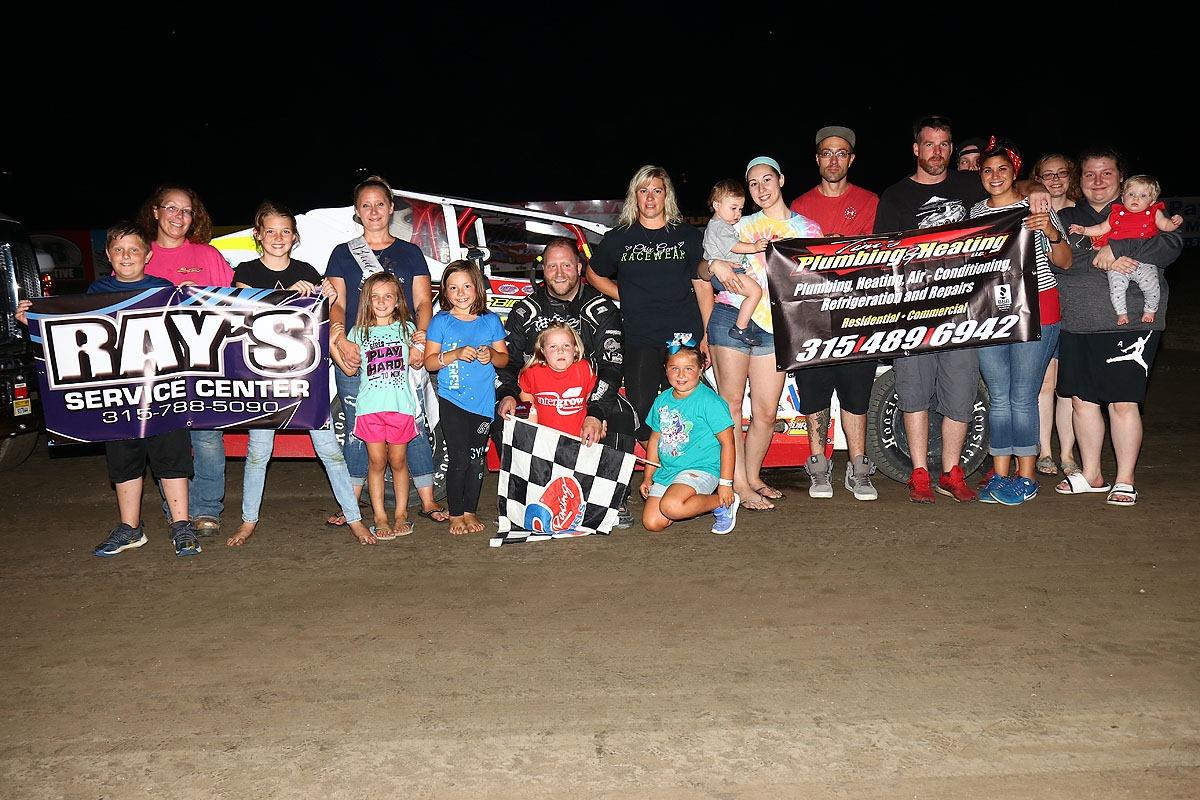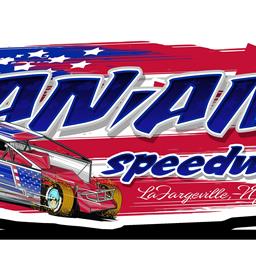 ---
CAN-AM SPEEDWAY WINS TO DUNN, KELLY, KIRBY AND PETRIE ON RAY'S SERVICE CENTER NIGHT
It was another beautiful night for racing at the Can-Am Speedway
and fans were treated some great dirt track racing in al four weekly
divisions.  The Whitesboro Plow Shop-DIRTcar 358 Modifieds were lead
to the line by Jordan McCreadie and Tyler Meeks with McCreadie
grabbing the lead on lap one, over Meeks and Ryan Bartlett.  Bartlett
moved into the second spot and on lap 4 wrestled the lead away from
McCreadie bringing Billy Dunn with him.  Bartlett was having a solid
run but point leader Dunn was shown as the leader on lap 6.  Last
weeks winner, Ryan Arbuthnot would move up to the second spot on lap 7
and try to chase down Dunn.  Dunn was on rails at the front and would
grab another feature win over Arbuthnot, Jeff Sykes, McCreadie and
Bartlett.
A strong field of (29) FX Caprara Honda-DIRTcar Sportsman were
ready for starter Mike LaClair's green flag with Gavin Eisele and
Jordan Kelly pacing the group.  Kelly was shown as the leader of lap
one and looked very strong early pulling away to a comfortable lead.
while Eisele, Eric Nier, Jessica Power and Dalton Rombough fought for
the top 5 positions.  A number of early cautions kept the field
together but Kelly prevailed on every restart.  At the halfway mark
they were all chasing young Jordan Kelly.  With 5 laps to go Power,
Jackson Gill and Brian Hudson had joined Kelly and Nier in the top 5.
Power's strong run came to an end on lap 17 bringing out the final
caution and Kelly again pulled away over the last 3 laps to pick up
the win over Gill, Nier, Hudson and Josh Reome.
The FABCO-Pro Streets were brought to the green by Will and Ryan
Gates but it was Shawn Kirby showing as the leader on lap one.  Ken
Hartshorn and last weeks winner Steven Gilmore chased Kirby over the
first 6 laps until Rick Dusckas made his way to the top 3 behind Kirby
and Gilmore.  Kirby was to strong on this night though and picked up
the win over Dusckas, Gilmore, Hartshorn and Tyler Bushey.
Chuck Monica and Zak Petrie set the pace for the TLC Real
Estate/Agent Marsha Gibbons-Thunder Stocks 15 lap feature.  Petrie
charged to the front over Monica and Jock Symonds and at the halfway
mark the same 3 continued to fight for the lead with Phil Desormeau
III and OJ White taking chase.  Petrie would go on for another win
over Monica, Symonds, Desormeau III and Ray Graffam.
Next week will  be Law Enforcement Appreciation Night at Can-Am.
The Speedway will honor all the great men and women of Law
Enforcement with free grandstand admission with proper ID.  It will be
another exciting night of dirt track action on the fast 1/2 mile clay
oval in LaFargeville.  Next weeks racing will be sponsored by the
great people from Cheney Tire and will feature a full program for all
(4) weekly classes.  Join us next Friday for another exciting night of
family fun entertainment and dirt track racing action.  Keep up with
what's going by following us on Facebook at Can-Am Speedway or call
the office at 315-876-3478.
Back to News