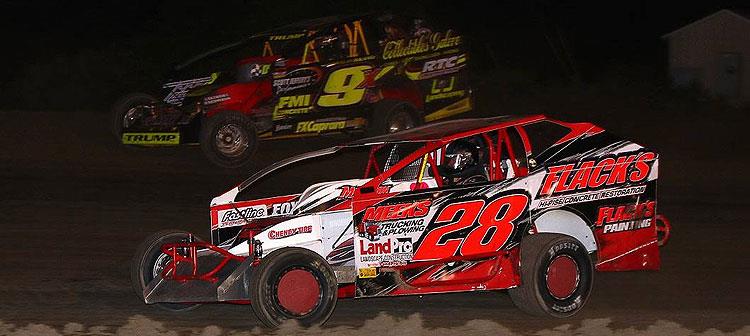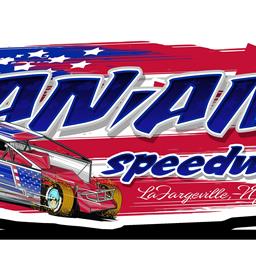 ---
Can-Am To Close Out 2018 With The "Showdown In September"
LAFARGEVILLE, NY - It has been a rebuilding season in 2018 at Can-Am and officials plan to close out the season in a big way with the "Showdown in September", sponsored by DP Bartlett and Sons.
The two day event will get started on Friday, September 7th, with the DIRTcar Sportsman, RUSH Crate Late Models, Pro Street Stocks and 4 Cylinder Thunder Stocks all having special events on the schedule.
The DIRTcar Sportsman will highlight the nights racing with a 30 lap, $1250 to win DIRTcar Sportsman Series event which should draw a number of outsiders to take on the track regulars at the fast 1/2 mile.
The RUSH Crate Late Models will going 30 laps and the Pro Street Stock special will be 25 laps, more information on these classes will be announced as plans are finalized. The 4 Cylinder Thunder Stocks will be a home track rules, open event, paying $1000 to win for the 20 lap feature.
Joining the action on Friday night will be the DIRTcar 358 Modifieds and the Empire Super Sprints with some track time of their own in preparations for the Saturday portion of the "Showdown in September".
The Empire Super Sprints will have a minimum of (2) hot lap sessions during the evening and the DIRTcar 358 Modifieds will also have hot laps as well as 15 lap dashes for those in attendance, to fight for a chance at a guaranteed starting spot in the September 8th DIRTcar Series event.
Saturday night at Can-Am, action will heat up with the Empire Super Sprints, the DIRTcar 358 Modifieds and the DIRTcar Sportsman. The curtain will fall on the 2018 season and these three classes are sure to put on some exciting racing for the fans. The DIRTcar 358 Modifieds will take center stage with a 75 lap DIRTcar Series event along with the $2000 to win 25 lap Empire Super Sprints and the DIRTcar Sportsman in a $1000 to win 30 lap affair.
More information will be released this week, the DP Bartlett and Sons "Showdown in September" is an event you won't want to miss. Follow Can-Am's upcoming events on Facebook at Can-Am Speedway.
Back to News