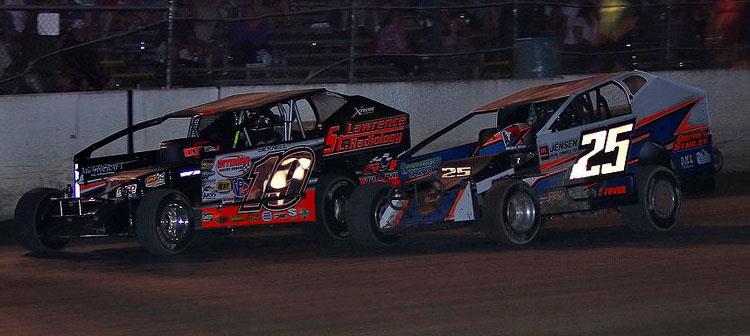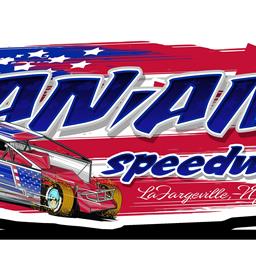 ---
Border Battle Returns This Friday Night At Can-Am
LAFARGEVILLE, NY - This Friday night some of the top Canadian and American DIRTcar 358 Modified drivers in the area will meet for the second time this season at the fast 1/2 mile in LaFargeville.
The 4 race mini series will conclude this weekend with events at Can-Am on Friday and then on Saturday night at the Brockville Ontario Speedway, when the first 1000 Islands RV Centre Champion will be crowned.  Right now the Canadians hold the top 5 spots in points but don't count out the Americans and the Can-Am regulars. Can-Am point leader Billy Dunn took the checkers in the first Border Battle Series event at Can-Am and going into Friday's show is the odds on favorite to repeat.
The top 5 in points are expected to be back, lead by Border Battle point leader Ryan Arbuthnot who holds a slim 2 point lead over Danny O'Brien with Chris Herbison, Kyle Dingwall and Luke Whittaker filling out the top 5.  Can-Am regulars Jordan McCreadie, Scott and Nick Webb, Ryan Bartlett, Tyler Meeks and Rylee and Brady Gill are expected to be on hand to battle the Canadians on their home turf.  A number of top DIRTcar competitors will be in the area and have been in contact with Can-Am officials about competing on Friday night.
As soon as drivers are confirmed we will let the fans know, it's shaping up to be a great event.  Joining the Border Battle for the Whitesboro Plow Shop-DIRTcar 358 Modifieds will be the FX Caprara Honda-DIRTcar Sportsman, the FABCO-Pro Street Stocks, the TLC Real Estate/Agent Marsha Gibbons-Thunder Stocks and the Rookie Sportsman.  Watch our Facebook page, Can-Am Speedway, for daily updates.
Back to News