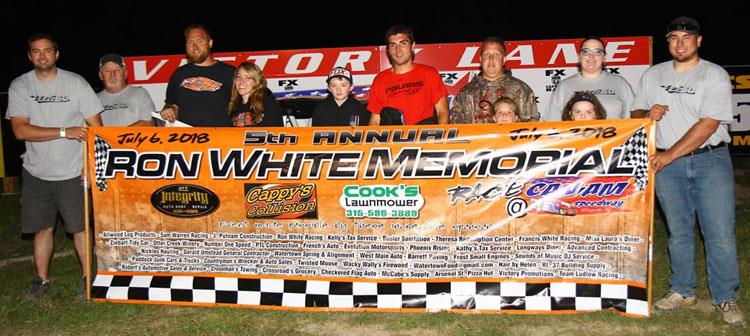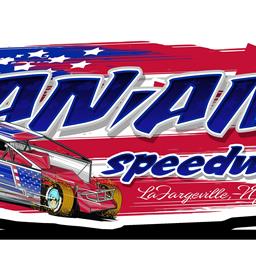 ---
Matt Zira Picks Up Remembering Ron White Event; Herbison, Kirby, Paige, & Sandercock Visit Victory Lane
LAFARGEVILLE, NY - After a very successful Pabst Shoot-Out on Wednesday night at Can-Am, it was right back to racing action on Friday night with the 5th Annual Remembering Ron White 4 cylinder special, the RUSH Crate Late Models, DIRTcar Sportsman, Pro Street Stocks and Rookie Sportsman. Gillee's NAPA-Gillee's Lubricants-CITGO Lubricants hosted the nights racing and $20 a car load brought out a good crowd to enjoy the action.
The TLC Real Estate/Agent Marsha Gibbons-4 cylinders would highlight the activities and a strong field of over 20 cars was on hand to go after the $1000 winners share of the purse. Three great heat races set the stage for the 25 lap feature and after a redraw of the top 4 finishers in each heat, the Can-Am regulars were ready to take on the outsiders. It was a pair of Can-Am competitors showing the way early as Phil Desormeau III and Zach Stone were hoping to run away from the field. On lap 4 though, the two leaders made contact off of turn 2 bringing out the caution and tightening the field back up. This would turn the lead over to Zak Petrie with point leader Joe Orvis in tow. A number of minor cautions slowed the event but the leaders continued to put on a great show for the fans. Petrie showed the way through lap 9 when Orvis took over the top spot but 18th starting Matt Zira was the car on the move and was shown as the leader of lap 13. Zira looked like he was ready to run away but on lap 17 he slowed with a flat tire. The next 4 laps would see 4 different leaders, JR Durham, Petrie and Orvis all took turn a the front but Zira was on a mission and regained the lead on lap 20. Orvis kept Zira in sight but could not find a way by, Zira picked up the exciting win. The top 5 crossing the line were Zira, Orvis, Petrie, Josh Verne and Shane Ray but after post race inspection, Petrie and Ray were disqualified moving Ray Bechler and Mike Greenfield into the top 5.
The FX Caprara Honda-DIRTcar Sportsman has only seen one driver claim multiple wins in 2018 and a number of drivers were looking to keep the new winners streak going. The front row was made up of Jarrett Herbison and Gavin Eisele and Herbison wasted little time showing he was the one that wanted to be added to the new winners list. Herbison showed the way but the racing behind him was intense with positions changing up front every lap. Anthony Stockman was able to wrestle the lead away on laps 15 and 16 but young Herbison fought back and regained the number one spot. Herbison went on for his first ever Can-Am Speedway win over Jessica Power, Stockman, point leader Dave Rogers and Jackson Gill.
The always competitive FABCO-Pro Street Stocks took to the track with Remington Marquette and Rick Dusckas showing the way. Dusckas has had a challenging year but looked strong on this night leading the first 6 laps over Marquette. Dusckas saw his good run come to an end on lap 7 when he headed for the pits. Sid Harmer Sr. took over the top spot after point contenders Shawn Kirby and Sid Harmer Jr. looked to the pits but Harmer's lead was short as Ryan Shanahan was shown as the leader of lap 9. Kirby had returned to the track and it only took him until lap 10 to grab the lead away from Shanahan. Kirby would go on for the win over Shanahan, Mike White, Sid Harmer Sr. and Marquette.
The Rookie Sportsman were up for their feature event and pole sitter Rick Paige showed the way the entire distance, Kevin Warren would chase him the whole way but Paige was to strong on this night picking up his first win of the season, Warren was second followed by Johnathan Murphy and Jason Fetterly.
The RUSH Crate Late Models made their second appearance of the season and 10 cars lined up for the 20 lap feature. Bret Belden jumped to the lead from his front row starting spot ahead of Dale Caswell but it only took first event winner Charlie Sandercock 4 laps to charge to the lead. Only one caution slowed the race and Sandercock cruised to another feature win over Belden, Chris Fleming, Caswell and Kyle Sopaz. Can-Am would like to thank everyone for their support of the Ron White event and to the family and friends of Ron White for helping make this race a success.
Next Friday night will be the final Border Battle race at Can-Am for 2018. Some of the top Canadian and American DIRTcar 358 Modified drivers will be on hand to to battel it out on US soil before heading across the river the following night to the Brockville Ontario Speedway where the 1000 Islands RV Centre 2018 Border Battle Champion will be crowned.
CAN-AM SPEEDWAY QUICK RESULTS 7/6
GILLIE'S NAPA/LUBRICANTS-CITGO LUBRICANTS NIGHT
FX CAPRARA HONDA-DIRTcar SPORTSMAN
38J-Jarrett Herbison, 52-Jessica Power, 57-Anthony Stockman, 44-Dave Rogers, 60-Jackson Gill, 21-Taylor Caprara, 41-Dalton Rombough, 415-Andrew Wren, 34-Eric Nier, 72-Mike Prentice, 29J-Joel Hall, 621-Brian Hudson, 45R-Preston Forbes, 25-George Sanford, 24-Jordan Kelly, 2-Chris Thurston, 1-Jack Meeks, 18E-Gavin Eisele, 16J-Aaron Jacobs, 15-Greg Henry, 76G-Skylar Greenfield, 18-Justin Gadbaw, 83D-Dustin Bradley, 10B-Jamie Brown, 621G-Trevor Gibbons, 91-Josh Reome
FABCO-PRO STREET STOCK
3K-Shawn Kirby, 32-Ryan Shanahan, 1X-Mike White, 690-Sid Harmer Sr., 18-Remington Marquette, 8-Marc LaLonde, 6-Steven Gilmore, 23-Terry Gardner, 4R-Rock Aubin, 3-Rick Dusckas, 57J-Kevin Fetterly, 14R-Sid Harmer Jr.
TLC REAL ESTATE/AGENT MARSHA GIBBONS-THUNDER STOCK - RON WHITE MEMORIAL
66-Matt Zira, 7H-Joe Orvis, 22-Josh Verne, 26B-Ray Bechler, 17-Mike Greenfield, 16-Matt Marcinko, 61-Jerry Rogers, 06-Charles Sibley, 94-OJ White, 77T-Tyler Burns, 88-Jeff Putnam, 6D-Kurtis Daye, 02-JR Durham, 11J-Justin Burns, 5-Don Woodworth, 26M-Phil Dewsormeau III, 26Z-Zach Stone, 19-Craig Caskinette, 111J-AJ St. Mary, DNS-Francis White, Taylor Doxtater, DSQ-Shane Ray, Zak Petrie
GILLEE'S NAPA-GILLEE'S LUBRICANTS-CITGO LUBRICANTS RUSH CRATE LATE MODELS
57-Charlie Sandercock, 81-Bret Belden, 10-Chris Fleming, 12-Kyle Sopaz, R19-Dale Caswell, 160-Max Hill, 118-Mike Kazmierczak, 18-Billy Eisele, 16J-Aaron Jacobs, 38-Mike Goudi
ROOKIE SPORTSMAN
4B-Rick Paige, 5-Kevin Warren, 11-Johnathan Murphy, 57J-Jason Fetterly
Back to News