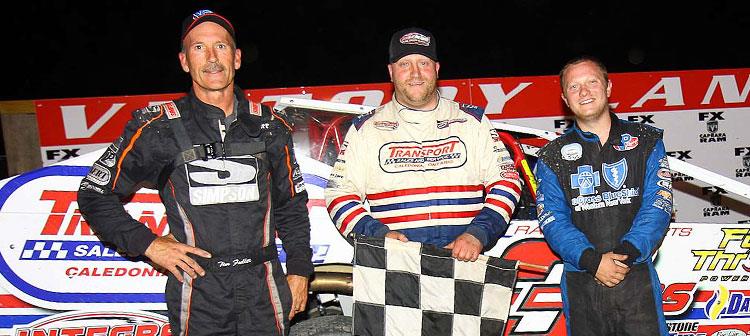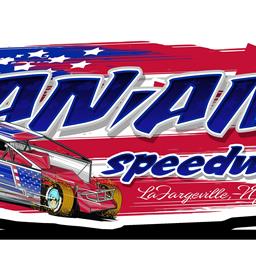 ---
Billy Dunn Picks Up Big Block/Small Block Win; Shane Pecore Grabs Sportsman Win On Number One Speed & Truck Accessories Night
Story By: ROBERT THURSTON - LAFARGEVILLE, NY - A beautiful night greeted a great crowd this past Wednesday night at the Can-Am Speedway, for the only appearance of the Big Block Modifieds in 2018.
It was the Big Block/Small Block Shoot-Out sponsored by Number One Speed and Truck Accessories and although it was a smaller than expected field it was one full of talent in both Big Block and Small Block Modifieds.  Two heats were used to set the feature line up and Jordan McCreadie in a small block and invader Erick Rudolph in a big block picked up the heat wins.  The track was in great shape and track regular Billy Dunn wasted little time charging from his third starting spot to take the lead at the end of lap one with McCreadie and Rudolph settling into the second and third spots.  Dunn would lead throughout the long green flag run with Rudolph getting by McCreadie for the second spot.  Rudolph could close in  when they got into lapped traffic but Dunn pulled away when he got to clear race track.  Tim Fuller had made his way into the third spot and closed in on Rudolph but neither was much of a match for Dunn until the races only yellow waved with just four laps to go.  This would give everyone one last shot at the front spot but Dunn was to strong, picking up his third win in a row at Can-Am over Rudolph, Fuller, Pat Ward and Lance Willix who crossed the line in fifth with the highest finishing small block.
A strong group of 33 DIRTcar Sportsman made the haul to LaFargville to try and grab one of the coveted starting spots.  Four heat races were held to set the first 20 starting positions with David Rogers, Jackson Gill, Jarrett Herbison and Taylor Caprara, all track regulars, picking up the wins.  A consi would set the rest of field for the 30 lap special and another track regular, Anthony Stockman picked up that win.  At the drop of the green Rogers jumped out to the lead but it was Caprara powering around the outside to wrestle the top spot away on lap two.  Caprara had opened up a comfortable lead when the first caution flew just past the halfway point.  On the restart Rogers continued to take chase but it was two outsiders, Shane Pecore and Cedric Gauvreau getting by Rogers with just over 10 to go.  A quick rash of cautions kept the field together and that was not what Caprara wanted to see.  Pecore found a way past on lap 10 bringing Gauvreau with him on lap 22.  The battle at the front was a good one with Pecore hanging on for the win over Gauvreau, Dalton Rombough made a late race charge to grab third ahead of Rogers and Caprara.
Can-Am will be off this weekend for graduations but will return on June 29th with a complete program of all five weekly classes plus our second Enduro of the season sponsored by TLC Real Estate/Agent Marsha Gibbons.  It will also be Firefighter and Rescue night at the speedway with all local Firefighters and Rescue Personnel being admitted free.
Back to News