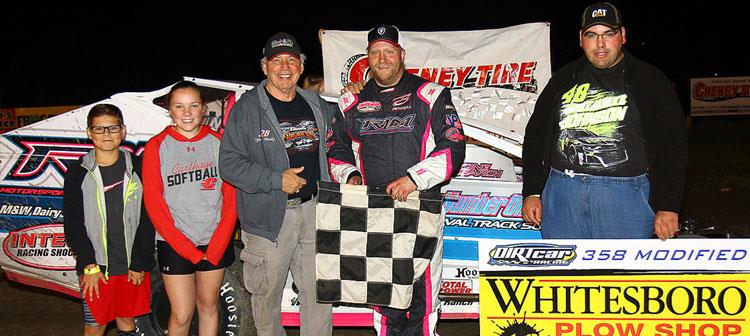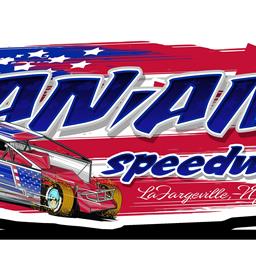 ---
Billy Dunn, Brian Hudson, Sid Harmer Jr, Phil Desormeau & Kevin Warren Pick Up Wins On Cheney Tire Night
Story By: ROBERT THURSTON - LAFARGEVILLE, NY - It was a full night of racing this past Friday night at the Can-Am Speedway on Cheney Tire night, which also had a special presentation at intermission honoring Bob and Rose Thurston, former owners of Can-Am.
Bob and Rose have over 60 years working and supporting dirt track racing and over 40 years at the Can-Am Speedway. The Thurston's were joined on the front straightaway by their family and were presented a plaque for their years of dedication.  It was also announced, by new track owner Tyler Bartlett, that the tower facility would now be named the Bob and Rose Thurston-Can-Am Speedway-VIP Tower in honor of Bob and Rose's years of support.
The 25 lap Whitesboro Plow Shop-DIRTcar 358 Modified was a classic.  It was the Gill brothers Brady and Rylee bringing the field to green with Brady taking the lead through lap 2.  Jordan McCreadie wasted no time charging from his 7th starting spot to grab the lead away and lap 3.  It was then Billy Dunn trying to fight the lead away and finally found the move he needed to take over the point on lap 8.
The fans cheered as they were using the very bottom and the very top of the surface.  It was then Ryan Arbuthnot getting into mix and chased Dunn down, but Dunn went on for the win, over Arbuthnot, McCreadie, Nick Webb and Ryan Bartlett.  The FX Caprara Honda-DIRTcar Sportsman brought 29 cars to the green again this week lead by Skylar Greenfield and Justin Gadbaw.
The DIRTcar Sportsman put on a great show every week and this week would be no different.  Greenfield lead lap 1 but it was Gadbaw powering past to lead lap 2.  Gadbaw was having a great run going leading until lap 10 when Brian Hudson took his turn at the front.  Hudson put some distance between himself and the pack and was missing a great race behind him.  Hudson cruised to his first win of the season over Jessica Power, Jarrett Herbison, Jackson Gill and Josh Reome.
The FABCO-Pro Street Stock 20 lap feature was lead to the green by Ryan Shanahan and Rick Dusckas.  Dusckas has had a bad year but grabbed the early lead and showed the way for the first 6 laps before Sid Harmer Jr. took over the point.  From there it was another classic Sid Harmer Jr., Shawn Kirby battle for the win.
This week it would go to Harmer followed by Kirby, Mike Durham, Mike White and invader Rock Aubin.
Francis White and Mike Greenfield brought the pack to starter Steve Rickett's green flag in the TLC Real Estate/Agent Marsha Gibbons Thunder Stock main, with White taking the lead on lap 1.  Zach Stone would be next to show the way until lap 4 when it was point leader Joe Orvis's turn out front.  Phil Desormeau took the lead away on lap 6 and would fight Orvis for the win.  Desormeau picked up his first checkers of the season over Orvis, last weeks winner JR Durham, Lyle Robinson and Greenfield.
Only 3 Rookie Sportsman made the call for their 12 lap feature and it was pole sitter Kevin Warren leading the entire  distance over Dustin Hutton and Johnathan Murphy.
The next race at Can-Am, before taking the weekend off for graduation will be next Wednesday, June 20th, when they will host the Big Block/Small Block Shoot-Out.  It will be the only appearance of 2018 for the Big Block Modifieds, they will go 50 laps for $5000 to win. The DIRTcar Sportsman will join the action for a 30 lap $1000 to win feature go. Wednesday's racing action will be sponsored by Number One Speed and Truck Accessories.
CAN-AM SPEEDWAY RESULTS 6/15
CHENEY TIRE NIGHT
WHITESBORO PLOW SHOP-DIRTcar 358 MODIFIED
9-Billy Dunn, R70-Ryan Arbuthnot, 9J-Jordan McCreadie, 27W-Nick Webb, 93-Ryan Bartlett, 18W-Scott Webb, 73-Kevin Poitras, 23J-Jeff Sykes, 51-Brady Gill, 20-Steve Bilow, 57-Rylee Gill, 28-Tyler Meeks
FX CAPRARA HONDA-DIRTcar SPORTSMAN
621-Brian Hudson, 52-Jessica Power, 38J-Jarrett Herbison, 60-Jackson Gill, 91-Josh Reome, 24-Jordan Kelly, 44-David Rogers, 57-Anthony Stockman, 45R-Preston Forbes, 25-George Sanford, 21-Taylor Caprara, 66W-Derek Webb, 18-Justin Gadbaw, 12-Addison Bowman, 41-Dalton Rombough, 2-Chris Thurston, 29J-Joel Hall, 10B-Jamie Brown, 18E-Gavin Eisele, 81-Tyler Reynolds, 12S-Kyle Sharp, 34-Eric Nier, 621G-Trevor Gibbons, 15-Greg Henry, 57H-Remington Hamm, 117-CJ Castelletti, 4X-Mike Gadbaw, 76G-Skylar Greenfield, 415-Andrew Wren, 1-Jack Meeks
FABCO-PRO STREET STOCK
14R-Sid Harmer Jr., 3K-Shawn Kirby, 4-Mike Durham, 1X-Mike White, 4X-Rock Aubin, 18-RJ Marquette, 32-Ryan Shanahan, 7x-Kenny Hartshorn, 57J-Jason Fetterly, 690-Sid Harmer Sr., 3-Rick Dusckas, 6-Steven Gilmore, 272-Tiger Chapman, 23-Terry Gardner
TLC REAL ESTATE/AGENT MARSHA GIBBONS-THUNDER STOCKS
26M-Phil Desormeau III, 7H-Joe Orvis, 02-JR Durham, 42-Lyle Robinson, 17-Mike Greenfield, 50-Zach Stone, 11J-Justin Burns, 94-OJ White, 19-Craig Caskinette, 5-Don Woodworth, 60-Francis White, 26B-Ray Bechler, 178-Dale Snyder, 4 Jesse Bender
ROOKIE SPORTSMAN
5-Kevin Warren, 7D-Dustin Hutton, Johnathan Murphy
Back to News