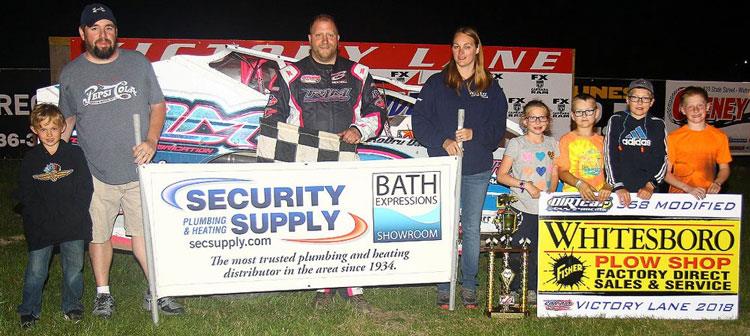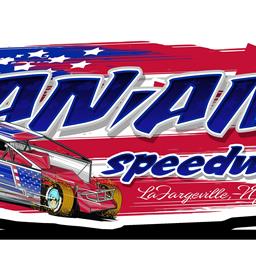 ---
Billy Dunn Finally Gets First Of 2018 At Can-Am
LAFARGEVILLE, NY -Â It was another great night for dirt track racing and a great crowd was on hand for Border Battle Series night number one sponsored by Security Supply and DP Bartlett and Sons.
A solid field of Canadian and American Whitesboro Plow Shop-DIRTcar 358 Modified drivers were ready to do battle to see which country would be represented in victory lane. Ryan Arbuthnot and Billy Dunn brought the pack of 23 cars to green and Arbuthnot put the Canadian contingent out front early. A couple of minor cautions slowed the pace and Dunn would take advantage of a lap 13 restart to power past Arbuthnot for the top spot. Tim Fuller and Danny O'Brien would join Arbuthnot at the front and went back and forth for positions two through four while Dunn opened up a comfortable lead. Billy Dunn would capture the first Battle Border win for the Americans over Arbuthnot, Fuller, O'Brien and Chris Raabe. The win gave Dunn the early advantage in the 1000 Islands RV Centre point chase.
The FX Caprara Honda-DIRTcar Sportsman would also go 30 laps for their special. A strong 29 car field took the green with Jackson Gill and Brian Hudson on the front row. Gill wasted no time moving out front while Hudson settled into second. It was Jessica Power on the move early and grabbed the lead away on lap five. Gill hung onto the second spot until outsider Dave Marcuccilli took over the runner-up spot. The leaders kept the fans cheering with Power continuing to lead until lap 16 when the M1 of Marcuccilli found the line he needed to get by. Marcuccilli showed the locals the way to the checkers over Gill, Power, Taylor Caprara and Dave Rogers.
The FABCO-Pro Street Stocks were up next and Rick Dusckas and Mike Durham lead the group to green. Dusckas was shown as the leader of lap one but opening night winner Mike White was on the move early and was shown as the leader on lap two. The Pro Street Stocks continue to put on one of the best shows every Friday night, and this week was no different. White continued to lead while other top runners fought for every position they could. White went on for the win over Sid Harmer Jr., Shawn Kirby, Durham and Dusckas.
The TLC Real Estate/Agent Marsha Gibbons Thunder Stocks also put on a great show for the fans each week. OJ White and Francis White brought the strong group to green but it was Phil Desormeau charging from his fourth starting spot to the lead. Desormeau has been right there every week looking for the win and would lead until lap six when Zach Stone would take the top spot away. Stone would show the way for just three circuits when JR Durham wrestled the lead away coming from the sixth starting spot. Durham would go on for his first win of the season over Desormeau, Stone, MIke Greenfield and Joe Orvis.
The Rookie Sportsman would close out the nights activities with Dustin Hutton and Rick Paige on the front row. Hutton took the lead into turn one and went on to lead the entire distance for his first Rookie Sportsman win ahead of newcomer Richard Thornton, Paige, Kevin Warren and Johnathan Murphy.
Next week will be Cheney Tire night at Can-Am and also a night to celebrate Bob and Rose Thurston's over 40 years of dedication to the Can-Am Speedway and local dirt track racing. Follow us on Facebook at Can-Am Speedway or on our website atwww.racecanam.com
CAN-AM SPEEDWAY QUICK RESULTS FOR 6/8
SECURITY SUPPLY/DP BARTLETT & SONS NIGHT
WHITESBORO PLOW SHOP-DIRTcar 358 MODIFIED
BORDER BATTLE-1000 ISLANDS RV CENTRE
9-Billy Dunn, R70-Ryan Arbuthnot, 3RS-Tim Fuller, 17D-Danny O'Brien, 01-Chris Rabbe, 38-Luke Whitteker, 25-Bobby Herrington, 9J-Jordan McCreadie, 29-Tom Conklin, 39-Frank Caprara, 63-Chris Herbison, 21-Larry Welling, 28-Tyler Meeks, 23J-Jeff Sykes, 57-Rylee Gill, 93-Ryan Bartlett, 55-Matt Woodruff, 51-Brady Gill, 66-Kyle Dingwall, 18W-Scott Webb, M96-Jeremy LaSalle, 27W-Nick Webb, 11-Todd Root, 31-Lance Willix
FX CAPRARA HONDA-DIRTcar SPORTSMAN
DP BARTLETT & SONS
M1-Dave Marcuccilli, 60-Jackson Gill, 52-Jessica Power, 21-Taylor Caprara, 44-Dave Rogers, 41-Dalton Rombough, 57-Anthony Stockman, 24-Jordan Kelly, 621-Brian Hudson, 415-Andrew Wren, 2-Chris Thurston, 12-Addison Bowman, 18E-Gavin Eisele, 29J-Joel Hall, 38J-Jarrett Herbison, 45R-Preston Forbes, 91-Josh Reome, 15-Greg Henry, 20N-Jeremy Nestued, 25-Goerge Sanford, 12S-Kyle Sharp, 7S-Shawn Shaw, 34-Eric Nier, 76G-Skylar Greenfield, 18-Justin Gadbaw, 66W-Derrick Webb, 1-Jack Meeks, 72-Mike Prentice, 83D-Dustin Bradley
FABCO-PRO STREET STOCKS
1x-Mike White, 14R-Sid Harmer Jr., 3K-Shawn Kirby, 4-Mike Durham, 3-Rick Dusckas, 18-Remington Marquette, 23-Terry Gardner, 6-Steven Gilmore, 32-Ryan Shanahan, 690-Sid Harmer Sr.
TLC REAL ESTATE/AGENT MARSHA GIBBONS-THUNDER STOCKS
02-JR Durham, 26M-Phil Desormeau III, 50-Zach Stone, 17-Mike Greenfield, 7H-Joe Orvis, 94-OJ White, 00-Justin Burns, 71-Jeff Trapp, 2S-Gary Sharlow, 5-Don Woodworth, 60-Francis White, 2-Mike Pecore, 111J-AJ St. Mary, 24-Connor Tarzia
ROOKIE SPORTSMAN
7D-Dustin Hutton, 43-Richard Thornton, 4B-Rick Paige, 5-Kevin Warren, 11-Johnathan Murphy
Back to News