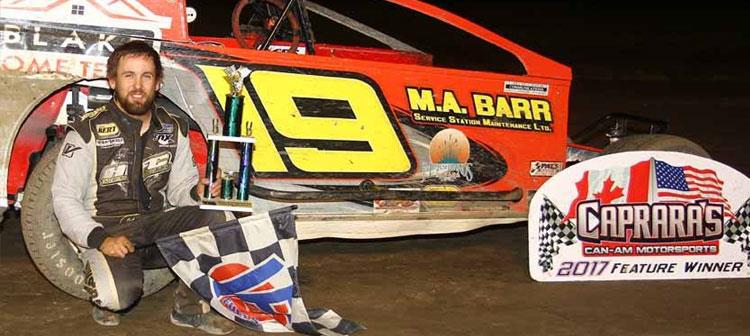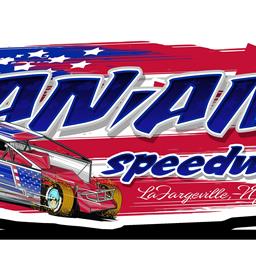 ---
Luke Stewart Takes First Victory At Can-Am
Story By: ADAM CORNELL - LAFARGEVILLE, NY - Multiple battles ensued at Caprara's Can-Am Motorsports Park on Saturday night: between the drivers, against nature and a battle of attrition, as the track claimed car after car. The Nasty Track of the North once again earned its moniker for the night, with treacherous turns one and two playing havoc with the drivers all night.
It was Luke Stewart who was able to beat all the elements and drive to victory in the 358 Modified feature. There were eight cautions in the twenty-five lap feature, leaving just six cars on the track after seventeen started. Stewart started second and did battle throughout the race with Brady Gill and Ryan Bartlett. In the end, Stewart was able to edge out Bartlett for the victory. It was Stewart's first victory at Can-Am for the season.
The lightning in the distance off the back straight-away, echoed the fireworks on the track, as both the Modified feature and the Sportsman Modified feature were marred with numerous cautions. This provided multiple leaders in each feature, as well as multiple cars not finishing.
Other winners on the night included Jackson Gill in the Sportsman Modified feature, Tom Jock in the Novice Sportsman feature, and Sid Harmer Jr. in the Pro Street Stocks.
The four-cylinder Thunderstock feature was postponed until the following week due to unsatisfactory track conditions. Thunderstocks will run a double feature on Saturday, Aug. 26th as the Big Monster Truck show roars into Caprara's Can-Am Motorsports Park on Saturday, Aug. 19th.
For more information visit racecanam.com or canammotorsports on Facebook.
Heather Bulla and Rebecca Eisele assisted in the writing of this release.
FEATURE RACES:
The first feature on the night was the Novice Sportsman class. 621 Trevor Gibbons and 18 Gavin Eisele started in the top two positions. Gibbons jumped out to a lead immediately, and was able to hold that lead through the first seven laps. During a caution restart, the 621 initiated contact resulting in a caution, and was sent to the rear of the field as penalty. Eisele led the race for a lap, but gave way to 76G Skylar Greenfield by lap nine. Greenfield led for just a couple of laps befor heading to the pits with a flat rear tire. This opened the door for 31 Tom Jock to take over the lead, after starting sixth. Jock was able to continue his grip on first position and roll to victory lane. At the checkered flag, it was 31 Tom Jock in first, 007 Chad Tessier in second, 57H Remington Hamm taking third, 6 Matt Brown in fourth, and 621 Trevor Gibbons in fifth.
Next up for feature racing was the Pro Street Stock class. 32 Ryan Shanahan and 3K Shawn Kirby started in the top two positions. It was Shanahan who jumped out to lead the first two laps, with Kirby taking over by lap three. Laps three and four had back to back cautions, which provided Sid Harmer Jr. in the 14R to take over the lead position. Once the Junior Harmer took the lead, he never looked back. Three additional cautions during the race gave other drivers the opportunity to capitalize on Harmer's lead getting erased, but Harmer never relented. At the checkered flag, it was 14R Sid Harmer Jr. with the victory. 690 Sid Harmer Sr. took second, 273 Tiger Chapman took third, 57K Jason Fatterly was fourth, and 3k Shawn Kirby was fifth.
Sportsman Modified took to the track next, with 25 George Sanford and 22 Josh Verne in positions one and two, respectively, to start the feature. Verne grabbed the lead out of turn one, and led the first two laps. M-1 Rick McCready got in on the action, moving up from third position to first, by lap three. McCready held onto the lead through lap seven, when Verne regained the lead for a lap. 52 Jessica Power, who had started in twelfth position, had steadily moved through the field by lap eight, taking over the lead. Power held control of the race for nine laps, but 60 Jackson Gill took over in lap seventeen. Gill powered ahead of the field and led the remaining laps, driving to victory lane, after a caution-plagued feature. Top five finishers were: 60 Jackson Gill, 44 Dave Rogers, 57 Anthony Stockman, 52 Jessica Power, 25 George Sanford.
By the time the Modified 358 cars rolled onto the track, the conditions were less than optimal. A combination of weather and racing had left the track in rough shape. Normally, when more than fifteen cars enter the feature, the race is extended to thirty laps. However, due to the deteriorating conditions, it remained a twenty-five lap feature. The race pressed on, with seventeen drivers entering the action. 51 Brady Gill and 19 Luke Stewart started in the top two positions. The theme was set in lap one with a caution, as 57 Rylee Gill went over the berm in turn one. Subsequent cautions were elicited in laps two, three and four. Brady Gill led each of those first four laps, but was passed up by 93 Ryan Bartlett in lap five. Bartlett ran out front for several laps before Gill was able to retake the lead by lap nine. By lap eleven, only six cars remained on the track. 24 Brandon Sweet took advantage of the thinned out field and grabbed the lead in lap twelve. Sweet ran at the front for five laps, before 19 Stewart took over. Stewart and Ryan Bartlett traded for the lead several times over the remaining laps, but in the end, it was Luke Stewart in the number 19 car that was able to endure and take his first win on the season at Can-Am. At the checkered flag, it was 19 Luke Stewart with the victory, 93 Ryan Bartlett in second, 73 Kevin Poitras in third, 27W Nick Webb in fourth, and 24 Brandon Sweet in fifth.
The four-cylinder Thunderstock feature was postponed until the following Saturday, as track conditions had deteriorated to an unraceable condition, and the numerous cautions on the night made regrooming the track time-prohibitive.
FULL FEATURE RESULTS:
NOVICE SPORTSMAN: 1) 31 Tom Jock, 2) 007 Chad Tessier, 3) 57H Remington Hamm, 4) 6 Matt Brown, 5) 621 Trevor Gibbons, 6) 76G Skylar Greenfield, 7) 18 Gavin Eisele, 8) 15 Jamie Brown.
PRO STREET STOCKS: 1) 14R Sid Harmer Jr, 2) 690 Sid Harmer Sr., 3) 273 Tiger Chapman, 4) 57K Jason Fetterly, 5) 3K Shawn Kirby, 6) 4 Mike Durham, 7) 55 Kenny Clark, 8) 28 Burton Ward, 9) 62 Johnathan Murphy, 10) 7X Justin White
1X Mike White, 11) 83D Dustin Bradley, 12) 32 Ryan Shanahan, 13) 3 Rick Dusckas, 14) 23 Terry Gardner (DNS).
SPORTSMAN MODIFIED: 1) 60 Jackson Gill, 2) 44 Dave Rogers, 3) 57 Anthony Stockman, 4) 52 Jessica Powers, 5) 25 George Sanford, 6) 1 Jack Meeks, 7) 415 Andrew Wren, 8) 26 Mike Mandigo, 9) 91 Josh Reome, 10) 4X Mike Gadbaw, 11) 7S Shaun Shaw, 12) 24 Jordan Kelly, 13) 71 Delbert Legrow, 14) 34 Eric Nier, 15) 22 Josh Verne, 16) 29J Joel Hall, 17) 18 Justin Gadbaw, 18) 621 Brian Hudson, 19) 21 Taylor Caprara, 20) 38 Zach Sobotka, 21) 45R Preston Forbes, 22) M-1 Rick McCready, 23) 31 Tom Jock, 24) 2 Chris Thurston, 25) 15 Greg Henry.
MODIFIED: 1) 19 Luke Stewart, 2) 93 Ryan Bartlett, 3) 73 Kevin Poitras, 4) 27W Nick Webb, 5) 24 Brandon Sweet, 6) 9 Billy Dunn, 7) 51 Brady Gill, 8) 39 Tyler Bartlett, 9) 99 Larry Welling Jr., 10) 9J Jordan McCreadie, 11) 10 Josh VanBrocklin, 12) 18W Scott Webb, 13) 28 Tyler Meeks, 14) 31 Tom Jock Jr., 15) R70 Ryan Arbuthnot, 16) 12W Keith Weston, 17) 57 Rylee Gill.
Back to News