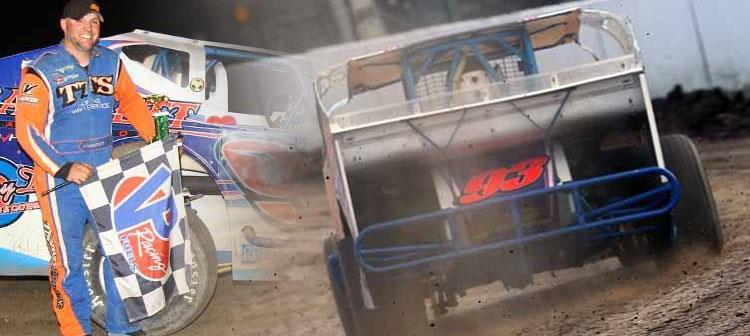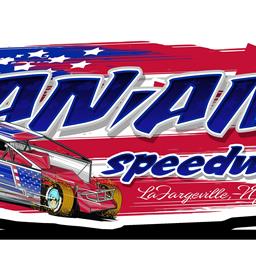 ---
Ryan Bartlett Beats 'Em All At Can-Am Motorsports Park
Story By: ADAM CORNELL - LAFARGEVILLE, NY - The weather threatened to shut it all down on Saturday, but it eventually gave way to some blue skies as racing returned to Lafargeville and the Nasty Track of the North at Caprara's Can-Am Motorsports Park.
Ryan Bartlett, in his orange, white and blue Johnny D's number 93 started at the pole in the 358 Modified feature, led the entire race and took the checkered flag at Can-Am Saturday night. The green-to-checkered victory was almost upset by regular Can-Am winner, Billy Dunn, who started eighth and moved up to third with just one lap remaining. A caution on the final lap destroyed Bartlett's lead, and gave Dunn the opportunity for yet another victory. The best Dunn could muster was a second place finish, as it was Bartlett who drove to victory.
It was a night of firsts at Can-Am, with four out of the five feature-winners on the night claiming their first track win for the season.
Zach Sabotka was the top driver in the Sportsman Modified feature, where an early wreck claimed several vehicles, though all drivers were uninjured.
Remington Hamm took home the victory in the Novice Sportsman, while Mike White and Dakota Bechler won their feature races in the Pro Street Stock and four cylinder Thunderstocks, respectively.
FEATURE RACE RECAPS:
THUNDERSTOCKS: First on the track for the night were the four-cylinder Thunderstocks. 11J Justin Burns and 69 Sean Berry started in the top two positions. After the green flag dropped, it didn't take long for 26B Dakota Bechler to move into the lead, with 60 Justin Pope climbing up through the field to grapple for the lead. It was a gladiatorial bout, as the 26B and 60 stayed side by side throughout the race. At the checkered flag, it was Bechler in a photo finish (and a little rubbing) for the victory. 60 Justin Pope was second, with 7H Joe Orvis in third, 32 Chuck Monica in fourth and 26M Phil Desormeau in fifth.
SPORTSMAN MODIFIED: The half-mile oval track belonged to the Sportsman Modifieds next. 25 George Sanford and 621 Brian Hudson started in the top two positions. Hudson jumped out to an early lead, and set to increasing that lead over the pack immediately. But a lap one wreck brought racing to a stop as the red flag was unfurled over the track. Multiple cars were involved in the turn three and four incident. An extended stoppage ensued. When racing finally restarted, 621 Hudson was still in the lead. As Hudson moved away from the field, the racing was hot and heavy through early laps, with three and four-wide racing through the turns. 38 Zach Sabotka was busy moving up from a ninth position start to second position as the race neared the half-way mark. Sabotka took the lead for a few laps, then Hudson reclaimed it. Sabotka and Hudson raced side by side for several laps, when Sabotka dove low and stuck to the low line around the track. It gave him the advantage to slide by Hudson and reclaim the lead. Meanwhile 44 David Rogers had moved up into third position, after starting twenty-fourth. But 57 Anthony Stockman wasn't satisfied looking at Rogers rear bumper. Stockman was able to slide past and claim the third position at the checkered flag. In the end, it was Sabotka with the victory, his first on the season in the Sportsman class. The top five finishers were 38 Zach Sabotka, 621 Brian Hudson, 57 Anthony Stockman, 44 David Rogers and 1 Jack Meeks.
358 MODIFIED: The big boys hit the track next, with 93 Ryan Bartlett and 39 Tyler Bartlett starting in positions one and two, respectively. Ryan jumped out to an early lead, with brother Tyler settling into second. R70 Ryan Arbuthnot moved up from his seventh starting position to second, while 9 Billy Dunn followed behind, moving up from ninth to start, to third. Arbuthnot had his hands full keeping Dunn in the rearview. Arbuthnot was successful with this feat until a caution came out on the final lap. Though Bartlett was able to retain the lead on the restart and drive to victory, Arbuthnot was the victim of a Billy Dunn pass, and had to settle for third, while Dunn took second place. The top five finishers were 93 Ryan Bartlett, 9 Billy Dunn, R70 Ryan Arbuthnot, 39 Tyler Bartlett and 57 Rylee Gill.
PRO STREET STOCKS: The always aggressive Pro Street Stock class took to the clay next, with 1x Mike White and 83D Dustin Bradley starting in the top two positions. White wasted no time jumping out to the lead, leaving the rest of the field behind. But early antics in the field brought out the red flag once again, as 4 Mike Durham and 3k Shawn Kirby had contact, resulting in Durham flipping onto Kirby. Both drivers were okay. Kirby went to the pits but was able to return by lap three, an important move in a hotly contested points battle. After racing resumed, Mike White never let up, cruising to his first victory on the season. Top five finishers were 1X Mike White, 14R Sid Harmer Jr., 690 Sid Harmer Sr., 83D Dustin Bradley and 7x Justin White.
NOVICE SPORTSMAN: The final feature of the night was the Novice Sportsman class. 57H Remington Hamm and 18 Gavin Eisele started in positions one and two. Hamm shot into the lead immediately, claiming the number one position through lap one. Hamm had the hot foot, never relenting in his ownership of the lead. 15 Jamie Brown moved up from sixth position to second by the close of the race, while 6 Matt Brown claimed third. At the checkered flag, it was 57H Remington Hamm, 15 Jamie Brown, 6 Matt Brown, 18 Gavin Eisele and 76G Skylar Greenfield as the top five finishers.
Rebecca Eisele and Heather Olin assisted in the writing of this story.
FULL RESULTS:
358 MODIFIED: 1) 93 Ryan Bartlett, 2) 9 Billy Dunn, 3) R70 Ryan Arbuthnot, 4) 39 Tyler Bartlett, 5) 57 Rylee Gill, 6) 18W Scott Webb , 7) 24 Brandon Sweet, 8) 19 Luke Stewart, 9) 51 Brady Gill, 10) 73 Kevin Poitras, 11) 28 Tyler Meeks
SPORTSMAN MODIFIED: 1) 38 Zach Sobotka, 2) 621 Brian Hudson, 3) 57 Anthony Stockman, 4) 44 David Rogers, 5) 1 Jack Meeks, 6) 21 Taylor Caprara, 7) 91 Josh Reome, 8) 24 Jordan Kelly, 9) 71 Delbert Legrow, 10) 60 Jackson Gill, 11) 29J Joel Hall, 12) 7S Shaun Shaw, 13) 34 Eric Nier, 14) 54G Greg Snyder, 15) 26 Mike Mandigo, 16) 4X Mike Gadbaw, 17) 2 Chris Thurston, 18) 25 George Sanford, 19) 30 Hunter Schwander, 20) M-1 Rick McCready, 21) 45R Preston Forbes, 22) 18 Justin Gadbaw, 23) 415 Andrew Wren, 24) 22 Josh Verne
NOVICE SPORTSMAN: 1) 57H Remington Hamm, 2) 15 Jamie Brown, 3) 6 Matt Brown, 4) 18 Gavin Eisele, 5) 76G Skylar Greenfield, 6) 007 Chad Tessier, 7) 621 Trevor Gibbons, 8) 99R Dalton Rombough
PRO STREET STOCK: 1) 1X Mike White, 2) 14R Sid Harmer Jr., 3) 690 Sid Harmer Sr., 4) 83D Dustin Bradley, 5) 7X Justin White, 6) 3 Rick Dusckas , 7) 32 Ryan Shanahan, 8) 62 Johnathan Murphy, 9) 3K Shawn Kirby, 9) 18 Remington Marquette, 10) 4 Mike Durham
THUNDERSTOCK: 1) 26B Dakota Bechler, 2) 60 Justin Pope, 3) 7H Joe Orvis, 4) 32 Chuck Monica, 5) 26M Phil Desormeau, 6) 21W Quinn Wallis, 7) 50 Zach Stone, 8) 11J Justin Burns, 9) 17B Mike Greenfield, 10) 66 Bill Young, 11) 94 OJ White, 12) 69 Sean Berry, 13) 1 Robert Flint, 14) 111J AJ St.Mary, 15) 20 Taylor Doxtator, 16) 5 Don Woodworth, 17) 21 Tyler Bates
Racing resumes at Caprara's Can-Am Motorsports Park on Saturday, August 12. For more information visit racecanam.com or check out the Facebook page: keyword search canammotorsports.
Back to News