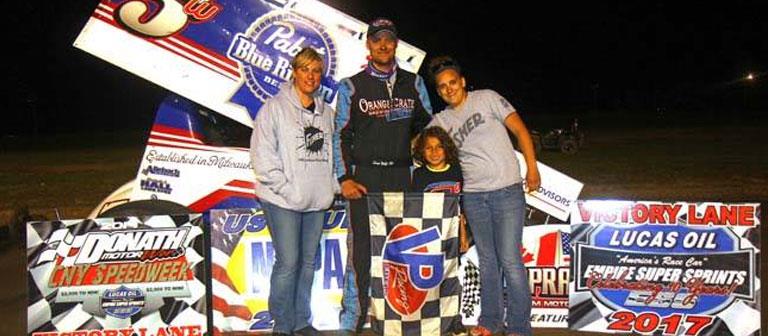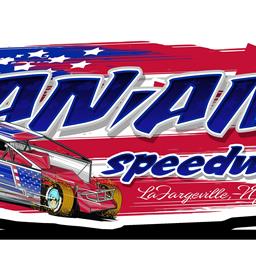 ---
ESS Sprints Descend On Can-Am Speedway
Story By: ADAM CORNELL - LAFARGEVILLE, NY - The pits were open and the grandstands were packed for a rare, mid-week race at Caprara's CAN-AM Speedway in Lafargeville, NY. The lineup featured Lucas Oil Empire Super Sprints, DIRTcar Sportsman Modifieds, Pro Street Stocks and Thunderstocks.
M1X Dave Marcucilli reeled in another victory in the DIRTcar Sportsman class, thanks in part to a last lap caution which negated the sizeable lead of 21 Taylor Caprara. The number 21 had to settle for second, despite trading positions with Marcucilli on the final lap. The race was delayed in early laps with a red flag stoppage, when a wreck claimed 91 Josh Reome, 15 Todd Root and 621 Brian Hudson. Root was spun out in turn four and Reome collided with him, resulting in Reome's number 91 coming to rest upside-down on top of Root's car. All drivers were able to walk away from the wreck.
In the Lucas Oil Empire Super Sprints, it was Lucas Wolfe, in the Pabst Blue Ribbon 5w, going flag to flag for the victory. Wolfe methodically utilized lapped traffic to keep a hard-charging 55 Mark Smith at bay. Smith finished in second position.
"We weren't sure if we were going to be able to finish the race with the tires we had,� Wolfe said during a post-race interview. "We didn't have anything harder with us. But they watered down the track [during intermission], and we were real thankful for that.�
Other winners on the night were 3k Shawn Kirby in the Pro Street Stock class, and 60 Justin Pope in the 4 cylinder, Thunderstock Class.
Racing resumes at Caprara's CAN-AM Speedway on July 8th.
FULL RACE DETAILS:
HEAT RACES
DIRTcar Sportsman: Four heat races for the DIRTcar Sportsman class kicked off the night. In heat number one, it was 34 Kevin Root who moved into the lead early, after starting second, and took it all the way to the finish line. The top three for heat one were 34 Kevin Root, 44 Dave Rogers and 24k Nick Krause. Heat number two belonged to 23 Mike Stacey. 15 Todd Root took second and M1X Dave Marcucilli took third. In the third heat, it was all 0 Shane Pecore from green to checkered. 9x Tyler Trump started fourth but charged up to second by lap two and owned the position as he crossed the finish line. 2 Chris Thurston took third. In the final heat for the DIRTcar Sportsman class, 1 Jack Meeks took the pole position start and never relented until the checkered flag. The top three finishers of heat four were 1 Jack Meeks, 21 Taylor Caprara and k20 Kyle Inman.
Empire Super Sprints: The first heat of four heats for the ESS class was all 10c Paulie Colagiovanni, who walked away from the rest of the field from the drop of the green. The top three finishers for heat one was 10c Paulie Colagiovanni, 90 Matt Tanner and 33 Brandon Kidd. The second heat saw 28FM Steve "Fire Ball� Poirier battle his way into the lead by lap two and never give it back. At the checkered flag, it was 28FM Steve Poirier, 19k Paul Kinney and 1HD Cory Sparks in the top three positions. Heat three for the ESS class had 00 Denny Varin shoot into sole possession of the lead by turn two of the first lap, and he wasn't sharing, despite a lap four caution restart. At the checkered flag, it was 00 Varin, 36 Matt Billings, and 55 Mark Smith in the top three positions. The fourth and final heat saw 14B Brett Wright take the lead early and own it all the way to the checkered flag. 10H Kelly Hebring took second and 5W Lucas Wolfe took third.
Pro Street Stocks: In the first heat race for the Pro Street Stocks it was 3 Rick Dusckas who took the lead by lap two, but 4 Mike Durham and 1x Mike White gave him all he could handle to retain the lead. On a lap-three-caution restart, 1x White dove low to challenge for the lead, but Dusckas retained the position. At the checkered flag it was 3 Rick Dusckas with the win, 1x Mike White in second and 4 Mike Durham in third. The second heat had intense three wide racing action, with 3k Shawn Kirby threading the needle in lap two to grab ahold of the lead. The 14R Sid Harmer Jr. moved into second a lap late with 273 Tiger Chapman Sr. riding right behind him into third. At the finish it was Kirby with the win, Harmer in second and Chapman in third.
Thunderstocks: The fury of four-cylinders took the track next. 32 Chuck Monica went high then dove low and grabbed the lead by the end of lap one. 94 OJ White held second position for much of the race, but 16 Matt Marcinko took the position away by lap five. At the checkered flag it was 32 Monica, 16 Marcinko and 94 White in the top three positions. In the second heat, 26M Phil Desormeau III moved up to the lead quickly, while 60 Justin Pope followed him through the field into second place. 26B Dakota Bechler moved into third by lap two and held fast there. At the checkered flag, it was 26M Desormeau, 60 Pope and 26B Bechler in the top three positions.
CONSI RACES
DIRTcar Sportsman: 1M Rick McCready started with the lead, but 73 Kevin Poitras took over the lead by the end of the second lap. T98 Tyler Thompson moved up from fourth to third, but faded quickly and spun out after contact in lap six. This brought out a caution, and forced Thompson to the back of the field for the restart. Poitras and McCready remained in the top two positions on the restart, while 82 Will Shields slid into third position. At the checkered flag, it was 73 Kevin Poitras with the win, 1M Rick McCready in second and 82 Will Shields in third.
The second consi had 91 Josh Reome jump out to the lead, with 38J Chris Herbison settling into second by the end of lap one. 60 Jackson Gill retained his third place starting position, with 415 Andrew Wren in fourth. A lap five caution brought the field back together for a restart, erasing the early lead accumulated by Reome. On the restart Reome wasted no time regaining his sizeable lead, while 22c Cedric Gauvreau moved into the fourth position, pushing 415 Wren into fifth. At the checkered flag, it was 91 Josh Reome with the win, 38J Chris Herbison in second and 60 Jackson Gill in third.
ESS Dash: 53 Shawn Doneth took the Dash win, besting 87 Jason Barney, and 99L Larry Wight.
ESS D-Main: 2 Dave Axton took the hole-shot at the drop of the green, with 98 Paul Pekkonen in second. 22 Jonathan Preston moved up from fourth to third by lap two, relegating 17 Sammy Reakes IV to fourth. It was single file racing from lap three onward. At the checkered flag, it was 2 Dave Axton, 98 Paul Pekkonen, 22 Jonathan Preston and 17 Sammy Reakes IV in the top four positions, snagging the final four positions for the feature.
FEATURE RACES:
DIRTcar Sportsman Modified:
The first feature race of the night kicked off with 9x Tyler Trump and T21 Taylor Caprara in the first and second positions. In row two, M1x Dave Marcuccilli and 0 Shane Pecore started in third and fourth positions, respectively. A total of thirty-one cars entered the feature. Trump got the holeshot at the drop of the green and set to distancing himself from the pack with barely a lap under his belt. A lap-three wreck in turn four resulted in 91 Josh Reome upside down on top of the number 15 of Todd Root. 621 Brian Hudson was also caught up in the wreck, coming to a stop with the back end of the car up against the wall just out of turn four. All drivers were able to exit their cars and initial reports were that everyone was okay. After nearly thirty minutes of delay, racing resumed with Tyler Trump and Dave Marcucilli in the top positions. Marcucilli wasted little time moving into the lead. Taylor Caprara slid past Trump as well, regaining his second place position. 34 Kevin Root was on the move early, climbing from a seventh place start up to third by lap seven. 1 Jack Meeks moved up from twelfth position to fifth by lap ten, but he had his hands full with 44 Dave Rogers and 1J Rocky Warner nipping at his heels. By the midway point, the leaders were getting into lapped traffic. This gave 21 Taylor Caprara the opportunity to snatch away the lead from M1X Marcucilli. 1J Rocky Warner had improved from a twentieth position start to third position by lap twenty-five, but had a quarter of the track and several lapped cars separating him from a chance at second. With one lap remaining, 44 Dave Rogers slid into the wall through turn three, eliciting a caution flag and destroying Taylor Caprara's sizeable lead. On the restart, Caprara elected to take the outside lane, giving Marcucilli the inside. Marcucilli took the lead, but Caprara grabbed it back, but only for a moment. At the checkered flag it was M1X Dave Marcucilli with the victory, with 21 Taylor Caprara coming in second. 1J Rocky Warner took third, while 9x Tyler Trump and 1 Jack Meeks rounded out the top five, in fourth and fifth, respectively.
Lucas Oil Empire Super Sprints: The big show took to the track with 5w Lucas Wolfe and 00 Danny Varin starting in the front row. 33m Mike Mahoney and 19k Paul Kinney started in row two, in positions three and four. Wolfe jumped out to a quick lead immediately, putting multiple car-lengths between himself and the second position of Varin. 55 Mark Smith started chewing up positions quickly, climbing from a eight place start to third by lap five. Smith wasn't done, claiming second position by lap seven. Multiple lapped cars separated Smith from Wolfe, however, making any progress on the lead difficult for Smith. In a green to checkered victory, it was 5w Lucas Wolfe with the win, with 55 Mark Smith in second, 00 Danny Varin in third, 33M Mike Mahoney in fourth and 90 Matt Tanner in fifth.
Pro Street Stocks: Mike Durham started in the pole position in the number 4, with 3 Rick Dusckas starting in second. 3k Shawn Kirby wasted little time jumping up from the second row to grab the lead by lap two. 1x Mike White moved up as well, grabbing second place away from Durham by lap four. 14 Sid Harmer Jr. followed suit, passing up Durham for third position one lap later. As the field stretched out into single-file formation, it was Kirby in the lead by multiple car-lengths, White in second, Harmer in third, Durham in fourth and Dusckas in fifth. Harmer dove low through turns one and two, in lap eleven, passing up White for second position. With one lap to go, Harmer made his move on Kirby, trying to wrest away the lead, but Kirby was able to fend him off and own the victory. The top five finishers were 3k Shawn Kirby, 14 Sid Harmer Jr., 1x Mike White, 4 Mike Durham and 3 Rick Dusckas.
Thunderstocks: The 15-lap feature for the Thunderstock 4-cylinder class had 94 OJ White and 4 Jesse Bender starting in the top two positions. 17B Mike Greenfield and 26M Phil Desormeau III started in row two. It was three-wide racing at the drop of the green, with Greenfield, Desormeau and 60 Justin Pope racing side by side through lap one, with White out in front of the melee. 32 Chuck Monica got into the mix by lap three, passing up Desormeau and White and following Pope into the top two positions. By lap six, it was Pope in the lead, with Monica a few car-lengths behind. White held tough at third, while 26B Ray Bechler moved past Desormeau for fourth position. Bechler passed up White by lap eleven, and Desormeau did the same two laps later. At the checkered flag, it was 60 Justin Pope with the victory, 32 Chuck Monica in second, 26B Ray Bechler in third, 26M Phil Desormeau III in fourth and 94 OJ White in fifth.
DIRTcar Sportsman Results: 1) M1x Dave Marcuccilli, 2) T21 Taylor Caprara, 3) 1J Rocky Warner, 4) 9x Tyler Trump, 5) 1 Jack Meeks, 6) k20 Kyle Inman, 7) R32 Ron Davis III, 8) 34 Kevin Root, 9) 23 Mike Stacey, 10) 0 Shane Pecore, 11) 2 Chris Thurston, 12) 60 Jackson Gill, 13) 713 Tom Collins Jr., 14) 1d Robert Delormier, 15) M1 Rick McCready, 16) 73 Kevin Poitras, 17) 82 Will Shields, 18) 52 Jessica Power, 19) 38 Zach Sabotka, 20) 415 Andrew Wren, 21) 24 Jordan Kelly, 22) T98 Tyler Thompson, 23) 22c Cedric Gauvreau, 24) 29J Joel Hall, 25) 38J Jarrett Herbison, 26) 44 Dave Rogers, 27) k24 Nick Krause, 28) 15 Todd Root, 29) 621 Brian Hudson, 30) 7s Shawn Shaw, 31) Josh Reome.
Lucas Oil Empire Super Sprints Results: 1) 5w Lucas Wolfe, 2) 55 Mark Smith, 3) 00 Danny Varin, 4) 33m Mike Mahaney, 5) 90 Matt Tanner, 6) 19k Paul Kinney, 7) 1H Cory Sparks, 8) 28f Steve Poirier, 9) 87 Jason Barney, 10) c10 Paulie Colagiovanni, 11) 99L Larry Wight, 12) 53 Shawn Donath, 13) 7c Dylan Swiernik, 14) 36 Matt Billings, 15) 14 Colman Gulick, 16) 14b Brett Wright, 17) 9 Josh Pieniazek, 18) 22 Jonathan Preston, 19) 10 Jeff Cook, 20) 17 Sammy Reakes IV, 21) 88c Chad Miller, 22) 33 Brandon Kidd, 23) 24 Mike Hagenbottom, 24) 10H Kelly Hebing, 25) 2 Dave Axton, 26) 98 Paul Pekkonen.
Thunderstock: 1) 60 Justin Pope, 2) 32 Chuck Monica, 3) 94 OJ White, 4) 26B Ray Bechler, 5) 26M Phil Desormeau III, 6) 17b Mike Greenfield, 7) 16 Matt Marcinko, 8) 50 Zach Stone, 9) 7k Don Woodworth, 10) 4 Jesse Bender, 11) 111j AJ St. Mary.
Back to News