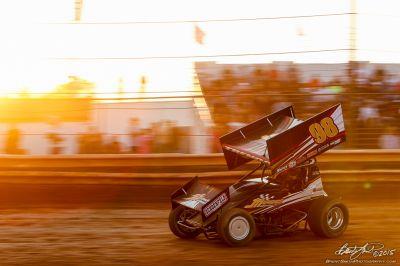 7/8/2015
Inside Line Promotions
---
Trenca Uses Empire Super Sprints Speedweek to Gain Experience on Slick Tracks
(Photo by Brent Smith)
Inside Line Promotions – VERNON, N.Y. (July 8, 2015) – Joe Trenca decided to race closer to home last weekend by tackling the entire Lucas Oil Empire Super Sprints Central New York Speedweek.
"The finishes didn't always show it, but we made a lot of progress," he said. "We've got a good notebook so hopefully we'll be better the next time around. We've run Pennsylvania most of the time this season so we needed to improve on slick tracks. Everyone on the crew worked really hard to get the car better all week. It was a lot easier for me to drive and I learned more throttle control throughout the week. We were a lot faster toward the end."
The Mucci Motorsports team opened the Speedweek last Wednesday at Brewerton Speedway in Brewerton, N.Y., where Trenca placed fourth in a heat race and 13th in the main event.
"We weren't prepared for how slick it got," he said. "We fell back quite a way and battled back through the field a little bit. After that we made a choice to stay home the rest of the week and get more knowledge and experience on the slick stuff."
Speedweek Round 2 was hosted the following day by Canandaigua Motorsports Park in Canandaigua, N.Y., with Trenca earning similar results. He posted a fifth-place result during a heat race before advancing from 17th to 14th during the main event.
"It was kind of a weird track for Canandaigua," he said. "We started pretty deep in the field and were able to make up a few positions."
The Speedweek midpoint was last Friday at Can-Am Motorsports Park in LaFargeville, N.Y., where Trenca maneuvered from sixth to third place during a heat race. That started him on the inside of the sixth row for the main event.
"We had a caution about everything three laps," he said. "It was like a two and a half hour race. We couldn't really get going. We came home ninth, which wasn't too bad. It was definitely nice to get a top 10."
Saturday's Round 4 was the toughest night for the team as Trenca placed eighth in a heat race before holding on to a third-place finish in the B Main despite a broken part. That lined him up near the back of the field for the feature. However, he was involved in a crash approximately nine laps into the main event, which ended with a 21st-place result.
"The track conditions weren't the best and it was just a bad night," he said. "I got up over the cushion in the rough stuff and it tipped over. It wasn't a vicious flip, but we got upside down a couple of times."
Speedweek concluded on Sunday at Utica-Rome Speedway with Trenca advancing from ninth to seventh place during a heat race. He then claimed the B Main to transfer into the 17th starting position in the main event.
"The guys gave me a great car," he said. "In the feature we made up a lot of ground really early. We had a real good setup. We were flying and were up to 10th. Then around Lap 7 we had a caution and a tire sealed over. It was just bad luck."
Trenca held on for a 17th-place result.
QUICK RESULTS –
July 1 – Brewerton Speedway in Brewerton, N.Y. – Heat race: 4 (2); Feature: 13 (8).
July 2 – Canandaigua Motorsports Park in Canandaigua, N.Y. – Heat race: 5 (4); Feature: 14 (17).
July 3 – Can-Am Motorsports Park in LaFargeville, N.Y. – Heat race: 3 (6); Feature: 9 (11).
July 4 – Fulton Speedway in Fulton, N.Y. – Heat race: 8 (7); B Main: 3 (5); Feature: 24 (21).
July 5 – Utica-Rome Speedway in Vernon, N.Y. – Heat race: 7 (9); B Main: 1 (2); Feature: 17 (17).
SEASON STATS –
17 races, 0 wins, 3 top fives, 4 top 10s, 11 top 15s, 13 top 20s
UP NEXT –
TBD
MEDIA LINKS –
Website: http://www.JoeTrencaRacing.com
Twitter: https://twitter.com/JoeTrencaRacing
Facebook: https://www.facebook.com/JoeTrencaRacing
APPAREL –
Trenca will have t-shirts and hoodies available for sale online and at his race trailer throughout the season. Visit http://www.JoeTrencaRacing.com for more information.
SPONSOR SPOTLIGHT – Empire Sub Shop
Located in Liverpool, N.Y., Empire Sub Shop features a menu that includes more than 65 varieties of subs, wraps and sandwiches as well as salads, soups, chicken wings and side dishes. For more information, visit http://www.EmpireSubShop.com.
"We really appreciate everyone at Empire Sub Shop for their help this season and we look forward to a lot of success together," Trenca said.
Trenca would also like to thank Mucci Motorsports, FK Rod Ends, Fast Axle, Stars and Stripes Tool Inc., National Parts Peddler, Weld Wheels, ButlerBuilt Professional Seat Systems, Seals-It, Schoenfeld Headers, Total Seal Piston Rings, Shell Shock Helmets, Wilwood Brakes, Shute's Water Systems, GF1 Chassis, Ti22 Performance, Driver Websites, Inside Line Promotions, Ken's Auto Body, Slade Shock Technology, Don Ott Racing Engines and Hammerdown Photography for their continued support.
PARTNERSHIP OPPORTUNITIES –
Trenca is seeking additional marketing partners to get more experience by traveling and taking advantage of opportunities in the 410ci sprint car ranks. To learn more about options to team up with Mucci Motorsports, call Joe at 315-481-6080.
INSIDE LINE PROMOTIONS –
Inside Line Promotions specializes in affordable public relations and media management for motor sports drivers, teams, sponsors, tracks, series, events, organizations and manufacturers. ILP Founder Shawn Miller leverages professional journalism with new media technologies and social networking to improve your exposure and the return on investment for your sponsors.
To meet the media relations needs of your program by joining Team ILP, contact Shawn at 541-510-3663 or Shawn@InsideLinePromotions.com. For more information on Inside Line Promotions, visit http://www.InsideLinePromotions.com.
---
Article Credit: Inside Line Promotions
Submitted By: Shawn Miller
Back to News